Northeast
Thomas Phifer and Partners: Home
Travis Price Architects
HAO
back HAO / Holm Architecture Office is an international design collective founded in 2010 by Danish architect Jens Holm. HAO focuses on creating strong working collaborations with clients and designers through an open and inclusive design process. We believe that collaboration on all levels of the design process leads to exciting ideas and strong projects. HAO is a multidisciplinary office that works collaboratively with an array of professional fields, allowing us to examine new ways of thinking and implementing design.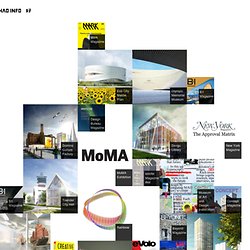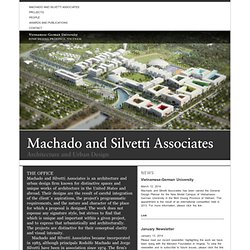 Machado and Silvetti Associates. Boston, Massachusetts
Machado and Silvetti Associates is an architecture and urban design firm known for distinctive spaces and unique works of architecture in the United States and abroad. Their designs are the result of careful integration of the client´s aspirations, the project's programmatic requirements, and the nature and character of the place for which a proposal is designed. The work does not espouse any signature style, but strives to find that which is unique and important within a given project, and to express that urbanistically and architecturally. The projects are distinctive for their conceptual clarity and visual intensity. Machado and Silvetti Associates became incorporated in 1985, although principals Rodolfo Machado and Jorge Silvetti have been in association since 1974.
West 8 Urban Design & Landscape Architecture / projects / Schouwburgplein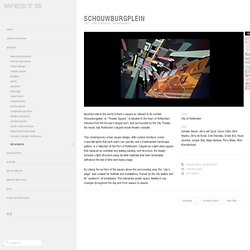 Nowhere else in the world is there a square so relevant to its context. Shouwburgplein, or "Theater Square," is situated in the heart of Rotterdam, minutes from the Europe's largest port, and surrounded by the City Theater, the music hall, Rotterdam's largest movie theater complex. This contemporary urban square design, with custom furniture, iconic crane-like lights that park users can operate, and a trademarked hardscape pattern, is a reflection of the Port of Rotterdam. Capped by a light-deck square that replaced an outdated and leaking parking roof structure, the design includes a light structure using durable materials that have remarkably withstood the test of time and heavy usage. By raising the surface of the square above the surrounding area, the "city's stage" was created for festivals and installations, framed by the city skyline and its "audience" of inhabitants.
Hoberman Transformable Designs
Decker Yeadon | New York
The Office of PlayLab, Inc.
HWKN
MASS DESIGN GROUP / WELCOME
Young Architects Boston Group
over,under
Studio Luz Architects
STEVEN HOLL ARCHITECTS
SsD architecture + urbanism 2 September 2012 SsD is an architecture firm that approaches design as a convergent, interdisciplinary venture. Minimum form takes maximum effect as we strive to bridge the utopian and the pragmatic [...] New York | Boston | Seoul
www.ssdarchitecture.com
Tim Love at Structures Congress 2014 Tim Love was the keynote speaker this past Saturday at Structures Congress 2014, the annual gathering of the Structural Engineering Institute of the American Society of Civil Engineers. His speech looked at Boston as a way to examine the challenges faced in cities by engineers, architects, and real estate developers. His talk explored the issues of air rights, oddly-shaped parcels, the interplay between new construction and historic buildings, and the role of restrictive regulations on structural framing solutions. He appealed to the structural engineers in the audience to use their knowledge to impact planning and development decisions much earlier in the design process.
Utile, Inc. Architecture + Planning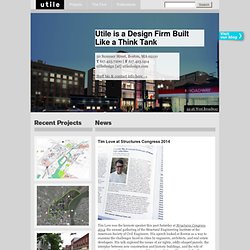 HOME : UNI
Howeler Yoon Architecture
Christoff:Finio Architecture
Lin Oldham Office :: Tiffany Lin :: Mark Oldham :: Architecture :: Design
MERGE ARCHITECTS inc ______ elizabeth whittaker _ principal
ground // landscape architecture // green roofs // public art // land planning