Archaeology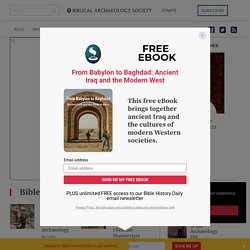 Have you had your Biblical archaeology today? Find out what archaeology can reveal to anyone eager to understand the world of the Bible. Access dozens of free eBooks and daily articles on key Biblical archaeology topics, as well as the latest news and reviews. Written to be understood, Biblical Archaeology Review (BAR) magazine delivers the excitement of archaeology and the latest in Bible scholarship. Explore the current issue along with web-only features and Scholar's Study, where scholarly debates from the pages of BAR continue online.
Video News from TAC - March 2013 Play with Windows Media Player: 300k or 700k A Tomb Raider in Cyprus; film clips from TAC Festival 2013 (1) During his stay on the island from 1865 until 1876, the American consul in Cyprus, Luigi Cesnola, became an amateur archaeologist to profit from the trade of antiquities. He gathered up more than 35,000 objects. When local authorities prohibited the export of this enormous collection, Cesnola loaded his treasures onto boats and shipped them to New York. (2) Lisa Westwood launches our preview series for The Archaeology Channel International Film and Video Festival (7-11 May 2013, Eugene, Oregon) with nine short clips.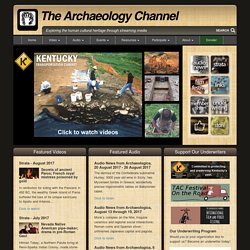 Society for American Archaeology > Home
The Council for British Archaeology's award-winning bi-monthly magazine is the authoritative, in-depth source of information and comment on what's new, interesting and important in UK archaeology. See the contents of the latest issue at a glance, and scan our regular columns and features. Back issues are freely available through the archive. Give the past a future with a Council for British Archaeology membership. 'I've done some archaeological presenting on the BBC – it seemed a good idea because I've always had an interest in our ancestors and what they perhaps left behind.
'British Archaeology' home page
dig™ - The archaeology magazine for kids!
Archaeology
Giant Foot Print 200 Million Yrs Old - South Africa