Apps
iPhone Apps, iPad Apps, iPhone 3GS Apps, iPad games, iPod Touch games, app reviews and forum. iPhone 4S – See apps and games from the App Store. iOS Security. Scribblenauts Remix for iPhone 3GS, iPhone 4, iPhone 4S, iPod touch (3rd generation), iPod touch (4th generation) and iPad on the iTunes App Store. Description ►►Scribblenauts Remix now has over 4 million players!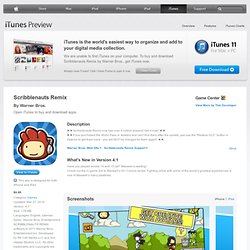 Get it now!. Download YouTube Videos | Youtube Video Downloader | Online Youtube Video... Remember Everything | Evernote Corporation. iPhone apps.su. Cydia Apps. SBsettings : Fonction : il permet d'activer des fonctions du téléphone sans aller dans le menu réglage.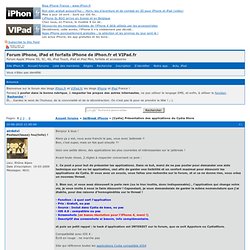 Wifi, 3G, Mode avion, etc. Liste non exhaustive, paramétrable à souhait ! Il est possible de rajouter des fonctions gràce à des ajouts sur Cydia. AppCake. Apptrackr.
---