Anti-bullying materials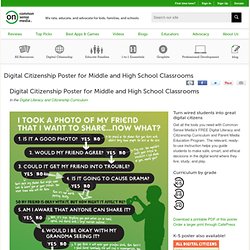 Turn wired students into great digital citizens Get all the tools you need with Common Sense Media's FREE Digital Literacy and Citizenship Curriculum and Parent Media Education Program. The relevant, ready-to-use instruction helps you guide students to make safe, smart, and ethical decisions in the digital world where they live, study, and play. Curriculum by grade Download a printable PDF of this posterOrder a larger print through CafePress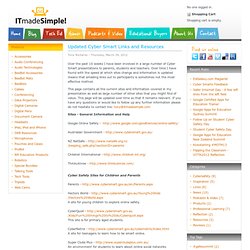 Updated Cyber Smart Links and Resources
Over the past 10 weeks I have been involved in a large number of Cyber Smart presentations to parents, students and teachers. Over time I have found with the speed at which sites change and information is updated means that emailing links out to participants is sometimes not the most effective method. This page contains all the current sites and information covered in my presentation as well as large number of other sites that you might find of value. This page will be updated over time so that it remains relevant. If you have any questions or would like to follow up any further information please do not hesitate to contact me: tony@itmadesimple.com Sites - General Information and Help
BrainPOP - Animated Educational Site for Kids - Science, Social Studies, English, Math, Arts & Music, Health, and Technology
Presentations and Get Cyberstarted To inform and assist teachers, children and parents about online safety, Cybersmart Outreach offers free cybersafety presentations in metropolitan and regional centres throughout Australia. All presentations and workshops provide valuable information about the risks confronting children online and offer appropriate tools and strategies to help make their experience safe and positive.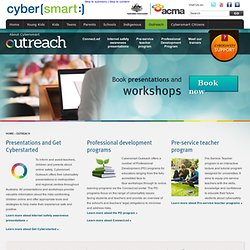 Cybersmart Outreach
Skip to content Visit Us on: Internet and mobile safety advice and activities Cybersafety Support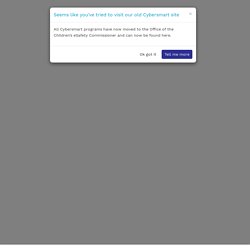 Virgin London Marathon 2014 - places still available Read more Out now! Ronan Parke's new single in support of Kidscape Read more Fundraising & events co-ordinator (maternity cover) Read more How to stay safe online Read more Advanced Child Protection & Safeguarding Training Read more Cyber bullying & online safety Read more Download our publications Read more 'Bullies, Cyberbullies and Frenemies' wins literary award Read more
Anti-Bullying Advice and Child Safety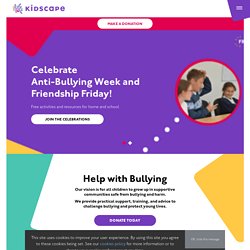 Tools for Schools
The ABA Tools for schools website provides teachers and other practitioners working with children and young people with a bank of resources for addressing bullying behaviour and discussing bullying and related issues. If you have a resource you would like to share through this website then please contact aba@ncb.org.uk. The Anti-bullying Alliance is a coalition of organisations working together to stop bullying and create safe environments in which children and young people can live, grow, play and learn. The ABA welcomes schools and other education providers to subscribe to the ABA School and College Network. To find out more about subscribing to the ABA School and College Network visit the main ABA website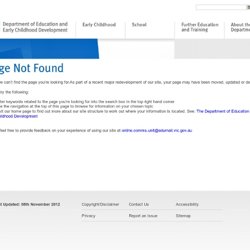 Sorry, we can't find the page you're looking for.As part of a recent major redevelopment of our site, your page may have been moved, updated or deleted. Please try the following: Enter keywords related to the page you're looking for into the search box in the top right hand corner Use the navigation at the top of this page to browse for information on your chosen topic Visit our home page to find out more about our site structure to work out where your information is located. See: The Department of Education and Early Childhood Development Please feel free to provide feedback on your experience of using our site at online.comms.unit@edumail.vic.gov.au
Building Respectful and Safe Schools - Health and Wellbeing
Bullying. No way!