Android Dev
The Mobile Application Test Automation Tool - SeeTest of Experitest
Another new Rom from Zenithink, this time 2n & 3m are package together Version: 10" Z102 (512MB+4GB) GPS android 4.0 2012-03-13_K0_2n_3m File Name: ZT280_K0_2n_3m_Z102_Android4.0_0313.rar File Size: 259MB Release Date: 2012-03-14 http://www.zenithink...02.php?download
Zenithink New Rom - ZT280_K0_2n_3m_Z102_Android4.0_0313.rar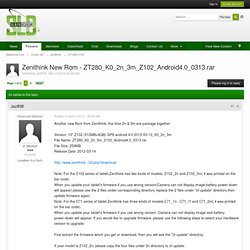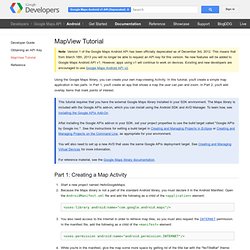 Note: Version 1 of the Google Maps Android API has been officially deprecated as of December 3rd, 2012. This means that from March 18th, 2013 you will no longer be able to request an API key for this version. No new features will be added to Google Maps Android API v1. However, apps using v1 will continue to work on devices. Existing and new developers are encouraged to use Google Maps Android API v2. Using the Google Maps library, you can create your own map-viewing Activity.
Google Map View
Android Asset Studio - Device Frame Generator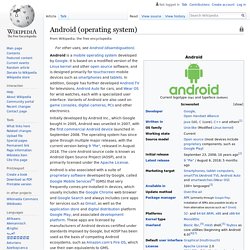 Android is an operating system based on the Linux kernel,[12] and designed primarily for touchscreen mobile devices such as smartphones and tablet computers. Initially developed by Android, Inc., which Google backed financially and later bought in 2005,[13] Android was unveiled in 2007 along with the founding of the Open Handset Alliance—​a consortium of hardware, software, and telecommunication companies devoted to advancing open standards for mobile devices.[14] The first publicly available smartphone running Android, the HTC Dream, was released on October 22, 2008.[15] The user interface of Android is based on direct manipulation, using touch inputs that loosely correspond to real-world actions, like swiping, tapping, pinching, and reverse pinching to manipulate on-screen objects.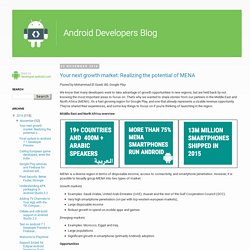 By Greg Hartrell, Google Play Games team Today, everyone is a gamer — in fact, 3 in every 4 Android users are playing games, allowing developers to reach an unprecedented audience of players in an Android ecosystem that's activated over one billion devices. This has helped Google Play Games — Google's cross-platform game service and SDK for Android, iOS and the web (which lets you easily integrate features like achievements, leaderboards, multiplayer and cloud save into your games) — grow at tremendous speed. The momentum continues on Google Play, where four times more money was paid out to developers in 2013 than in 2012. With the Game Developers Conference (GDC) this week, we'll be launching a number of new features for Google Play Games and other Google products. As they launch over the coming weeks, these new services and tools will help you unlock the power of Google to take your games to the next level.
Custom 2.1 Eclair ROMS Custom 2.2 Froyo ROMS based on Sept 2nd 2010 build (P729CUV1.0.0B01) Custom 2.2 Froyo ROMS based on October 11th 2010 build (P729CUV1.0.0B04) Custom 2.2 Froyo ROMS based on build (P729JV1.0.0B15) Stock Orange ROM OLE (2.1 Eclair) provided by Paul - The Original Orange OLE ROM - OUK_P729BV1.0.0B05 google_ad_client = "pub-1056736867035356"; /* 300x250, created 10/22/10 */ google_ad_slot = "9705608198";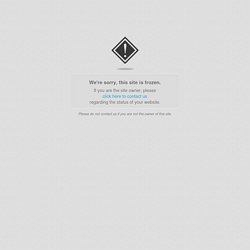 Home - ZTE Blade (Orange San Francisco)
Orange San Francisco B08 (ZTE Blade) Specs | Technical Specifications | PDAdb.net - Comprehensive Database of Smartphone, PDA, PDA Phone, PNA, netbook & Mobile Device Specifications
June Fabrics PDA Technology Group
Android Themes, GPhone Themes, HTC G6 Themes, HTC G7 Themes free download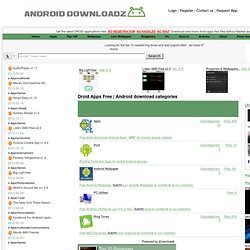 Who Are We? We strive to be your #1 website to download and share free android applications, including the latest Android root apps, games and tools. Get you apk free download today! Here is our android applications list of some of the most popular games for Android
Android download categories
README.markdown Synopsis If you've made it here, chances are you are not quite as satisfied with the Android application framework as you could be. Same for us, that's why we created ignition. Ignition helps you getting your Android applications off the ground quickly, by offering ready-to-use components and utility classes that wrap a lot of the boilerplate that's involved when writing Android apps.
Installation and setup - GitHub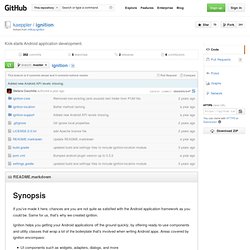 README.markdown Synopsis If you've made it here, chances are you are not quite as satisfied with the Android application framework as you could be.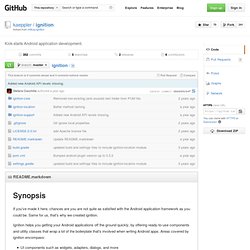 kaeppler/ignition - GitHub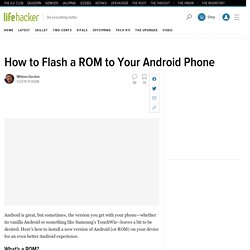 Android is great, but sometimes, the version you get with your phone—whether its vanilla Android or something like Samsung's TouchWiz—leaves a bit to be desired. Here's how to install a new version of Android (or ROM) on your device for an even better Android experience. What's a ROM? One of the best things about the openness of the Android platform is that if you're unhappy with the stock OS, you can install one of many modified versions of Android (called ROMs) on your device.
tips and downloads for getting things done
CyanogenMod 7 Making Good Progress Getting Android Gingerbread on HP TouchPad [Video]
It looks like things are picking up with regard to giving new life to HP's Touchpad. In the past 24 hours, we reported that Team-Touchpad had worked diligently, and has most recently succesfully enable the touchscreen to reach its full potential, with 10 point multitouch input to their Gingerbread specific build. Image credit: mrhomegrown (CyanogenMod.com)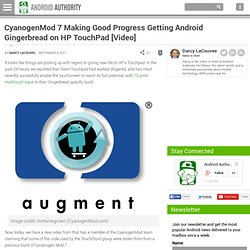 Here's some news you Android hackers will not be happy about. Apparently, the Motorola Droid RAZR will be shipping with a locked bootloader, according to the official Motorola Mobility Twitter Account. The bootloader was locked per the carrier, in addition to meeting security, safety and regulatory guidelines. Not to sure where the regulatory guidelines come into play here, although we do understand carriers love locking things down, as well as the safety aspect behind their decision to do so — even if we don't agree or like it.
According to Twitter: Motorola Droid RAZR Ships with Locked Bootloader
Fusion Garage's latest release, the Grid 10 is an Android tablet is a rather unique Android tablet. This is mostly because it technically isn't an Android tablet. Using a new operating system called Grid OS, which is based on the Android kernel, its main feature is that its basic operations are still Android-based, but with a different graphical user interface. This lets it run Android apps while delivering a completely different user experience. The Grid 10 has some fairly basic specs for a 10.1-inch tablet. Running on an Nvidia Tegra 2 chip backed by 512MB of memory, it only has one 1.3MP front-facing camera and only 16GB storage.
Techradar Does A Hands-on Report On The Grid 10
Think a flexible smartphone is just science fiction? You might have to think again, thanks to Samsung. The Korean company recently unveiled Galaxy Skin, an Android smartphone that can take on different shapes and take on even hammer blows, set to begin production in 2012 Q2 with murmurings of a release sometime thereafter. So aside from its flexible form, what specs can Galaxy Skin boastof? For starters, it will have a flexible 4″ AMOLED display (800×480) made of plastic polyimide substrate. Samsung already confirmed that they have started production of such screens.
Samsung Unveils Flexible Android Smartphone
Nook Color Video Hands on with Latest Cynanogen: Games & Apps Tested!
Cynanogen makes Android incredible. Ask anyone that has rooted their device, and put Cynanogen or a custom ROM on board. Check out the video below that demonstrates what this nifty little tablet can do.
ROMs, Downloads, Drivers & Tutorials For Your Android Device | Android Guide
Zte Blade Rom - Techappz32
Mobile/Platforms/Android