Anderson Entrepreneurs
How to Keep Your First 1,000 Users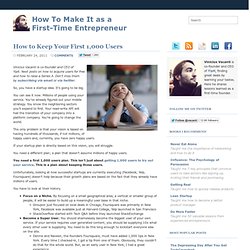 Vinicius Vacanti is co-founder and CEO of Yipit. Next posts on how to acquire users for free and how to raise a Series A. Don't miss them by subscribing via email or via twitter. So, you have a startup idea.
Slowcop - Make your website faster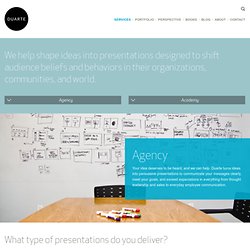 New Presentations From creating story and design concepts to developing entire presentation templates and systems, Duarte can make sure your presentation makes the right impact on your audience. Existing Presentations Using the building blocks you already have in place—your content, presentation system, and visual assets—Duarte can enhance, revise, or redesign your existing presentations. Device-Based Presentations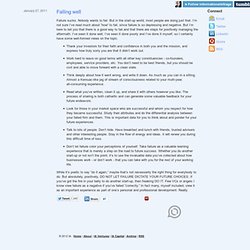 Failure sucks. Nobody wants to fail. But in the start-up world, most people are doing just that. I'm not sure I've read much about "how" to fail, since failure is so depressing and negative. But I'm here to tell you that there is a good way to fail and that there are steps for positively managing the aftermath. I've seen it done well, I've seen it done poorly and I've done it myself, so I certainly have some well-formed views on the topic.
Failing well
The Top 20 VC Power Bloggers Of 2010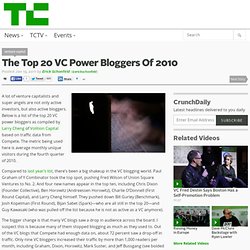 A lot of venture capitalists and super angels are not only active investors, but also active bloggers. Below is a list of the top 20 VC power bloggers as compiled by Larry Cheng of Volition Capital based on traffic data from Compete. The metric being used here is average monthly unique visitors during the fourth quarter of 2010. Compared to last year's list, there's been a big shakeup in the VC blogging world. Paul Graham of Y Combinator took the top spot, pushing Fred Wilson of Union Square Ventures to No. 2.
Great Alternative Online Business and Monetization Models
My 2010 Mentors
I was going through my reader this morning and it occurred to me; I learned a lot from a lot of smart people in 2010. There were a number of people I looked to for brilliance, insight and perspective. These people are smart, funny, energetic and definitely worth following and reading in 2011. My mentors of 2010: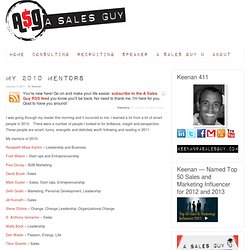 relefit
While we all know the interview process can seem like a bit of a stressful process, for some it can be downright grueling! We've culled through tens of thousands interview questions that job seekers from around the world have shared on Glassdoor over the past year and found some pretty off the wall stuff. Here's our take on the top 25 oddball interview questions of 2010: 1. "If you were shrunk to the size of a pencil and put in a blender, how would you get out?"
Top 25 Oddball Interview Questions Of 2010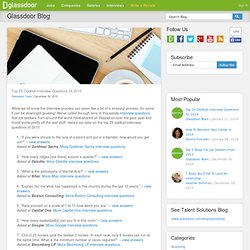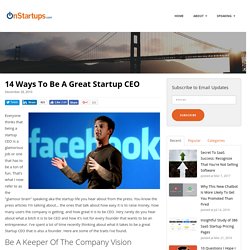 Thanks for giving such a useful read. I own all this that you mention in the 14 Ways but I have something important at the time to grow as a company and is money. If you have any way of how to present an idea to an investor and it decides to invest in my business, let me know so I can grow my business, which is just beginning. I send you greetings and happy holidays. Nice recap of our responsibilities as a CEO. I like the part about getting "your hands dirty every single day."
In Pursuit of the Perfect Brainstorm
How I Built a Web 2.0 Dating Site in 66.5 Hours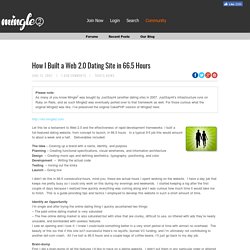 Please note: As many of you know Mingle2 was bought by JustSayHi (another dating site) in 2007. JustSayHi's infrastructure runs on Ruby on Rails, and as such Mingle2 was eventually ported over to that framework as well. For those curious what the original Mingle2 was like, I've preserved the original CakePHP version of Mingle2 here: http://old.mingle2.com Let this be a testament to Web 2.0 and the effectiveness of rapid development frameworks: I built a full-featured dating website, from concept to launch, in 66.5 hours. In a typical 9-5 job this would amount to about a week and a half. Deliverables included: