Americas resources for the Social Sciences
British Library Online Gallery. Eccles Centre Web Exhibitions. Food Stories. The Food Stories interactive, designed primarily for KS3 and KS4 citizenship and geography students, traces the amazing changes that have taken place in the UK's food culture over the last century.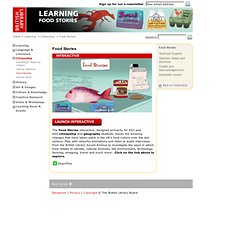 Play with colourful animations and listen to audio interviews from the British Library Sound Archive to investigate the ways in which food relates to identity, cultural diversity, the environment, technology, farming, shopping, travel and much more...Click on the link above to explore. ShareThis. Maps of the Americas. Help for Researchers. Americas. Social Science Bibliographies. Australasia. British Library Catalogue (Explore) UK Web Archive.
Business & IP Centre. Sound Archive Catalogue. British Library - Sounds. The British Newspaper Archive. British C19th Newspapers (JISC) Electronic Databases. To help you with your research we have over 800 electronic databases.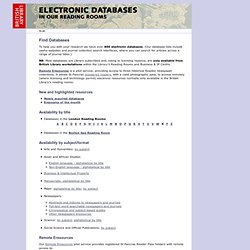 (Our database lists include useful websites and journal collection search interfaces, where you can search for articles across a range of journal titles.) NB: Most databases are Library subscribed and, owing to licensing reasons, are only available from British Library workstations within the Library's Reading Rooms and Business & IP Centre. Endangered Archives Programme. British Records on the Atlantic World, 1700-1900 from Microform Academic Publishers.
Slavery, Abolition and Social Justice portal. International Organizations (Online Resources) EThOS (British Doctoral Thesis Database) British Library Catalogue (Advanced Search) Manuscripts (Primo Catalogue) Indian Office Materials. The main focus of the catalogues is on the countries of South Asia, although there are also considerable holdings relevant to other parts of Asia and the Middle East.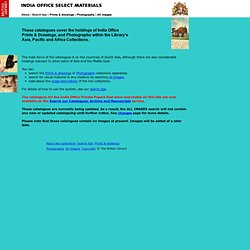 You can: • search the Prints & drawings or Photographs collections separately. • search for visual material in any medium by selecting All images. • read about the scope and history of the two collections. For details of how to use the system, see our search tips. Catalogue of Photographically Illustrated Books. Catalogue of Photographs. The photograph catalogues provide a detailed searchable database for locating photographs, photographically-illustrated books and texts relating to photography held in all departments of the British Library.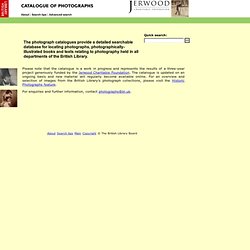 Please note that the catalogue is a work in progress and represents the results of a three-year project generously funded by the Jerwood Charitable Foundation. The catalogue is updated on an ongoing basis and new material will regularly become available online. British Library Blogs. Sound Recordings Blog. Cheryl Tipp, Natural Sounds Curator writes: Over the past 5 weeks, listeners of BBC Radio 4 have been treated to a series dedicated entirely to sound and its many roles in human culture over the past 100,000 years.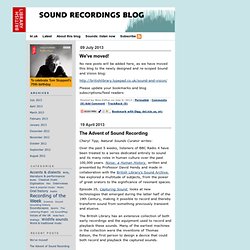 Noise: a Human History, written and presented by Professor David Hendy and made in collaboration with the British Library's Sound Archive, has explored a multitude of subjects, from the power of great orators to the significance of resonant spaces. Americas Collections Blog. As a historian I get very excited about old letters, diaries, account books and inventories – but once in a while there are other 'records' that trump almost everything else.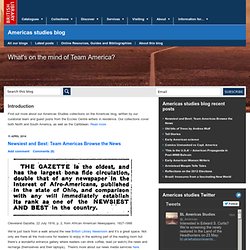 I had one of those moments this week when I returned to George Washington's Mount Vernon. Over the past six years I have been many times to Washington's estate in Virginia (just south of Washington DC) – first to research my book Founding Gardeners and then to give talks about the book. Sport and Society Blog. Simone Bacchini writes: It sometimes feels like the case for sport as a vehicle for social change is a bit overstated.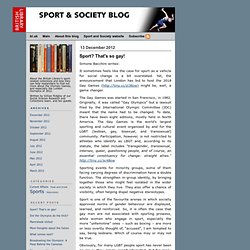 Yet, the announcement that London has bid to host the 2018 Gay Games ( might be, well, a game changer. British Library Images Online | The Picture Library of the British Library.
---