AGING PARENTS
Resources for Seniors & Caregivers | Kaiser Santa Rosa
Magazine Internet pour les seniors : bien-être, famille, voyages
Family Service Agency's Senior Peer Counseling Program offers individual peer counseling, support groups for men and women, and connections to other social networks in the community. Older adults age 55+ who are faced with challenges of aging such as the loss of a loved one, becoming a caregiver to a family member, illness, retirement, or experiencing feelings of isolation and depression.
Senior Peer Counseling Program
We've known for a while that Facebook users are getting a lot older, but now new data released by Nielsen reveals that the number of seniors (65 and older) using the Web has increased by 6 million in the last five years. Not only that, but nearly half of online seniors visited Facebook or YouTube last month, making them their third and fourth most visited online destinations.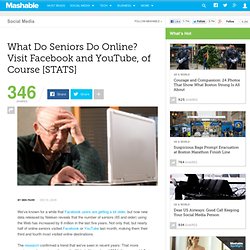 What Do Seniors Do Online? Visit Facebook and YouTube, of Course
Skip to main content Browse All Briefs by Topic Social sites lessen depression among seniors Forward to a friend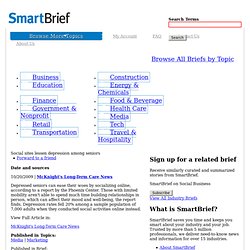 Social sites lessen depression among seniors - Related Stories -
i care village: everything eldercare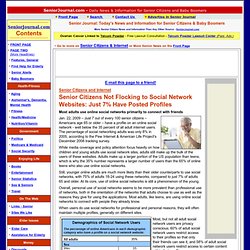 Senior Citizens Not Flocking to Social Network Websites: Just 7%
E-mail this page to a friend!
Senior Living - Older Adult Lifestyle Advice & Information
Social Networking for Senior Citizens? | Corporate Eye
One of the fastest growing demographics for social networks, seniors have discovered the joy of connecting with others online. Unlike the groups on some of the younger social sites, the sites for older users tend to be less superficial and have a more grounded community. If you are looking for a place to connect with other seniors, then take a look at this list that provides social networks with a focus on sharing life experience, looking for romance, or connecting with others who share a specific interest like travel or Scrabble.
50 Best Social Networks for Seniors | Senior Communities Blog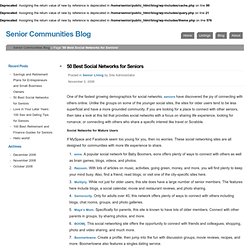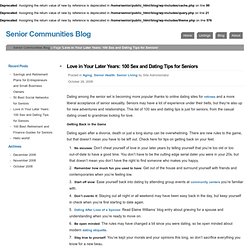 Dating among the senior set is becoming more popular thanks to online dating sites for retirees and a more liberal acceptance of senior sexuality. Seniors may have a lot of experience under their belts, but they're also up for new adventures and relationships.
Love in Your Later Years: 100 Sex and Dating Tips for Seniors |