AGING PARENTS
Resources for Seniors & Caregivers | Kaiser Santa Rosa
Magazine Internet pour les seniors : bien-être, famille, voyages
Senior Peer Counseling Program
We've known for a while that Facebook users are getting a lot older, but now new data released by Nielsen reveals that the number of seniors (65 and older) using the Web has increased by 6 million in the last five years. Not only that, but nearly half of online seniors visited Facebook or YouTube last month, making them their third and fourth most visited online destinations. The research confirmed a trend that we've seen in recent years: That more seniors are becoming active on the Web. In November of 2004, there were 11.3 million active seniors online. In November 2009, that number jumped by 55 percent to 17.5 million. In addition, they spend more time on the Web, totaling an average of 58 hours a month in front of the browser.While those numbers didn't surprise us, we were interested in data that Nielsen collected on their browsing habits.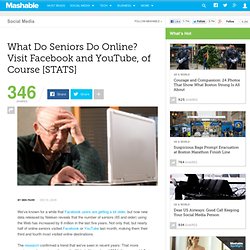 What Do Seniors Do Online? Visit Facebook and YouTube, of Course
Skip to main content Browse All Briefs by Topic Social sites lessen depression among seniors Forward to a friend 10/20/2009 | McKnight's Long-Term Care News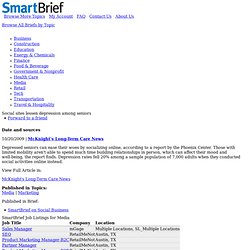 Social sites lessen depression among seniors - Related Stories -
i care village: everything eldercare
Outstanding and insightful This work is entertaining and fascinatingly informative at the same time. I found it refreshing to watch and listen to the older generation reflect on the values of life and what really matters. The editing is superb and will keep you attentive through the entire performance. Don't miss this one!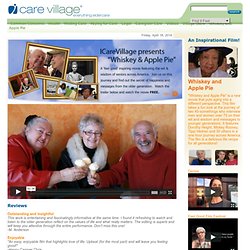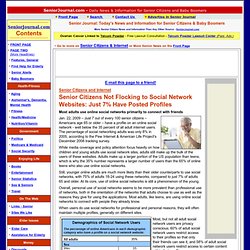 Senior Citizens Not Flocking to Social Network Websites: Just 7%
E-mail this page to a friend! Senior Citizens and Internet Senior Citizens Not Flocking to Social Network Websites: Just 7% Have Posted Profiles Most adults use online social networks primarily to connect with friends Jan. 22, 2009 – Just 7 out of every 100 senior citizens – Americans age 65 or older – have a profile on an online social network - well below the 35 percent of all adult internet users.
Senior Living - Older Adult Lifestyle Advice & Information
In an effort to recoup lost revenue from the federally-imposed limit on revenue from retailers, Bank of American and other large banks will start charging customers to use their own debit cards. Rick Perry, Texan Governer or presidential candidate, says that Social Security is a "monstrous lie" and a "Ponzi scheme." Find out why Social Security was established, and what Social Security benefits mean to many working Americans. Let's say you're nearing retirement, or you're already retired.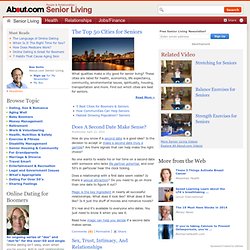 Social Networking for Senior Citizens? | Corporate Eye
One of the fastest growing demographics for social networks, seniors have discovered the joy of connecting with others online. Unlike the groups on some of the younger social sites, the sites for older users tend to be less superficial and have a more grounded community. If you are looking for a place to connect with other seniors, then take a look at this list that provides social networks with a focus on sharing life experience, looking for romance, or connecting with others who share a specific interest like travel or Scrabble.
50 Best Social Networks for Seniors | Senior Communities Blog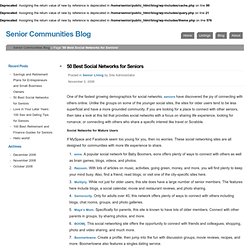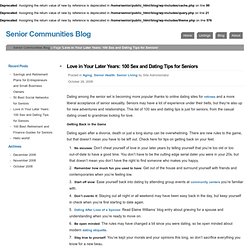 Dating among the senior set is becoming more popular thanks to online dating sites for retirees and a more liberal acceptance of senior sexuality. Seniors may have a lot of experience under their belts, but they're also up for new adventures and relationships. This list of 100 sex and dating tips is just for seniors, from the casual dating crowd to grandmas looking for love. Getting Back in the Game Dating again after a divorce, death or just a long slump can be overwhelming. There are new rules to the game, but that doesn't mean you have to be left out.
Love in Your Later Years: 100 Sex and Dating Tips for Seniors |