Advanced Ancient Technology
Groundbreaking New Physics Surrounding Pyramids. The statues of Easter Island could have "walked" into place. There've been various mechanisms proposed for moving the moai.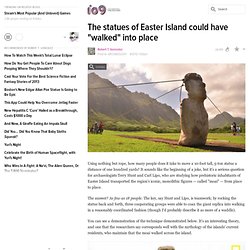 Another suggested technique involved sliding them on a layer of small round rocks, and then raising them upright by piling small rocks underneath them, lifting them a little, piling more rocks under them, and so on. This always seemed plausible to me as - having hiked across Easter Island - I can confirm that the island has an abundant supply of small round rocks. The Easter Island "Heads" Have Bodies. Maybe this isn't a newsflash to anyone but me, but, um, the Moai "heads" on Easter Island have bodies.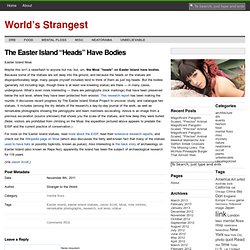 Because some of the statues are set deep into the ground, and because the heads on the statues are disproportionately large, many people (myself included) tend to think of them as just big heads. But the bodies (generally not including legs, though there is at least one kneeling statue) are there — in many cases, underground. What's even more interesting — there are petroglyphs (rock markings) that have been preserved below the soil level, where they have been protected from erosion. This research report has been making the rounds; it discusses recent progress by The Easter Island Statue Project to uncover, study, and catalogue two statues.
Prediction #5: Plasma Formations in the Ancient Sky. Plasma scientists are now comparing electrical discharge formations in the laboratory to rock art images around the world.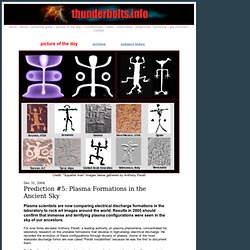 Results in 2005 should confirm that immense and terrifying plasma configurations were seen in the sky of our ancestors. For over three decades Anthony Peratt, a leading authority on plasma phenomena, concentrated his laboratory research on the unstable formations that develop in high-energy electrical discharge. Great Pyramid Starmap Etching Depicts Age of 9200 bce (Make Viral All!) WORLD HISTORY AND BOSNIAN PYRAMIDS 2011 - Fondacija "Arheološki park: Bosanska piramida Sunca, Archaeological Park: Bosnian Pyramid of the Sun Foundation.
Almost everything they teach us about the ancient history is wrong: origin of men, civilizations and pyramids.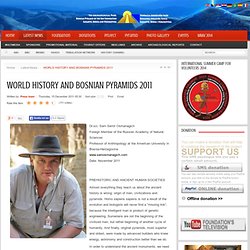 Homo sapiens sapiens is not a result of the evolution and biologists will never find a "missing link", because the intelligent man is product of genetic engineering. Sumerians are not the beginning of the civilized men, but rather beginning of another cycle of humanity. And finally, original pyramids, most superior and oldest, were made by advanced builders who knew energy, astronomy and construction better than we do. In order to understand the ancient monuments, we need to view them through three realms: physical, energy and spiritual.
The Holy Grail Vortex - Haarp and Egyptian Levitation Part 6 of 9 (free power) ,see to believe! The secret of the technology used in crystal skulls has stil not been unraveled.
---