Adele
12+1BB Metal Fishing Reel Gear Spinning Spool Reels à vendre
Lighting Parts & Accessorie
Magic Remote Control MR16 RGB LED light 16 Colors Change Lamp Bulb DC 12V light
Mon Oct 1, 2012 5:12pm EDT (Reuters) - Grammy-winning British singer Adele is adding Bond girl to her superstar resume by signing on to write and sing the theme of the latest James Bond film "Skyfall" - her first song to be released since her best-selling heartbreak album "21" - Columbia Records said in a statement on Monday. Adele, 24, who swept the Grammy Awards earlier this year with accolades in six categories, will release the song on Friday on her official website, to coincide with the Bond film franchise's 50th anniversary and Global James Bond Day. The sultry singer wrote "Skyfall" with long-time collaborator Paul Epworth. She recorded it at London's Abbey Road Studios with a 77-piece orchestra.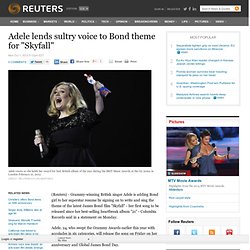 Adele lends sultry voice to Bond theme for Skyfall
aventure Adele historique (aah)
Life and career 1988–2005: Early life Two years later, she and her mother moved back to London; first to Brixton, and then to neighbouring district West Norwood, in south London.[34] West Norwood is the subject for Adele's first record, "Hometown Glory", written when she was 16.[35] After moving to south London, she became interested in R&B artists such as Aaliyah, Destiny's Child and Mary J. Blige.[36]
Adele (singer)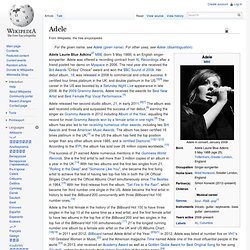 Adele - I'll Be Waiting (Live At The Royal Albert Hall DVD)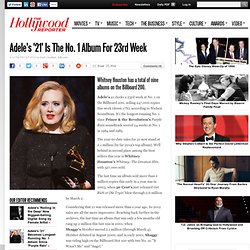 Adele's 21 clocks a 23rd week at No. 1 on the Billboard 200, selling 247,000 copies this week (down 17%), according to Nielsen SoundScan. It's the longest-running No. 1 since Prince & the Revolution's Purple Rain soundtrack scored 24 weeks at No. 1 in 1984 and 1985. The year-to-date sales for 21 now stand at 2.1 million (by far 2012's top album).
Adele's '21' Is The No. 1 Album For 23rd Week
Adele - Rolling In The Deep (Live) Itunes Festival HD
Adele - Turning Tables (Live on Letterman)
Adele - Turning Tables (LIVE AOL Sessions HQ)
Adele - Hometown Glory (Live on Letterman)