ABOUT THE BOOK
Biography - Suzanne Collins. In 1991, Suzanne Collins began her professional career writing for children's television.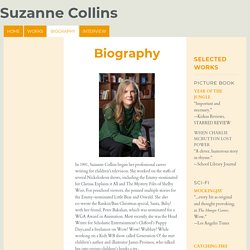 She worked on the staffs of several Nickelodeon shows, including the Emmy-nominated hit Clarissa Explains it All and The Mystery Files of Shelby Woo. For preschool viewers, she penned multiple stories for the Emmy-nominated Little Bear and Oswald. She also co-wrote the Rankin/​Bass Christmas special, Santa, Baby! With her friend, Peter Bakalian, which was nominated for a WGA Award in Animation. 'The Hunger Games': From the bookshelf to the big screen. Jennifer Lawrence plays Katniss Everdeen in "The Hunger Games," Gary Ross' film version of the popular Suzanne Collins novel.
"The Hunger Games" is on track to rake in more than $80 million opening weekend, reports sayDirector: "I'm a fan first. ... I didn't have any desire to rework (the story) in any major way"Casting the right actors is imperative when adapting a novel for the screen, critic says (CNN) -- Adapting a beloved novel for the big screen often guarantees a solid showing at the box office. Welcome to Forbes.
---