3d
3D related links muetdhivers Feb 12
Ted Lockwood - 3D Artist
- 3D Portfolio of Michael Grote -
Home
I helped to develop our company's particle effects editor by giving design specs, feedback, bug testing, etc. You can see examples of my particle effects in my particle effects demo reel. Particle Effects Demo Reel (34.4 MB WMV) Particle Reel Credit Sheet (Word Format) Recently I've been in charge of creating training videos to help artists both inside and outside the studio learn how to use our game engine.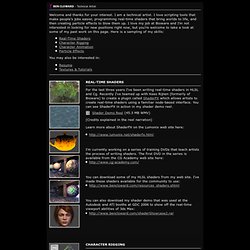 Ben Cloward
Tom Parker Character artist Gallery 3D Artwork (2009-10) Older work 2D Artwork
Gallery « Tom Parker
Richard Smith
Syama Pedersen - 3D Work
Gallery « Tiflos – Angel Diaz
My latest class with Visualarium is back, now under ZBrushWorkshops! The contents are basically the same as last time, just so the people who missed it will be able to catch up with the ones who had the chance to be part of it. I'll be guiding you every step through the process of sculpting, posing, texturing, lighting and rendering.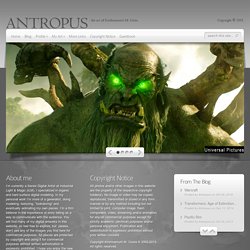 Joe Of Death
Zack Fowler - Environment & Prop Artist
doodles
Oskar Stålberg | info
Tohan Kim's Portfolio
Freelance 3D Artist - Trent Trombley
Daniel Lins - Character Artist
Kolby Jukes Character Artist Portfolio
Jonathan Fletcher - 3D Artist
Welcome! Tuesday 19 July 2005 by Reiv Hi, here is my new web site! You can now add comments to the news and also to the pictures in the gallery. I hope you'll enjoy the ride.
reiv.fr Jesse Sandifer
Andrew Kinabrew: Artist
The 3dart Portfolio of Steffen Unger
Tucho online portfolio
John Martini :: Welder
max
Marcus Dublin
Christopher George - Character Artist
Mr. Portfolio, by Jeremy A Miller
The Art of Jacque Choi
JESSE MOODY | ENVIRONMENT ARTIST
So Much Monsters!
GoSsS's Portfolio
BLANC FONCÉ - BENJAMIN CARRE'S ART PAGES
MASHRU MISHU
T Roussel PolySculpt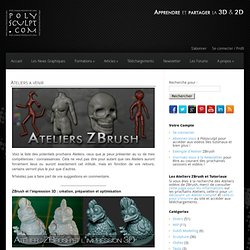 Voici la liste des potentiels prochains Ateliers, ceux que je peux présenter au vu de mes compétences / connaissances. Cela ne veut pas dire pour autant que ces Ateliers auront forcément lieux ou auront exactement cet intitulé, mais en fonction de vos retours, certains verront plus le jour que d'autres. N'hésitez pas à faire part de vos suggestions en commentaire.
Shuma
BELIEVER-DECEIVER.com - Portfolio - 3D Works - Professional
selwy.com
Art of François Baranger
Experience Blizzard Entertainment, Irvine, CA USA Concept Artist | September 2011 - Present Freelance Illustrator/Sculptor | January 2005 - Present Splash Damage, London UK Senior Concept Artist | September 2008 - July 2011 Concept/Media Artist | February 2007 - September 2008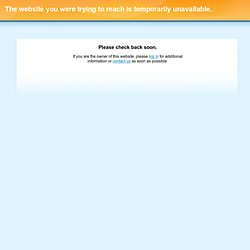 The Art of L.D. Austin
:: Jessart :: - Ramblings
Eric Blondin -
Pascal Blanché
Tommy Tallian
Subshape » Professional Gallery
Pierre Bourgeot Portfolio
Sort a Done. Its almost there... I swear...
Maddamart.com
Art of Jose Alves da Silva - 3D Artist - Freelance Character Artist
∎Art of Mike A Nash∎
Gavin's Art Dump
ThomasMahler.com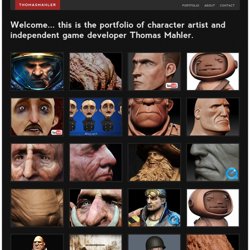 My name is Thomas Mahler, I'm a 26 year old character artist and independent game developer. I have around five years of experience in the games industry, originally coming from a traditional sculpture background, having worked at an outsource studio, as a freelancer with studios like Digic Pictures and later on as a staff cinematic artist at Blizzard Entertainments Cinematics Department on Starcraft II . My focus now lies on creating assets and characters for the games-, film- as well as the game cinematics industries. I'm also heavily involved in creating independently funded games and am currently heading the development of ' Warsoup ', a first person shooter / real time strategy mix under development at Moon Game Studios . Throughout the past couple of years I've also been teaching students digital sculpting and the understanding of 3d game pipelines, giving workshops at various universities and teaching facilities.
Portifolio « Bruno Melo
Sebastien Chort's Portfolio
Ben Mathis - Freelance Artist
The Art of Jelmer Boskma
Jon-Troy Nickel | 'Folio
BoBo the seal?
Subshape
Subshape Personal Work / WIP WIP Reviving older work Dominance War IV: Prince Tulum TOP 75! Comic Con Challenge: Poison Ivy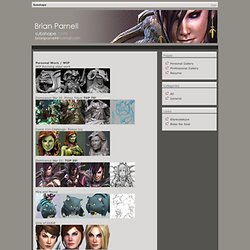 Joe Deangelis
Tim Simpson Environment Artist