3d
3D related links muetdhivers Feb 12
Ted Lockwood - 3D Artist
pointpusher
- 3D Portfolio of Michael Grote -
I helped to develop our company's particle effects editor by giving design specs, feedback, bug testing, etc. You can see examples of my particle effects in my particle effects demo reel. Particle Effects Demo Reel (34.4 MB WMV) Particle Reel Credit Sheet (Word Format) Recently I've been in charge of creating training videos to help artists both inside and outside the studio learn how to use our game engine.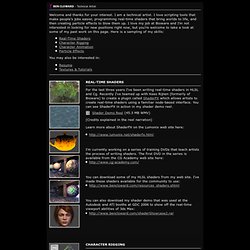 Ben Cloward
Gallery « Tom Parker
Richard Smith
Syama Pedersen - 3D Work
Gallery « Tiflos – Angel Diaz
So, The Avengers (Os Vingadores) was finally released in the USA over the weekend and WOW! It's now officially THE BIGGEST OPENING WEEKEND of ALL TIME, setting many new records!!!! I can't believe how good and entertaining the movie turned out to be and I'm so proud to have had the chance to be part of it.
The Art of Krishnamurti M. Costa |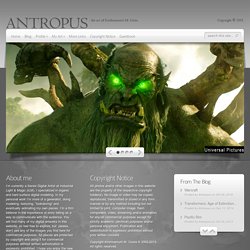 Joe Of Death
Zack Fowler - Environment & Prop Artist
doodles
Oskar Stålberg | info
Tohan Kim's Portfolio
Freelance 3D Artist - Trent Trombley
Daniel Lins - Character Artist
Kolby Jukes Character Artist Portfolio
Jonathan Fletcher - 3D Artist
sebastien Legrain
reiv.fr
Jesse Sandifer
Andrew Kinabrew: Artist
The 3dart Portfolio of Steffen Unger
Tucho online portfolio
Steven Stahlberg
max
Saatchi Online : Discover New Artists, Sell Artwork, Buy Original Paintings & Art Prints
Marcus Dublin
Christopher George - Character Artist
Mr. Portfolio, by Jeremy A Miller
The Art of Jacque Choi
JESSE MOODY | ENVIRONMENT ARTIST
So Much Monsters!
GoSsS's Portfolio
BLANC FONCÉ - BENJAMIN CARRE'S ART PAGES
MASHRU MISHU
T Roussel PolySculpt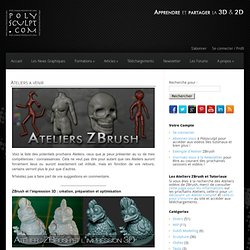 Voici la liste des potentiels prochains Ateliers, ceux que je peux présenter au vu de mes compétences / connaissances. Cela ne veut pas dire pour autant que ces Ateliers auront forcément lieux ou auront exactement cet intitulé, mais en fonction de vos retours, certains verront plus le jour que d'autres. N'hésitez pas à faire part de vos suggestions en commentaire.
Shuma
BELIEVER-DECEIVER.com - Portfolio - 3D Works - Professional
Tor Frick - 3D artist
selwy.com
The Art of L.D. Austin
:: Jessart :: - Ramblings
Eric Blondin -
Pascal Blanché
Tommy Tallian
Subshape » Professional Gallery
Pierre Bourgeot Portfolio
Sort a Done. Its almost there... I swear...
Maddamart.com
Art of Jose Alves da Silva - 3D Artist - Freelance Character Artist
∎Art of Mike A Nash∎
ITS ART : 2D - 3D - Animation - VFX - Free Magazines - CG Gallery - Forum - Digital art - IT'S ART Books - CG contests
Gavin's Art Dump
Sebastien Chort's Portfolio
Ben Mathis - Freelance Artist
The Art of Jelmer Boskma
Jon-Troy Nickel | 'Folio
BoBo the seal?
Subshape
Login Subshape Personal Work / WIP WIP Reviving older work Dominance War IV: Prince Tulum TOP 75!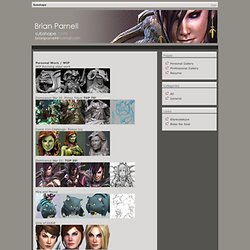 Joe Deangelis
Goodbrush.com
Tim Simpson Environment Artist