3d
3D related links muetdhivers Feb 12
Ted Lockwood - 3D Artist
I had the pleasure of working on Turbo as a modeler and got the chance to try my first bit of Vis-Dev for Dreamworks doing some graffiti art for the film. I worked with some great people on this movie, learned a TON, and made some good friends. This is the house where Turbo lives and works. The model was later updated and changed by other artists, but what you see here is the version I had the pleasure of working on. Each piece of geometry in things like the roof tiles and wall slats was unique in order to be able to accept a different material and/or texture.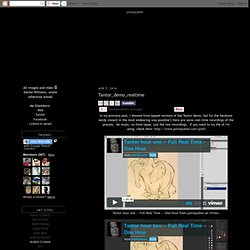 pointpusher
- 3D Portfolio of Michael Grote -
I helped to develop our company's particle effects editor by giving design specs, feedback, bug testing, etc. You can see examples of my particle effects in my particle effects demo reel. Particle Effects Demo Reel (34.4 MB WMV) Particle Reel Credit Sheet (Word Format) Recently I've been in charge of creating training videos to help artists both inside and outside the studio learn how to use our game engine.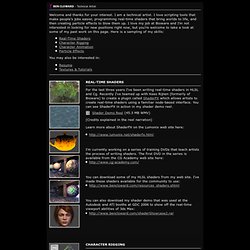 Ben Cloward
Gallery « Tom Parker
Richard Smith
Syama Pedersen - 3D Work
Gallery « Tiflos – Angel Diaz
Tiflos – Angel Diaz 3D Artist Gallery Works Awards News
The Art of Krishnamurti M. Costa |
リフレクソロジーとは足裏をマッサージすることで血行をよくしたり、ストレスを和らげる療法のことです。足裏にある反射する場所を刺激して人間が本来持っている自然治癒能力を呼び起こします。短縮されてリフレと呼ばれることもあります。普及されたばかりの頃はそのまま足裏マッサージと呼ばれていました。人間は重力の影響で下半身に水分や老廃物がたまりやすくなっています。
Joe Of Death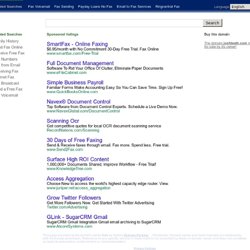 Zack Fowler - Environment & Prop Artist
doodles
Robot sidekick character. Specifications: Personal project; 8422 triangles; 1024² pixels A RTS game project made for school Specifications: School project; 10 weeks, half time; 4 programmers, 6 artistsMy contribution: Heightfield solution; Art direction; 3D art; Particle effects; Concepts; I created a splatting shader in Mental Mill, that we used to preview our terrains in Maya before our game supported them. The splatting shader later used in the game was co written by me and programmer Christoffer Warkentin.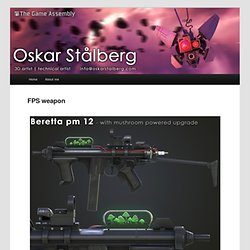 Oskar Stålberg | info
Tohan Kim's Portfolio
Freelance 3D Artist - Trent Trombley
Welcome to my online portfolio. My name is Trent Trombley and I am a 3d modeler who specializes in character and environment modeling for the game industry. This website is designed to showcase my talents and the 3d artwork that I've created. You can view my models by clicking the thumbnails at the bottom of this page. I hope you like what you see. I am available for freelance as well as fulltime in-studio opportunities.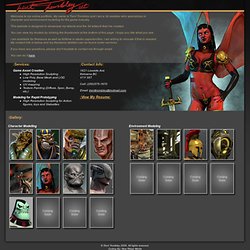 Daniel Lins - Character Artist
Kolby Jukes Character Artist Portfolio
Jonathan Fletcher - 3D Artist
Lead - Character modeler, specialized in photorealistic characters assets/outsourcing for AAA games. PROFESSIONNAL ONLY , feel free to contact me for more informations sebcesoir@hotmail.com Nurenda and Carrier Crew in D'Artiste II : Deus Ex Human Revolution, Farcry 2, Rainbow Six Vegas,Top Spin...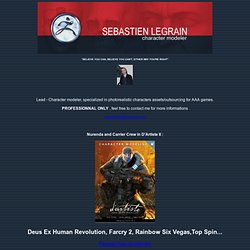 sebastien Legrain
reiv.fr
Jesse Sandifer
Andrew Kinabrew: Artist
The 3dart Portfolio of Steffen Unger
Tucho online portfolio
Rated M for strong language and nudity After working on this story for about ten years I've finally decided to pull the trigger – I've realized it's very unlikely to ever become a movie or book or musical or opera, so I'm choosing a medium I'm comfortable with and can work for free in my spare time – a comic. I also happen to love comics, I used to make them, yet haven't made any in over 30 years… so for me this is a kind of fond coming home. This is the cover so far. Disclaimer – I've worked it and reworked it, as part of experimentation and trying to find a style. It's been difficult for me to find a balance between line and color, I think I've found it but I thought that before.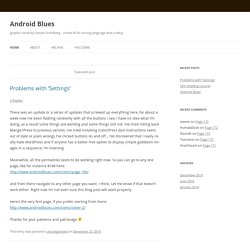 Steven Stahlberg
max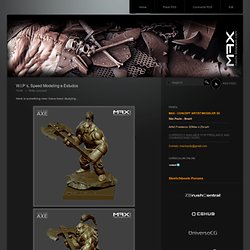 Mais um update do Iron. Falta muitos detalhes no peito e braço ainda, mas a blocagem das peças esta pronta, agora é acertar proporções e detalhes... Alguns testes de material no zbrush. A modelagem precisa de muito trabalho ainda falta varios detalhes na armadura, pretendo modelar o corpo todo.
Saatchi Online : Discover New Artists, Sell Artwork, Buy Original Paintings & Art Prints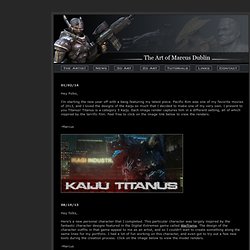 Hey folks, New Year, new art! Click on the image to check out my latest creature sculpt. -Marcus Here's a character that I made for my follow up visit to SCAD (Savannah College of Art and Design). The Grulon character was the focus my workshop / lecture; which primarily focused on concept design, digital sculpting, and texture / material creation.
Marcus Dublin
Christopher George - Character Artist
Mr. Portfolio, by Jeremy A Miller
The Art of Jacque Choi
JESSE MOODY | ENVIRONMENT ARTIST
So Much Monsters!
GoSsS's Portfolio
BLANC FONCÉ - BENJAMIN CARRE'S ART PAGES
MASHRU MISHU
T Roussel PolySculpt
BELIEVER-DECEIVER.com - Portfolio - 3D Works - Professional
Tor Frick - 3D artist
selwy.com
The Art of L.D. Austin
:: Jessart :: - Ramblings
Eric Blondin -
Pascal Blanché
Tommy Tallian
Subshape » Professional Gallery
Pierre Bourgeot Portfolio
Sort a Done. Its almost there... I swear...
Maddamart.com
Art of Jose Alves da Silva - 3D Artist - Freelance Character Artist
∎Art of Mike A Nash∎
ITS ART : 2D - 3D - Animation - VFX - Free Magazines - CG Gallery - Forum - Digital art - IT'S ART Books - CG contests
Gavin's Art Dump
Sebastien Chort's Portfolio
Ben Mathis - Freelance Artist
The Art of Jelmer Boskma
Jon-Troy Nickel | 'Folio
BoBo the seal?
Subshape
Joe Deangelis
Goodbrush.com
Tim Simpson Environment Artist