3D Printing
Links on 3D printing topics, reprap, makerbots, zcorp, and on and on robotdad Jun 1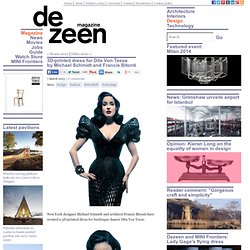 New York designer Michael Schmidt and architect Francis Bitonti have created a 3D-printed dress for burlesque dancer Dita Von Teese. Images above and top by Albert Sanchez. Designed by Schmidt and generated by Bitonti, the floor-length nylon gown was made using selective laser sintering (SLS), where material is built up in layers from plastic powder fused together with a laser.
Combination CNC Machine and 3D Printer
How to make your own 2D CNC machine that converts into a 3D Printer and back to a CNC machine in less than an hour. Costing less than a CNC machine or 3D printer! (~$1,000.00) In addition, the design will go further than the traditional 3D printer printing ABS/PLA, and move forward to printing with new materials such as 3D Printing Nylon derivatives like tauman 618 as well as Acrylic and PET. Latest Updates to this Instructable as of 9/12/2012: 1. There is a full 2BEIGH3 update here, along with a source for Nylon 3D Printing material here.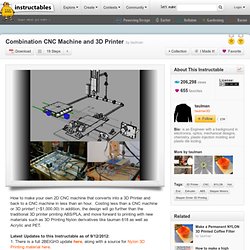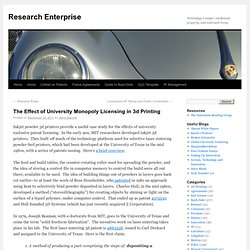 Inkjet powder 3d printers provide a useful case study for the effects of university exclusive patent licensing.
The Effect of University Monopoly Licensing in 3d Printing | Research Enterprise
This is an important time in the development of 3d printing. We have just cleared nearly two decades of the fundamental MIT patents on 3d printing using powders, and although there is a tangle of improvement patents on particular forms of 3dp technology, we have some hope of opening up development activities from its university-created, monopolistic roots.
Scorching the 3dp Earth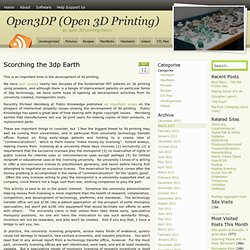 Calibration
This page has been flagged as containing duplicate material that RepRapSoftwareTweakingManual also attempts to cover.These pages should be merged such that both pages do not attempt to cover the duplicate topics.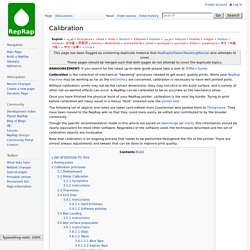 edit is restricted to the sysop group (set from the "protect" tab)move is restricted to the sysop group (set from the "protect" tab)