3D in illustrator
10 expert tips for improving your packaging design skills | Packaging. There are few things more rewarding than seeing your packaging designs appear on supermarket shelves across the country.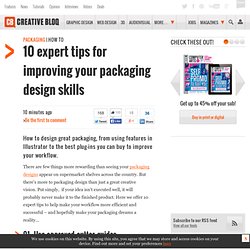 But there's more to packaging design than just a great creative vision. Put simply, if your idea isn't executed well, it will probably never make it to the finished product. Here we offer 10 expert tips to help make your workflow more efficient and successful – and hopefully make your packaging dreams a reality... 01. Use approved cutter guides. 30 Amazing 3D Illustrator Tutorials Collection. Adobe Illustrator is a vector illustration application.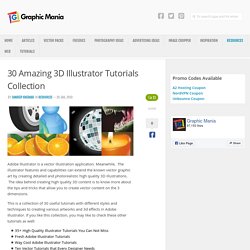 Meanwhile, The illustrator features and capabilities can extend the known vector graphic art by creating detailed and photorealistic high quality 3D illustrations. The idea behind creating high quality 3D content is to know more about the tips and tricks that allow you to create vector content on the 3 dimensions. Create Beautiful 3D Graphs and Charts in Illustrator. I love graphs.
There is something gorgeous in aesthetically pleasing, visual representation of data. In this tutorial I'll show you how to put some style into graphs generated in Adobe Illustrator. Create a 3D rocket ship in Adobe Illustrator CS5 | The Graphic Mac. Tutorials | Creative Nerds - Part 8. 3D Gradient Text Effect in Illustrator CS5 | www.IllustratorAtoms.com. Type embellishment is what sets the stage for a good design project.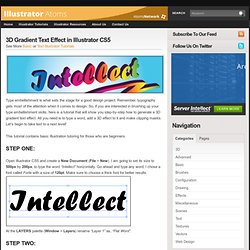 Remember, typography gets most of the attention when it comes to design. So, if you are interested in brushing up your type embellishment skills, here is a tutorial that will show you step-by-step how to generate a 3D gradient text effect. All you need is to type a word, add a 3D effect to it and make clipping masks. Let's begin to take text to a next level! 3D | www.IllustratorAtoms.com. Create an Ancient Ceramic Vase in Illustrator CS5 In this tutorial we will learn how to create an ancient ceramic vase in Illustrator CS5.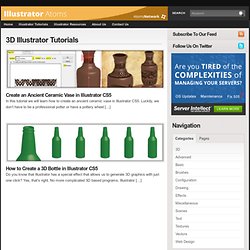 Luckily, we don't have to be a professional potter or have a pottery wheel […] How to Create a 3D Bottle in Illustrator CS5 Do you know that Illustrator has a special effect that allows us to generate 3D graphics with just one click? Creating a 3D Logo or Icon with Illustrator - Yassine Bentaieb. For my first ever blog and tutorial post I will try to share my experiences with creating 3D icons and logo's in Adobe Illustrator.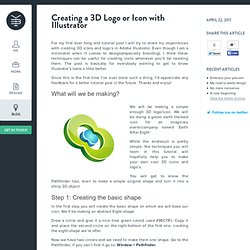 Even though I am a minimalist when it comes to design(especially branding), I think these techniques can be useful for creating icons whenever you'll be needing them. The post is basically for everybody wanting to get to know Illustrator's tools a little better. Illustrator Tutorial 3D Vase And Rose | Glazefolio design blog | Graphic Design Resources. Embed To Your Site!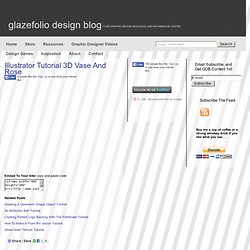 Copy and paste code Related PostsCreating A Geometric Shape Object Tutorial3d Multicolor Ball TutorialCreating Perfect Logo Backing With The Pathfinder Tutorial How To Make A Push Pin Vector Tutorial Wood Grain Texture Tutorial This entry was posted on Saturday, April 30th, 2011 at 8:28 pm and is filed under design. You can follow any responses to this entry through the RSS 2.0 feed. You can leave a response, or trackback from your own site. Vector Tutorial: Creating Your Own Colorful and Patterned Christmas Balls. It seems like ages since I last shared a vector tutorial here.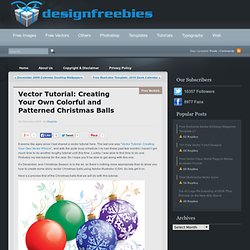 The last one was "Vector Tutorial: Creating Your Own Vector iPhone", and with the quite busy schedule I've had these past few months I haven't got much time to do another lengthy tutorial until this time. Luckily, I was able to find time to do one. Probably my last tutorial for the year. So I hope you'll be able to get along with this one.
It's December, and Christmas Season is in the air, so there's nothing more appropriate than to show you how to create some shiny vector Christmas balls using Adobe Illustrator (CS4). Grungy 3D Text In Illustrator at Design Panoply.
3D Graphs and Charts
Create a Colorful 3D Sliced Sphere to use as a Logo Design. Creating 3D Dice from Scratch in Adobe Illustrator (Super In-Depth!) This tutorial was specifically designed for newcomers to Illustrator.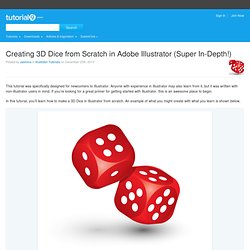 Anyone with experience in Illustrator may also learn from it, but it was written with non-illustrator users in mind. If you're looking for a great primer for getting started with Illustrator, this is an awesome place to begin. In this tutorial, you'll learn how to make a 3D Dice in Illustrator from scratch. Create Super Glossy 3D Typography in Illustrator and Photoshop.
---