DIY
Na dzieciństwo nigdy nie jest za późno [wideo]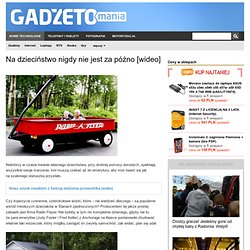 Niektórzy w czasie trwanie własnego dzieciństwa, przy drobnej pomocy dorosłych, spełniają wszystkie swoje marzenia. Inni muszą czekać aż do emerytury, aby móc bawić się jak na szalonego staruszka przystało. Nowy wózek inwalidzki z funkcją śledzenia przewodnika [wideo]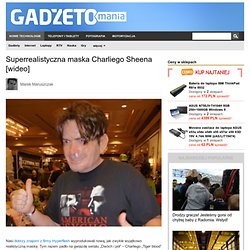 Superrealistyczna maska Charliego Sheena [wideo]
Nasi dobrzy znajomi z firmy Hyperflesh wyprodukowali nową, jak zwykle wyjątkowo realistyczną maskę. Tym razem padło na gwiazdę serialu "Dwóch i pół" – Charliego "Tiger blood" Sheena. Przerażająco realistyczna maska (wideo)
Shipping Eco-Friendly Products in Mulfunctional Packages
This is a beautifully simple example of brilliant green packaging design. It solves three common product design problems at once by (1) providing sturdier packaging for shipping shirts, (2) making it easy to recycle and (the best part) (3) having it transform into something sustainable, reusable and useful that works with the object in the package. The unassuming exterior of the so-called HangerPak looks conventional enough, with curved-and-folded ends to keep the inside wares from crumpling.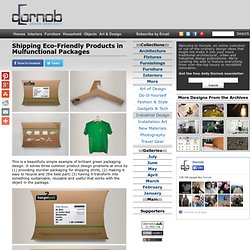 Light-Up Door Handles Illuminate Entries and Exits
There are the quite direct light-up door handles that illuminate and look like light bulbs, but there are also color-changing ones that shift to indicate occupancy (green for empty and red for full) or car door handles that illuminate upon touch to help you open them at night. Whatever the application, these can be clever ways to find the nearest entrance or exit in the dark, to communicate something to an occupant or visitor or simply to add another easy-to-spot light source that could be triggered by a switch or a simple turn of the handle.
No one wants to talk about it, but there is something odd about leaving public (perhaps even private) bathrooms by way of a grab-and-twist knob, handle or other hand-held object.
Hands-Free Door Opener Beats Bathroom Handles & Knobs
Pillow Mace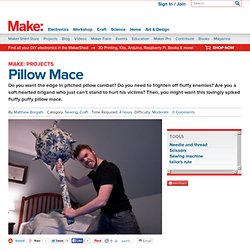 I'm going to be going over some very basic sewing techniques for creating this odd stuffed spiked ball.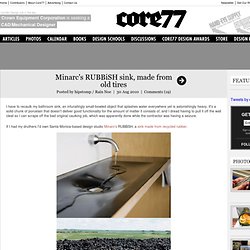 Minarc's RUBBiSH sink, made from old tires
I have to recaulk my bathroom sink, an infuriatingly small-bowled object that splashes water everywhere yet is astonishingly heavy. It's a solid chunk of porcelain that doesn't deliver good functionality for the amount of matter it consists of, and I dread having to pull it off the wall cleat so I can scrape off the bad original caulking job, which was apparently done while the contractor was having a seizure. If I had my druthers I'd own Santa-Monica-based design studio Minarc's RUBBiSH, a sink made from recycled rubber. Melting down old tires is an awesome way to make a sink--not only are the resultant sheets easy to clean, they're only 1/8" thick and can simply be stretched over a form to give them shape, resulting in a super lightweight sink. via 3 rings and architect magazine
Posted by Robert Blinn | 23 Feb 2011 | Comments (8) Core77 had the opportunity to be invited into Dror Benshetrit's Studios to take a glimpse at QuaDror, his new structural joint. QuaDror is a lap joint construction that provides for limited freedom of movement without the use of a traditional pin. The design is elegant enough to prompt wonderment that it hasn't already been built in the world, even as forgotten carpentry.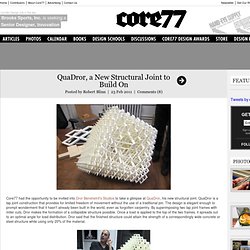 This Just Inbox: Arachnoid Laptop Stand
what a makeover! this made me feel 'myownapartamentsick' even more than ever :)bulb-lamp is great, i also made something like that, but there were less bulbs so the effect wasn't that stunning. love the shower, look really great, also the brick wall and, what surprised me, that green tone in the bedroom. you had great ideas and you fortunately put them into effect.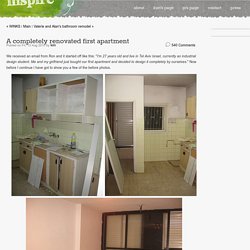 Gravity is a possible, but not necessary, starting point for the design of every structure and object we occupy or use. What if we stripped away this assumption and began shaping space that can work from any perspective and at any angle? Bureau Spectacular created this incredible installation that turns what we know about up and down sideways, spinning it around at increments to create a fully circular experience of space.
Spin Space: 360-Degree Room with Zero-Gravity Furniture
Beagle by Leo Chao
A Hood That Will Make All The Difference Blockbuster Hollywood movies can bring on the spotlight to lesser know disease and medical conditions. For example, After Rain Man we all knew what Autism was. That story told us how autistic people suffer from impaired social interaction and communication. In children the condition is heightened with sensory disorders and even minor noises can disturb them. A recent research suggests that stimulants like music, aromatherapy, and textured toys can help alleviate the condition.
For those who like laying back in the garden and leaning against a sturdy tree or bush while quietly reading a book, this grow-it-yourself natural wood furniture concept might readily take root in your imagination.
DIY Garden & Deck Furniture: Grow a Natural Wood Chair
Roll & Grow Gardening: Great DIY Vegetable Garden Idea
Growing a garden has never been easier, complete with vegetables no less.
Practical or not, when you make something yourself for your it adds a layer of engagement with your environment, interactivity with your own interior spaces. These do-it-yourself speakers may not be functional but they sure are funky.
DIY Sound System: Grow Your Own Stereo Speakers
Upcycled Furniture: Creative Chopstick Stool Design
Colorful Rugs Become Artistic Interior Centerpieces
DIY Area Rug + LED Floor Lamp = Bright White Carpet Light
Tiny 3D Tile Topography: Colorful Foam Landscape Carpet
Creative Custom Contemporary Area, Art & Accent Rugs
3D Farmville Carpet: Colorful Wool Cut into Aerial Area Rugs
Cutting Rugs: Creatively Shaped Area Carpet Designs
Funny Faux Bear Skin Rug Idea for Real Live-Animal Lovers
Informacje o Użytkowniku jarex-skorzewo - Aukcje internetowe Allegro
Assembly & Tuning « Freebord | Official Website
Kiteboarding and Kiteboarding Lessons at H2air in Dewey Beach DE and MD.
Kite Skating Kite Blading Kite Landboarding Kite Skateboarding Kite ATB Resources
Newspaper Wood: Turn Pages into Recycled Home Products
See the Future: Real 3D Digital Building Holograms (Wow!)