In-stream ads
Twitter Intros Ability To Target Promoted Tweets To Followers. As it continues to develop the advertising opportunities available on its service, Twitter is now allowing brands to target their promoted tweets to followers only.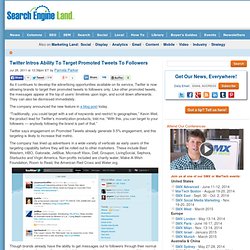 Like other promoted tweets, the messages appear at the top of users' timelines upon login, and scroll down afterwards. They can also be dismissed immediately. The company announced the new feature in a blog post today. Twitter's Advertising Scheme is Delightfully Boring - Just As It Should Be. Why do people care how Twitter will make money?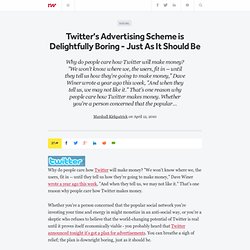 "We won't know where we, the users, fit in -- until they tell us how they're going to make money," Dave Winer wrote a year ago this week, "And when they tell us, we may not like it. " That's one reason why people care how Twitter makes money. Whether you're a person concerned that the popular social network you're investing your time and energy in might monetize in an anti-social way, or you're a skeptic who refuses to believe that the world-changing potential of Twitter is real until it proves itself economically viable - you probably heard that Twitter announced tonight it's got a plan for advertisements.
What Twitter's New Ad Model Could Mean for Small Business. This post originally appeared on the American Express OPEN Forum, where Mashable regularly contributes articles about leveraging social media and technology in small business.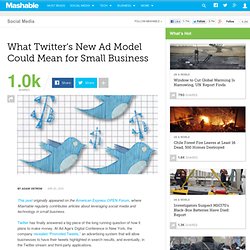 Twitter has finally answered a big piece of the long running question of how it plans to make money. At Ad Age's Digital Conference in New York, the company revealed "Promoted Tweets," an advertising system that will allow businesses to have their tweets highlighted in search results, and eventually, in the Twitter stream and third-party applications. The platform is currently being piloted by a number of big brands – it's not yet self-serve like Google AdWords or Facebook's advertising offerings. Nonetheless, there's much to be excited about, and looking at Promoted Tweets in light of other recent developments at Twitter, there's a ton of potential for what the platform could one day mean for small businesses.
Will Twitter's Ad Strategy Work? This week Twitter launched Promoted Tweets, an advertising platform that sheds light on its much-discussed business model.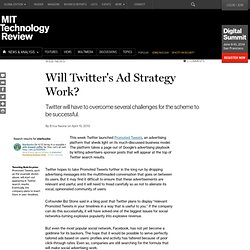 The platform takes a page out of Google's advertising playbook by letting advertisers sponsor posts that will appear at the top of Twitter search results. Twitter hopes to take Promoted Tweets further in the long run by dropping advertising messages into the multithreaded conversation that goes on between its users. But it may find it difficult to ensure that these advertisements are relevant and useful, and it will need to tread carefully so as not to alienate its vocal, opinionated community of users. Cofounder Biz Stone said in a blog post that Twitter plans to display "relevant Promoted Tweets in your timelines in a way that is useful to you." Twitter In-Stream Ad Network Ad.ly Raises $5 Million, Recruits News Corp Exec As CEO.
Twitter advertising network Ad.ly, which launched last year, has raised $5 million in additional funding led by GRP Partners with Greycroft Partners and Matt Coffin (the founder of LowerMyBills) participating in the round.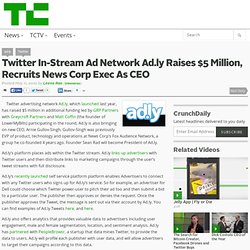 Ad.ly is also bringing on new CEO, Arnie Gullov-Singh. Gullov-Singh was previously EVP of product, technology and operations at News Corp's Fox Audience Network, a group he co-founded 4 years ago. Twitter's In-Stream Targeted Tweet Ads Begin Today In HootSuite. In-Stream Ad Network Ad.ly Extends Reach To Facebook Pages. Ad sales on Facebook are expected to reach a whopping $1.3 billion this year alone, thanks in part to the social network's massive reach to over 500 million members.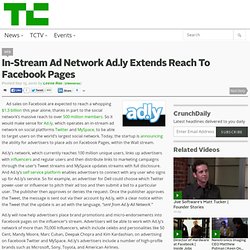 So it would make sense for Ad.ly, which operates an in-stream ad network on social platforms Twitter and MySpace, to be able to target users on the world's largest social network. Today, the startup is announcing the ability for advertisers to place ads on Facebook Pages, within the Wall stream. Ad.ly's network, which currently reaches 100 million unique users, links up advertisers with influencers and regular users and then distribute links to marketing campaigns through the user's Tweet streams and MySpace updates streams with full disclosure. And Ad.ly's self service platform enables advertisers to connect with any user who signs up for Ad.ly's service. So for example, an advertiser for Dell could choose which Twitter power-user or influencer to pitch their ad too and then submit a bid to a particular user.
---