ETLV anglais
Link Studio: interactive design and medical illustration
Explore yeast - All hands to the dough
Explore Yeast - The many lives of yeast
The biochemical composition of yeast reveals a product containing several elements which, when ingested by a living being, contribute to the smooth operation of its organism . This living being can be human, animal and even plant. The latter is the subject of a recent research field. Yeast can therefore not only act as a food supplement , but as a natural fertiliser . Some yeasts thus improve plants' capacity to take nutritive elements from the soil which they use for their growth.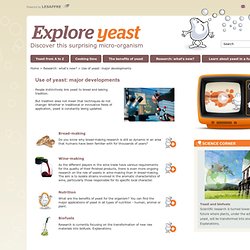 Share Email Facebook Twitter Google+ Lockerz Grab Delicious Digg Google Bookmarks MySpace StumbleUpon Reddit By Lockerz
ScienceDirect
Click version 1 for the original puzzle-maker. Click E-mail Us to send questions, suggestions or comments to us. Copyright © 2000, 2011 Variety Games, Inc. All rights reserved. This copyright notice applies to our Online Crossword Puzzle Maker. As for the puzzles you create with our Online Crossword Puzzle Maker, you are free to use them in any way you wish, even commercially.
Free Crossword Puzzle Maker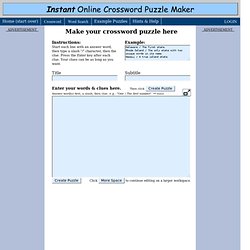 Christine Case, Biology 230