Film
Dennis Hopper itw 1969 - Part 1. Visions of Light: the Art of Cinematography (Abridged Version ) FR3 Cinema de Minuit 1980 generique jingle.
25th Hour-You all came so close to never happening-ending. Concerto Pour La Fin D'un Amour(Concerto For A Love's Ending. Akira Kurosawa's "DREAMS" Oublie-Moi, Valeria Bruni Tedeschi (extrait) Rosana Schiaffino.....supersexy...... FACTOTUM - TRAILER. Anthology Film Archives : About - Overview. Anthology Film Archives is an international center for the preservation, study, and exhibition of film and video, with a particular focus on independent, experimental, and avant-garde cinema.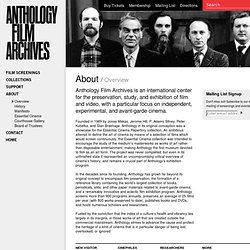 Founded in 1969 by Jonas Mekas, Jerome Hill, P. Adams Sitney, Peter Kubelka, and Stan Brakhage, Anthology in its original conception was a showcase for the Essential Cinema Repertory collection. An ambitious attempt to define the art of cinema by means of a selection of films which would screen continuously, the Essential Cinema collection was intended to encourage the study of the medium's masterworks as works of art rather than disposable entertainment, making Anthology the first museum devoted to film as an art form. The project was never completed, but even in its unfinished state it represented an uncompromising critical overview of cinema's history, and remains a crucial part of Anthology's exhibition program. "2010 la Vidéothèque s'expose, un regard sur la création vidéo", "an archive" Projections à l'atelier Combes&Renaud du 19 au 21 novembre 2010 les hôtes / the hosts: in situ videos: "2010 la Vidéothèque s'expose, s'expose #1"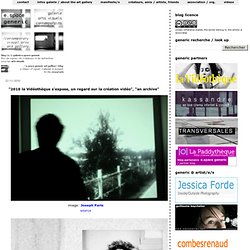 Robert Bresson
The Swimmer - Telerama.fr. The Swimmer (1968)  // Director: Frank Perry ... François Truffaut. Extract. Asia. Interview. Pierre Etaix. Eric Rohmer. Lumiere&Cie.
---