Film
Dennis Hopper itw 1969 - Part 1
Visions of Light: the Art of Cinematography (Abridged Version )
FR3 Cinema de Minuit 1980 generique jingle
25th Hour-You all came so close to never happening-ending
Chaîne de Annie7676
Concerto Pour La Fin D'un Amour(Concerto For A Love's Ending
Akira Kurosawa's "DREAMS"
Oublie-Moi, Valeria Bruni Tedeschi (extrait)
Rosana Schiaffino.....supersexy......
FACTOTUM - TRAILER
Anthology Film Archives : About - Overview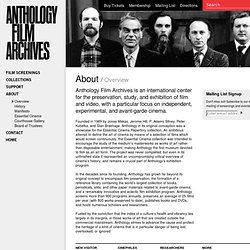 Mailing List Signup Don't miss out! Subscribe to our weekly mailing of screenings and events. Anthology Film Archives is an international center for the preservation, study, and exhibition of film and video, with a particular focus on independent, experimental, and avant-garde cinema. Founded in 1969 by Jonas Mekas, Jerome Hill, P.
Projections à l'atelier Combes&Renaud du 19 au 21 novembre 2010 les hôtes / the hosts: in situ videos: " 2010 la Vidéothèque s'expose, s'expose #1 "
"2010 la Vidéothèque s'expose, un regard sur la création vidéo", "an archive"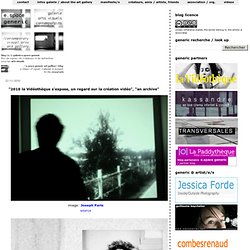 The Swimmer - Telerama.fr
The Swimmer (1968)  // Director: Frank Perry ...