Electrlok
The meloon - Du tout, Du rien et des fautes d'orthographes. Mix Recipes: Kick Drum EQ and compression. There is no reason to settle for lackluster kick drum sounds on your home recording.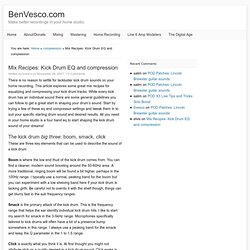 This article explores some great mix recipes for equalizing and compressing your kick drum tracks. While every kick drum has an individual sound there are some general guidelines you can follow to get a great start in shaping your drum's sound. Start by trying a few of these eq and compressor settings and tweak them in to suit your specific starting drum sound and desired results. DRUM TRACK ZONE - Midi Drum Patterns, Breakbeats, Drum Samples. 3d Sound and Binaural Sound Plus White noise. Music Production. VST. Virtual instruments Synths.
No treble : the site for bass players | notreble.com. How to make a hip-hop beat. Step 1: We'll start with a kick drum from Spectrasonics Stylus RMX's vast array of individual hits.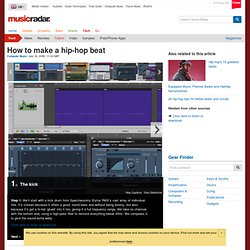 It's chosen because it offers a good, round bass end without being boomy, but also because it's got a hi-hat 'glued' into it too, giving it a full frequency range. We take no chances with the bottom end, using a high-pass filter to remove everything below 30Hz. We compress it, to give the sound extra welly. Samples & sampler. Hobnox. Music production.
MPM Demo. Check out my blog!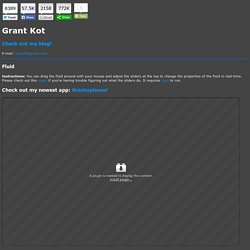 E-mail: kotsoft@gmail.com Fluid Instructions: You can drag the fluid around with your mouse and adjust the sliders at the top to change the properties of the fluid in real-time. Record Video.
---