Technology for teaching
5 Steps to Create Stunning Slideshows with Audio Using YouTube. The first thing that comes into your mind when you want to create a slideshow is using one of those popular web tools such as Google Presentations, Sliderocket...etc; there is, However, a very easy, simple and quick way to create stunning slides from pictures and photos using just YouTube.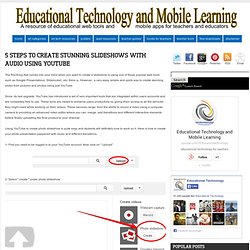 Since its last upgrade, YouTube has introduced a set of very important tools that are integrated within users accounts and are completely free to use. These tools are meant to enhance users productivity by giving them access to all the services they might need while working on their videos. These services range from the ability to record a video using a computer camera to providing an advanced video editor where you can merge, add transitions and different interactive elements before finally uploading the final product to your channel. Using YouTube to create photo slideshow is quite easy and students will definitely love to work on it. The 10-step checklist for digitizing your school. 23 Great Sources For Free Educational Videos Online. Students like to watch videos.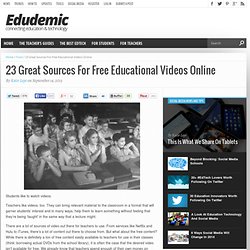 Teachers like videos, too. They can bring relevant material to the classroom in a format that will garner students' interest and in many ways, help them to learn something without feeling that they're being 'taught' in the same way that a lecture might. 7 Ways To Keep Students Focused While Using Technology. When used effectively, technology plays an important role in enhancing the learning process.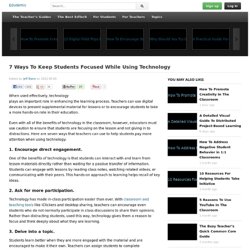 Teachers can use digital devices to present supplemental material for lessons or to encourage students to take a more hands-on role in their education. Even with all of the benefits of technology in the classroom, however, educators must use caution to ensure that students are focusing on the lesson and not giving in to distractions. Here are seven ways that teachers can use to help students pay more attention when using technology: 1.
8 Overlooked Useful YouTube Tools. When most people think about YouTube they think sharing videos and or about all of the videos they can discover.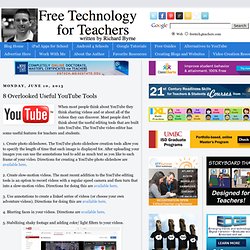 Most people don't think about the useful editing tools that are built into YouTube. The YouTube video editor has some useful features for teachers and students. 1. Create photo slideshows. The YouTube photo slideshow creation tools allow you to specify the length of time that each image is displayed for. Google Play for Education could kill the iPad in schools. Google released a major new education program today that organizes and manages the way teachers push apps, books, and other learning content to student tablets.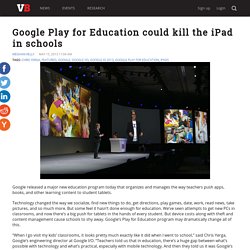 Technology changed the way we socialize, find new things to do, get directions, play games, date, work, read news, take pictures, and so much more. But some feel it hasn't done enough for education. 15 Lesson Plans For Making Students Better Online Researchers. Google is usually one of the first places students turn to when tasked with an assignment.
Whether it's for research, real-time results, or just a little digital exploration … it's important they know how to properly Google. Lucky for teachers (and students, of course), Google has a handy set of lesson plans that are just waiting to be unleashed upon the leaders of tomorrow. While I understand there's a LOT more to research than just Googling, it's important to note that this is where nearly all students start their research. Therefore, it's a critical skill if they're going to start down the right paths. Below are 15 lesson plans courtesy of Google designed to make students better online researchers. 35 Digital Tools That Work With Bloom's Taxonomy. Integrating technology in the classroom and engaging students in higher order thinking creates the ultimate learning experience for students.
Bloom's Taxonomy and digital tools creates an innovative learning environment where students are engaged in their assignments. The following is a list of digital tools as it relates to Bloom's Taxonomy. 1. Creating – In creating, students create projects that involve video editing, storytelling, video casting, podcasting, and animating. The 100 Best (And Free) Online Learning Tools.
We're always excited to find the next best thing.
But how does one actually find this supposed next best thing? Let Edudemic do the work for you! For example, ever wanted to spend zero dollars but have some of the most bleeding edge technologies at your disposal? Fear not! In the vain of C4LPT, we bring you many other resources that are not as well-known as those featured on their site . 12 Ways To Integrate (Not Just Use) Technology In Education. There are a couple dozen ways to 'use' technology in education.
There are also a couple dozen ways to integrate technology in education. Think those two things are the same? Think that throwing a few iPads and a few Edudemic blog posts into a classroom is the best way to launch a 1:1 initiative? In case you couldn't guess, it's not. 100 Best Video Sites For Educators. Bringing multimedia into the classroom is a great way to engage students in learning.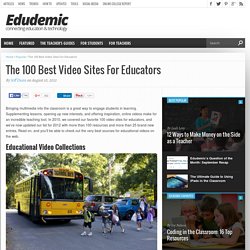 Supplementing lessons, opening up new interests, and offering inspiration, online videos make for an incredible teaching tool. In 2010, we covered our favorite 100 video sites for educators, and we've now updated our list for 2012 with more than 100 resources and more than 25 brand new entries. Read on, and you'll be able to check out the very best sources for educational videos on the web. Educational Video Collections. The Top 12 YouTube Education Channels. There's a whole host of educational videos out there.
From Sal Khan's famous set of instructional video lessons to the one-off videos by individuals … there's a lot to sort through. So where do you start? If you're like me, you go straight over to the king of all video sites, YouTube. They have a dedicated education section ( YouTube EDU ) where they have a curated list of resources. 7 Fun Ways to Use QR Codes In Education. QR Codes Quick Response are so fun to integrate in classroom. Quick Response codes are bar codes with information. QR Codes can include contact information, websites, text, SMS, pictures and so much more. Using Dropbox in the Classroom.
When I mention Dropbox to friends and colleagues, I usually get one of two responses – a knowing smile and nod, or a puzzled and quizzical look. Whether you know what the program is, you have likely heard the name. But really, what is Dropbox? Dropbox is many things — a multifaceted tool that's so powerful, you'll continue to discover new ways to use it. But the short and sweet of it is this: you can use it to store and sync documents and files across computers, tablets, and smart phones. I can write a lecture or lesson plan on my computer at home, put it in my Dropbox folder, and whoosh – it's synced with my work computer. Ten Takeaway Tips for Teaching Critical Thinking. 4 Education Technology Trends Coming To Your Classroom. How Online Education Has Changed In 10 Years 8.37K Views 0 Likes We all know that education, specifically online education, has come a long way in the last few years.
10 Fun Tools To Easily Make Your Own Infographics. People love to learn by examining visual representations of data. That's been proven time and time again by the popularity of both infographics and Pinterest. So what if you could make your own infographics ? What would you make it of? It's actually easier than you think… even if you have zero design skills whatsoever. 50 Education Podcasts For Mobile Learning. 3 Free (But Powerful) Presentation Tools For Teachers.
20 Digital Learning Day Activities For Your Classroom. A Straightforward Guide To Using Pinterest In Education. The 100 Best Learning Tools Of 2012 As Chosen By You. How To Integrate Education Technology With Scaffolding. Edudemic | Education Technology, Apps, Product Reviews, and Social Media.
50 Education Technology Tools Every Teacher Should Know About. How MIT Approaches Innovation In Education Technology. Why You Should Start Using QR Codes In Your Classroom. The 30 Best Web 2.0 Tools For Teachers (2012 Edition) 10 Emerging Education Technologies You Should Know About. 10 Free Web 2.0 Tools And How To Easily Use Them In Your Classroom. The 200 Best Special Education Apps. 25 Ways To Use Twitter To Improve Your Professional Development. HSIE iPad Apps. Horizon Project.
---