Pearl Help
In a nutshell. Pearltrees is a social curation tool.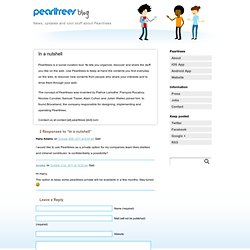 Its lets you organize, discover and share the stuff you like on the web. Use Pearltrees to keep at hand the contents you find everyday on the web, to discover new contents from people who share your interests and to drive them through your web. The concept of Pearltrees was invented by Patrice Lamothe. Pearltrees-Blog. Pearltrees. Facebook group. Help. About Pearltrees.
Pearltrees videos
---
sutt2m Nov 15 2010

I have rearanged these Pearltrees to try and make these links more accessible.
---