Google
With the exception of the UKs Guardian much of the media has left the Snowden affair well alone, either through political pressure or lack of exclusive. The story, however, hasn't gone unnoticed by the American and European consumer. Alexa, the Amazon owned website ranking company, shows the number of page views to Googles various international sites significantly down over the last month. Google.com: -9.97%Google.co.uk (United Kingdom): -21.7%Google.fr (France): -25.05%Google.de (Germany): -14.58%Google.es (Spain): -24.16%Google.be (Belgium): -21%Google.com.br (Brazil): -6.65%Google.nl (Netherlands): -14.27%Google.co.ve (Venezuela): -13.37%Google.it (Italy): -20.67 [Added 12:08 11/07/2013, London]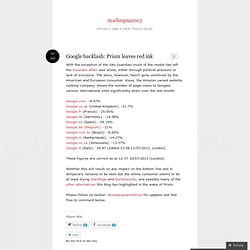 Google backlash: Prism leaves red ink | madeupname3
Microsoft lance un blind test pour comparer Bing et Google
Microsoft fait d'une pierre deux coups.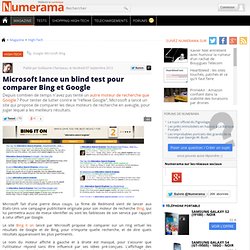 comment hacker google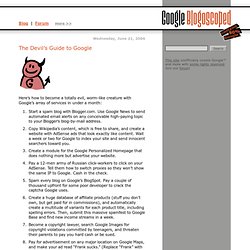 The Devil's Guide to Google
vtt @ Bing vs. Google
The Googlization of Everything
Google tremble t'il?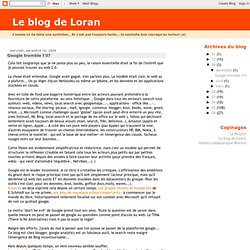 Cela fait longtemps que je ne poste plus ou peu, la raison essentielle était la fin de l'intérêt que je pouvais trouver au web 2.0. La chose était entendue, Google avait gagné, n'en parlons plus. Le modèle était clair, le web as a plaform...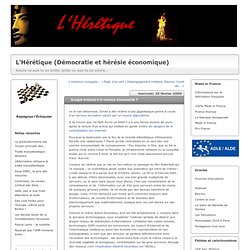 on le sait désormais, Gmail a été victime d'une gigantesque panne à cause d'un serveur européen saturé par un nouvel algorythme.
Google brûlera-t-il comme Alexandrie ? : L'Hérétique - Démo
The Anti-Google Search Engine Index – The New Media Journal.us
"Our liberty depends on the freedom of the press, and that cannot be limited without being lost." -- Thomas Jefferson
the unofficial google shell.
Goosh goosh.org 0.5.0-beta #1 Mon, 23 Jun 08 12:32:53 UTC, Google/Ajax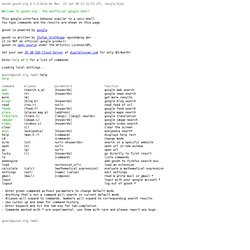 Cet article a été publié il y a 3 ans 11 mois 26 jours, il est donc possible qu'il ne soit plus à jour.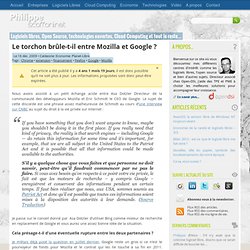 Le torchon brûle-t-il entre Mozilla et Google ? – Philippe Scoff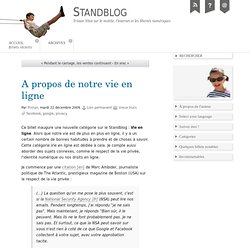 A propos de notre vie en ligne
Ce billet inaugure une nouvelle catégorie sur le Standblog : Vie en ligne.
(Ca va sans dire, mais ça va mieux en le disant : comme indiqué en bas de chaque page de ce blog, ce que j'exprime ici n'est que mon opinion personnelle et ne saurait aucunement être attribué à mon employeur.[1]))
Google et Facebook dans le collimateur du public