StartUps
CloudBees: Cloud Platform as a Service for Java Web Apps, Supported Jenkins/Hudson and Jenkins/Hudson in the Cloud. Schuhe & Mode versandkostenfrei online kaufen | ZALANDO. GmbH - Eigene Spiele. INTENIUM hält die Rechte an zahlreichen hochwertigen Casual Games für PC und Nintendo Konsolen.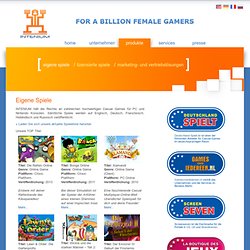 Sämtliche Spiele werden auf Englisch, Deutsch, Französisch, Holländisch und Russisch veröffentlicht. » Laden Sie sich unsere aktuelle Spieleliste herunter. Unsere TOP Titel: Bigpoint.com | Spiel die besten Browsergames kostenlos online. ExploreB2B. Moped. Wooga. Gidsy.com: book and offer tours, activities, workshops, local events and more exciting things to do. UPcload. PressMatrix | Multi-Device ePublishing | Made in Germany.
Cinovu.com - help us revolutionize film distribution! SoundCloud takes steps to placate record labels | Business | Deutsche Welle | 14.01.2011. Earlier this month, SoundCloud, a young German music sharing startup announced a partnership with Audible Magic, a media identification and copyright tracking provider, to identify copyright breaches and to automatically take them down.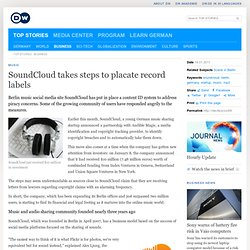 This move also comes at a time when the company has gotten new attention from investors: on January 8, the company announced that it had received $10 million (7.48 million euros) worth of combinded funding from Index Ventures in Geneva, Switzerland and Union Square Ventures in New York. The steps may seem understandable as sources close to SoundCloud claim that they are receiving letters from lawyers regarding copyright claims with an alarming frequency. EyeEm.
Amen. Wunderkit - A new way to organize your life. Founders STAND UP! The anti-copycat revolution starts now. How We Fixedthe Heartbleed bug On Tuesday 8th April 2014, we were made aware of an internet-wide security vulnerability called 'Heartbleed'.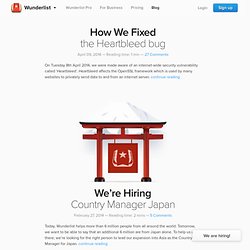 Heartbleed affects the OpenSSL framework which is used by many websites to privately send data to and from an internet server. continue reading We're HiringCountry Manager Japan. Understand your online social capital. Neukölln App. Rocket Internet GmbH | " Aus Ideen werden mit Hilfe von Rocket Internet schnell Konzepte – und aus Konzepten erfolgreiche Unternehmen. " Travel Deals: Hotel, Flug, Reise, Kreuzfahrt und Mietwagen Gutscheine online kaufen. Organisiert das Web um dich herum. Entdecke deine Stadt neu! Pinterest / Home.
Hojoki - Make All Your Cloud Apps Work As One: Home.
---