ReadWriteWeb
How To Use Google Plus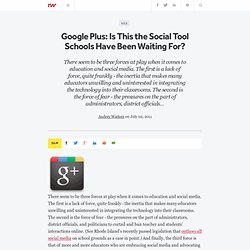 There seem to be three forces at play when it comes to education and social media.
Google announced today the next stages of a major social software strategy. Called Google+, the latest in a suite of services unveiled includes a selective sharing service called Circles, a personalized newsfeed type service called Sparks, group chat, instant photo uploading features and more. The fundamental paradigm of facilitating privacy and selective sharing in order to foster a greater quantity and quality of sharing is reminiscent of the philosophy that helped Facebook grow fast in its early days, but is now relatively unique in the social networking world.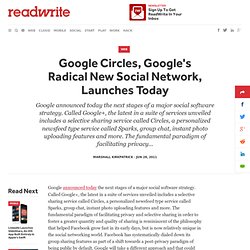 Google Circles, Google's Radical New Social Network, Launches Today
Google Plus...the Facebook Page
How do we know that Google Plus has really made it? It has its own Facebook page!
First Night With Google Plus: This is Very Cool
I thought I'd type up some notes after an evening of using Google's new social network, Google Plus . This is a really big deal, a super ambitious effort involving scores of engineers over months of near total secrecy.