First Week
Google Plus- First Look. If you haven't yet gotten dragged into Google +, don't fret.
It's a virus. You'll be in soon, so save your begging. It'll come really quick. @christineptran » First Thoughts: Google+ and Social Circles. First Look: "Hands On" With Google Plus. I've been manically playing with Google Plus for about an hour now and, while there is disagreement here among the editorial team at Search Engine Land, I give it a qualified "thumbs up."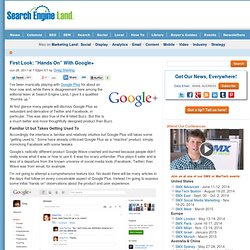 At first glance many people will dismiss Google Plus as redundant and derivative of Twitter and Facebook, in particular. This was also true of the ill-fated Buzz. But this is a much better and more thoughtfully designed product than Buzz. Familiar UI but Takes Getting Used To Accordingly the interface is familiar and relatively intuitive but Google Plus still takes some "getting used to." First Take: Google+ Gets Features Right –But Offers No Reason to Leave Facebook. Finally, after many mis-starts and social media product debacles, Google gets their social networking offering down right.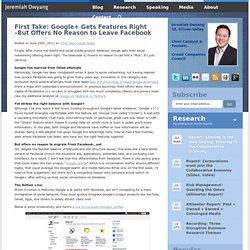 The downside is, there's no reason to call this a "Plus", it's just catchup. Google has learned from failed attempts Historically, Google has been complacent when it goes to social networking, not having realized how quickly Facebook was going to grow many years ago, innovation in this category was lackluster. Amid several attempts most have failed (see the chronology of failed Google attempts), there is hope with yesterday's announcement. In previous launches, their efforts were mere copies of Facebook's (+1 vs Like) or struggled with too much complexity (Wave) and privacy woes (see my additional analysis on Google vs Facebook vs Twitter).
---