Programing
Tutorials For OpenOffice: Base Index
Apache HTTP Server Download
Learn to Program using Python: Lesson 1, Getting Started — Developer.com
Preface Prerequisites Why Use Python Let's Write a Program Where Do We Go From Here? Review Preface What you will learn This is the first in a series of online tutorial lessons designed to teach you how to program using the Python scripting language.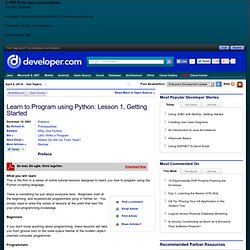 If you've never programmed before, the tutorials on this page are recommended for you; they don't assume that you have previous experience.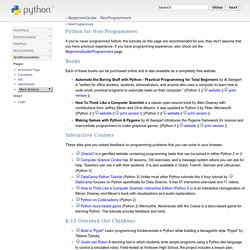 LEARNING PYTHON (For the Complete N00B) Tutorial
A Beginners PHP by Shyam Srinivas
PHP,Free source code for the taking. Over five million lines of programs.
C++ Tutorial - FunctionX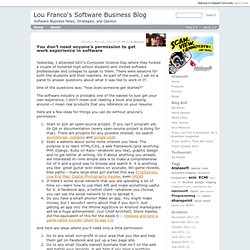 Lou Franco's ECM Imaging Blog : You don't need anyone's permission to get work experience in software
Tuesday, May 25, 2010 8:55 AM by loufranco