Programing
Tutorials For OpenOffice: Base Index
Apache HTTP Server Download
Learn to Program using Python: Lesson 1, Getting Started — Developer.com
Preface Prerequisites Why Use Python Let's Write a Program Where Do We Go From Here? Review Preface What you will learn This is the first in a series of online tutorial lessons designed to teach you how to program using the Python scripting language.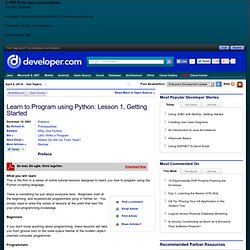 LEARNING PYTHON (For the Complete N00B) Tutorial
A Beginners PHP by Shyam Srinivas
We are continuing to work through the repercussions of the php.net malware issue described in a news post earlier today. As part of this, the php.net systems team have audited every server operated by php.net, and have found that two servers were compromised: the server which hosted the www.php.net, static.php.net and git.php.net domains, and was previously suspected based on the JavaScript malware, and the server hosting bugs.php.net. The method by which these servers were compromised is unknown at this time. All affected services have been migrated off those servers.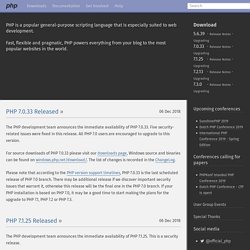 PHP,Free source code for the taking. Over five million lines of programs.
Welcome to . I developed this website in an effort to provide easy to understand programming lessons and tutorials to anyone who wants to learn programming. Do you want to register for free to earn points and track your progress? The only information that will be asked of you is your desired username, your first name, and your desired password. This information will not be revealed without your consent. If you haven't already, be sure to subscribe to our Reddit Page to be made aware of new lessons and other developments.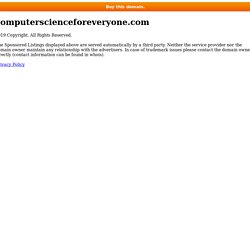 C++ Tutorial - FunctionX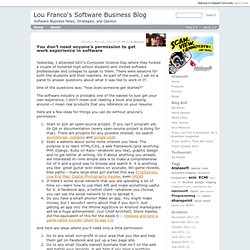 Lou Franco's ECM Imaging Blog : You don't need anyone's permission to get work experience in software
Tuesday, May 25, 2010 8:55 AM by loufranco Yesterday, I attended GCC's Computer Science Day where they hosted a couple of hundred high school students and invited software professionals and colleges to speak to them. There were sessions for both the students and their teachers. As part of the event, I sat on a panel to answer questions about what it was like to work in IT. One of the questions was: "how does someone get started?"