002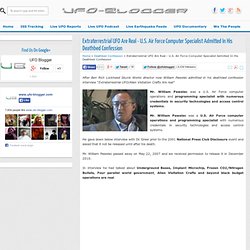 After Ben Rich Lockheed Skunk Works director now William Pawelec admitted in his deathbed confession interview " Extraterrestrial UFO/Alien Visitation Crafts Are real " Mr. William Pawelec was a U.S. Air Force computer operations and programming specialist with numerous credentials in security technologies and access control systems.
UFO extraterrestres immobiliers - US Air Force Spécialiste en informatique a admis dans son lit de mort Confession | Dernières Nouvelles OVNI | UFO Sightings 2011 | Photos Alien | 2011 Eruptions Solaires | Disclosure Project | Web Bot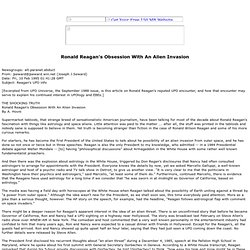 Ronald Reagan's Obsession With An Alien Invasion
Ronald Reagan's Obsession With An Alien Invasion Newsgroups: alt.paranet.abduct From: jseward@jseward.win.net (Joseph J.Seward) Date: Fri, 10 Feb 1995 01:41:28 GMT Subject: Reagan's UFO info [Excerpted from UFO Universe, the September 1988 issue, is this article on Ronald Reagan's reputed UFO encounter, and how that encounter may serve to explain his continued interest in UFOlogy and EBEs.] THE SHOCKING TRUTH Ronald Reagan's Obsession With An Alien Invasion By A. Hovni
Vivons nous '' les derniers jours '' prédit par la Bible… ?
Ed Grimsley observe depuis pas mal de temps, des évolutions d'engins inconnus dans le ciel, et parfois mêmes ce qui semble être des batailles , ou des manœuvres militaires entre ces engins. Certains ont des formes en ailes Delta, chères aux américains, et d'autres ressemblent plutôt à des Soucoupes. Ils semblent manier des armes laser. Ed Grimsley dispose de plusieurs paires de jumelles militaires à vision nocturne de haute technologie, et il invite des groupes de personnes à observer ces objets.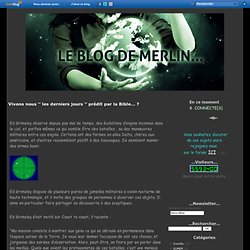 According to Russian television a huge UFO of about 650 feet in diameter bigger than the commercial plane was seen on May 16, 2011 above khabarovsk, the second important city at the eastern end of the country. The UFO was so threatening that it was attacked by military men. People of Khabarovsk said it was scary to see a huge craft that spin and descended overflew their city. Military considered its presence in the sky to be hostile and immediately decided to shoot missiles and artillery against the UFO missiles even reached the UFO but suddenly UFO changed its direction and propelled out into space and disappeared.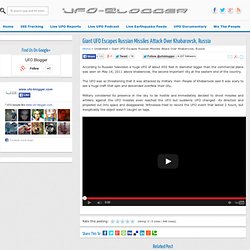 OVNI géant russe Évasions Attaque Missiles Plus de Khabarovsk, Russie | Dernières Nouvelles d'OVNI | UFO Sightings 2011 | Alien Photos | 2011 éruptions solaires | Disclosure Project | Web Bot
Uh… Oh… 404 Error It appears that this is not the page you are looking for. It may have moved or may no longer be available. You tried /channel/series/when-aliens-attack/ Instead, try one or all of these options:
Lorsque l'attaque des étrangers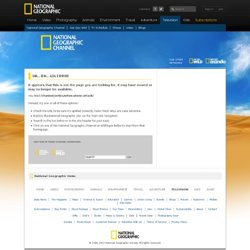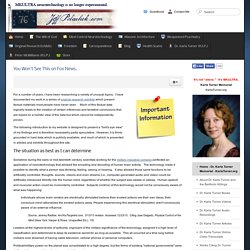 Researcher Marshall Thomas provides an introductory explanation of the methods employed by repressive governments to attack political enemies. Dossiers are put together on targeted individuals, and government-controlled "citizen's groups" (such as those based on religion or race) are then provided with edited-together versions of the dossier data (such as video recordings of the target) designed to be as damaging as possible. The members of the vigilante group (who do not realize that they are actually being used as dupes by the state) are by this method convinced that the target is some kind of "undesirable" and that they will be doing a service to the community by assaulting, harassing or commiting other crimes against the specified target. In this video, Thomas does not specifically mention the modern employment of mind-control neurotechnology which can be used to cause the target to do things they ordinarily would not (it may be covered in one of his many other videos ) .
KarlaTurner.org - Backup Website
Extraterrestrial UFO Are Real : Ben Rich Lockheed Skunk Works Director Admitted In His Deathbed Confession |Latest UFO News| UFO 2011 Sightings|Alien Pictures|2011 Solar Flares|Disclosure Project|Web Bot
Extraterrestrial UFO Are Real : Ben Rich Lockheed Skunk Works Director Admitted In His Deathbed Confession Ben Rich Lockheed Skunk Works director had admitted in his Deathbed Confession that Extrat errestrial UFO visitors are real and the U.S. Military travel among stars. According to article published in May 2010 issue of the Mufon UFO Journal [ Link ] - Ben Rich, the "Father of the Stealth Fighter-Bomber" and former head of Lockheed Skunk Works,had once let out information about Extraterrestrial UFO Visitors Are Real And U.S.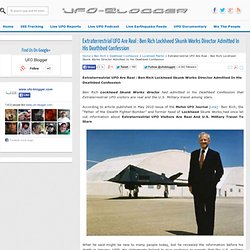 … c'est ce que l'affiche produite par National Geographic dit : Le 28 mai 2011, National Geographic présentera un documentaire intitulé « When Aliens Attack » ( »Quand les extraterrestres attaquent »). Ils nous proposent un petit jeu en quatre volets où vous apprenez : 1) Quand vont-ils attaquer ? 2) Comment communique-t-on avec eux ?
préparez-vous a l'attaque des extraterrestres maintenant ! | le cortex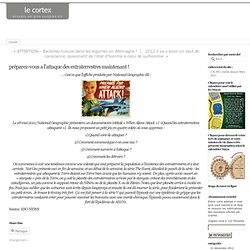 Ed Grimsley
MUFON Of N.J.
ils préparent nos inconscient collectif à un spectacle cosmique jamais créé dans toute l'histoire de l'humanité !