Ipad
Edushifts
iPad | Professor Hobo.com. While the iPad is probably a wonderful tool to do very cool things, like most technology it won't work when it's forced upon an audience.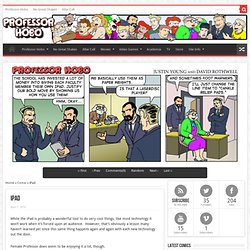 However, that's obviously a lesson many haven't learned yet since this same thing happens again and again with each new technology out the door. Female Professor does seem to be enjoying it a lot, though. CZAR: The school has invested a lot of money into giving each faculty member their own iPad. I Education Apps Review - I Education Apps Review. Geo Walk HD - 3D World Fact Book. Description ***Featured by Apple on "Back to School"*** Do you like to discover new things?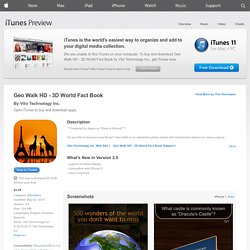 Geo Walk is an interactive globe model with handpicked articles on various topics (Animals and Plants, History, People and Inventions), which are placed on the Earth with respect to their location with pictures and short descriptions making most wonderful things of the world easy and fun to discover. 100 iPad Tips and Tricks–Free Download. It seems with the release of the iPad 2 tomorrow that iPad mania is in full swing.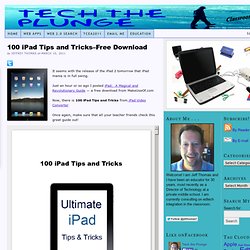 Just an hour or so ago I posted iPad: A Magical and Revolutionary Guide — a free download from MakeUseOf.com Now, there is 100 iPad Tips and Tricks from iPad Video Converter Once again, make sure that all your teacher friends check this great guide out! 100 iPad Tips and Tricks is a free download that you can get here! 10 Excellent iPad Applications for Teachers.
With the iPad2 on the launching pad, it's a great time to share this list of useful iPad apps for teachers from guest writer Paula Dierkens.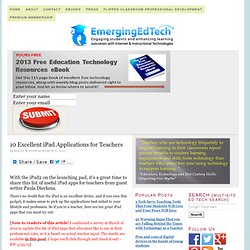 There's no doubt that the iPad is an excellent device, and if you own this gadget, it makes sense to pick up the applications best suited to your lifestyle and profession. So if you're a teacher, here are ten great iPad apps that you must try out: [Note to readers of this article! OverDrive Media Console eBook Review | Katherine Boehret | The Digital Solution | AllThingsD. Get out your library cards: Now you can wirelessly download electronic books from your local library using the Apple iPad or an Android tablet.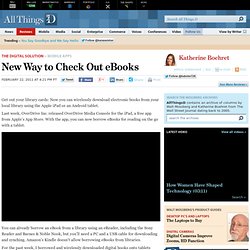 Last week, OverDrive Inc. released OverDrive Media Console for the iPad, a free app from Apple's App Store. With the app, you can now borrow eBooks for reading on the go with a tablet. You can already borrow an eBook from a library using an eReader, including the Sony Reader and Barnes & Noble Nook, but you'll need a PC and a USB cable for downloading and synching. Amazon's Kindle doesn't allow borrowing eBooks from libraries. For the past week, I borrowed and wirelessly downloaded digital books onto tablets primarily using OverDrive, the largest distributor of eBooks for libraries.
A Parent's Struggle With a Child's iPad Addiction. I think my 6-year-old is addicted to the iPad.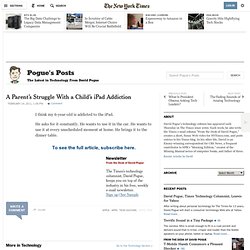 He asks for it constantly. He wants to use it in the car. He wants to use it at every unscheduled moment at home. He brings it to the dinner table. Download the Official Marvel Comics iPad App | Marvel Heroes | Comic News. ***Check out the video walk through of the Marvel iPad app on Apple.com!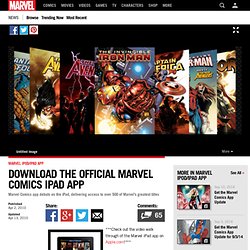 *** Marvel Entertainment is proud to announce the launch of the Marvel Comics App for iPad on the App Store. This landmark app launches with over 500 of Marvel's greatest comic books, from classic stories to modern tales, featuring Iron Man, Captain America, Spider-Man, Hulk, Thor and more of the world's most popular Super Heroes. I hate my iPad: Can my tablet-loving Slate colleagues ... I admit that I bought my iPad for the wrong reasons.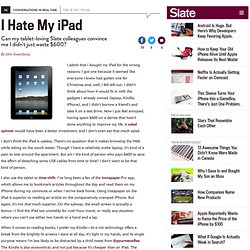 I got one because it seemed like everyone I knew had gotten one for Christmas and, well, I felt left out. I didn't think about how it would fit in with the gadgets I already owned (laptop, Kindle, iPhone), and I didn't borrow a friend's and take it on a test drive. Now I just feel annoyed, having spent $600 on a device that hasn't done anything to improve my life. A salad spinner would have been a better investment, and I don't even eat that much salad. I don't think the iPad is useless. iPad Presentation - Scottsdale Community College. Best App Site. iPad Project. Seton Hill University - A Leading Catholic Liberal Arts University in Greensburg Pennsylvania. For the iPad, 10 Favorite Apps - App Smart. Blackboard and iPads. Best Free Remote Desktop Apps for iPad. If you own an iPad at home or work, it is definitely a nice idea to access your home or work PC using remote desktop.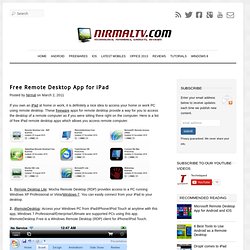 These freeware apps for remote desktop provide a way for you to access the desktop of a remote computer as if you were sitting there right on the computer. Here is a list of free iPad remote desktop apps which allows you access remote computer. 1. Switch is a Smart Multi-User Browser for iPads. 039;s Essential iPad Apps.
iPad Apps/Games : The Absolute Essential Must Have iPhone Apps. More App Info description & screenshots $1.99 Gas Cubby - Fuel Economy & Service Log by App Cubby With all the driving you do, you may wonder how much you really spend on gas or what the MPG of your car is.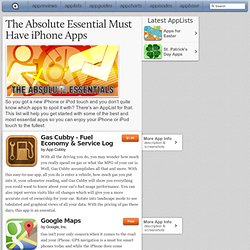 Well, Gas Cubby accomplishes all that and more. With this easy-to-use app, all you do is enter a vehicle, how much gas you put into it, your odometer reading, and Gas Cubby will show you everything you could want to know about your car's fuel usage performance. You can also input service visits like oil changes which will give you a more accurate cost of ownership for your car. Springpad - save anything you want to remember. The Best Writing Apps for iOS. For me, right now nothing is holding a candle up to Dragon Dictation iPhone app.
While it isn't a "writing app" per-say, it's made replying to emails and txt messages along with taking simple notes a whole other experience. Fire the app up, talk into your phone, Dragon Dictation processes verbal speech into text. Ushering iPad into the Classroom. Mobile Computing | Spotlight Ushering iPad into the Classroom A number of built-in features, tools, and add-ons are helping to propel Apple's iPad into the classroom. Technology analyst Denise Harrison looks at the benefits of iPad in education and predicts some unanticipated applications Tablet devices are hardly new; Apple's own Newton, introduced in 1987, could fairly be called an ancestor to the iPad with its tablet form, tethered pen touch interface, and easy portability. Software Garden Products: Dan Bricklin's Note Taker HD App. Air Sketch Free. Description Turn your iPad into a wireless whiteboard!
Project live sketches to a local computer in 3 easy steps:STEP 1: Launch Air Sketch.STEP 2: Open the indicated URL in a web browser.STEP 3: Everything you draw appears in the browser, as you draw it. REAL-TIME DRAWINGJust fire up Air Sketch on the iPad and open the specified URL from any HTML5 compatible browser on another computer on the local network to see your sketches in real-time as you draw. NO DONGLES, CLOUD SERVICES, or PLUGINS NEEDEDHook up your laptop to a projector to get an instant wireless whiteboard. No need to buy an AppleTV, ChromeCast, or other hardware. Math Ref Popular Education App for iPhone to support iPad | Touch Reviews. Best iPhone Apps: iPad Apps To Make You Smarter by justatitch | Appolicious ™ iPad and iPhone App Directory. Best iPhone Apps: Educational Apps for iPad Users by justatitch | Appolicious ™ iPad and iPhone App Directory. Top 5 iPad apps for Educators. 10 Best iPad Apps for College Students - Professors' Guide.
iPad Apps for Education | ISTE Connects - Educational Technology.
---