Psychology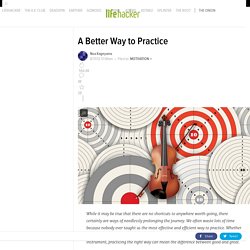 My guitar teacher used to always say, "practice makes perfect, so you gotta practice being perfect!" By that, he meant that, when you're practicing, you have to be sure that you're practicing the correct method, and not the incorrect one. For instance, if I was switching between a G and C chord, and I misplaced a finger, he would make me practice the correct chord change three times before moving on. As he put it, mistakes happen in patterns, and unless you correct those patterns, you're not going to improve. 8/31/12 10:37am
UCLA Mindful Awareness Research Center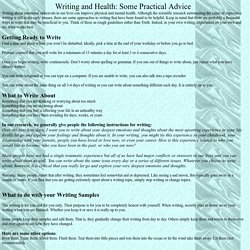 Writing and Health
Writing and Health: Some Practical Advice Writing about emotional upheavals in our lives can improve physical and mental health. Although the scientific research surrounding the value of expressive writing is still in the early phases, there are some approaches to writing that have been found to be helpful. Keep in mind that there are probably a thousand ways to write that may be beneficial to you. Think of these as rough guidelines rather than Truth. Indeed, in your own writing, experiment on your own and see what works best.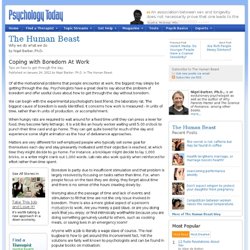 Of all the motivational problems that people encounter at work, the biggest may simply be getting through the day.
Coping with Boredom At Work
5 No-BS Ways to Become Awesome in 5 Minutes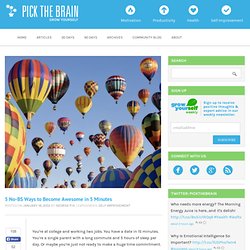 You're at college and working two jobs. You have a date in 15 minutes. You're a single parent with a long commute and 5 hours of sleep per day.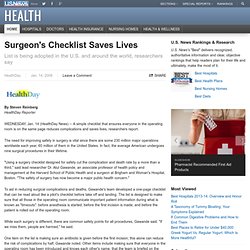 By Steven ReinbergHealthDay Reporter WEDNESDAY, Jan. 14 (HealthDay News) -- A simple checklist that ensures everyone in the operating room is on the same page reduces complications and saves lives, researchers report. The need for improving safety in surgery is vital since there are some 230 million major operations worldwide each year, 60 million of them in the United States.
Surgeon's Checklist Saves Lives
At the end of every job interview, you'll encounter the inevitable question, "Do you have any questions for me?" While it's an oh-so-predictable event, many job candidates aren't prepared to shine when they reach this final test in the interview. Failing to ask any questions or asking the wrong questions can send the wrong signals.
How To Take Control of Your Next Job Interview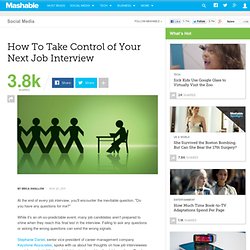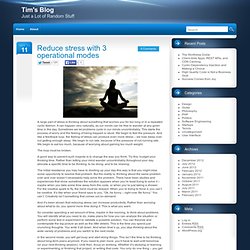 Reduce stress with 3 operational modes | Tim's Blog
A large part of stress is thinking about something that worries you for too long or in a repeated cyclic fashion.
Reduce Stress by Dividing Your Day into Three Operational Modes
People build stress by thinking about an issue all day or get into a cycle where worrying about something leads to the the behavior we were worried about, such as eating too much because we spend too much time worrying about gaining weight or continually arriving late to work due to the pressure of not running late.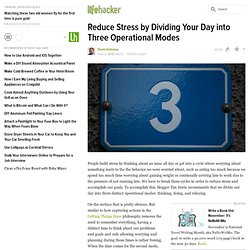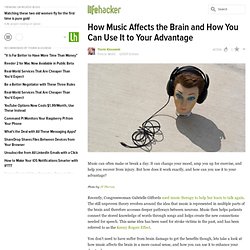 Music can often make or break a day.
Decisions by Thinking of Yourself in the Third Person
We often struggle between taking care of ourselves and making other people happy.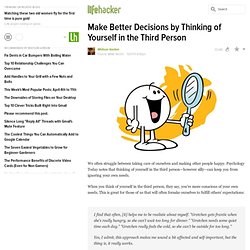 Tony Schwartz: The Myths of the Overworked Creative :: Videos :: The 99 Percent
Time is finite, but we act as if it were otherwise, assuming that longer hours always lead to increased productivity. But in reality our bodies are designed to pulse and pause – to expend energy and then renew it. In this revelatory talk, energy expert Tony Schwartz debunks common productivity myths and shows us how to regain control over our energy so we can produce great work. Tony Schwartz is founder and CEO of The Energy Project, a company that helps individuals and organizations fuel energy, engagement, focus, and productivity by drawing on the science of high performance.
We each long for certainty – the security of simple answers. What, for example, are the specific qualities that make us more likely to be successful? Companies spend millions of dollars trying to define the key competencies for specific jobs. Researchers seek to pinpoint the qualities that distinguish top performers from everyone else.
The Four Paradoxes of Great Performance
I had a boss that ticked all the boxes for bad, micro-managed, no feed back, impossible tasks, impossible times, expecting labourers to do the job of tradesman, half the time forgot your name, didn't remember when you came to him with a problem, then would get into staff in front of customers about us going over budget (which we didn't know). What was worse he was also the owner. When we streamlined the process of our job and started to manage our inventory (started writing work orders) to fix things when they broke he fired the whole team.
Use Your Crappy Boss to Make Yourself a Better Employee
Mindfire: Big Ideas for Curious Minds (9780983873105): Scott Berkun
Until mankind realizes that by "Design" is made to "Fail" he will always have a problem realizing his or her mistakes. We are not all created equal?
How to Identify and Learn from Your Mistakes
Chewing Gum Can Boost Mental Performance
...this blog post bought to you by the Gum & Candy Association of America!!!
Diffuse Awkwardness with a Compliment When You've Forgotten Someone's Name
How to Send and Receive Mail Using the US Post Office Without Pain and Suffering
Amp Up Your Brain
social psych blog
Rational Home Buying