Psychology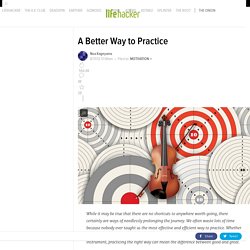 While it may be true that there are no shortcuts to anywhere worth going, there certainly are ways of needlessly prolonging the journey. We often waste lots of time because nobody ever taught us the most effective and efficient way to practice. Whether it's learning how to code, improving your writing skills, or playing a musical instrument, practicing the right way can mean the difference between good and great. You have probably heard the old joke about the tourist who asks a cab driver how to get to Carnegie Hall, only to be told: "Practice, practice, practice!"
UCLA Mindful Awareness Research Center
Mind Hacks News, Videos, Reviews and Gossip - Lifehacker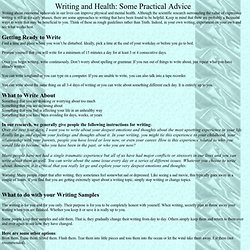 Writing and Health
Writing and Health: Some Practical Advice Writing about emotional upheavals in our lives can improve physical and mental health.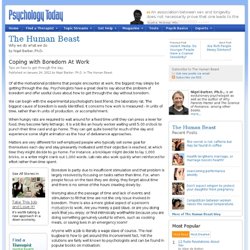 Of all the motivational problems that people encounter at work, the biggest may simply be getting through the day.
Coping with Boredom At Work
5 No-BS Ways to Become Awesome in 5 Minutes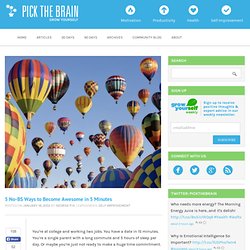 You're at college and working two jobs. You have a date in 15 minutes. You're a single parent with a long commute and 5 hours of sleep per day.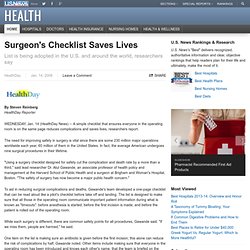 By Steven Reinberg HealthDay Reporter WEDNESDAY, Jan. 14 (HealthDay News) -- A simple checklist that ensures everyone in the operating room is on the same page reduces complications and saves lives, researchers report. The need for improving safety in surgery is vital since there are some 230 million major operations worldwide each year, 60 million of them in the United States.
Surgeon's Checklist Saves Lives
At the end of every job interview, you'll encounter the inevitable question, "Do you have any questions for me?" While it's an oh-so-predictable event, many job candidates aren't prepared to shine when they reach this final test in the interview. Failing to ask any questions or asking the wrong questions can send the wrong signals.
How To Take Control of Your Next Job Interview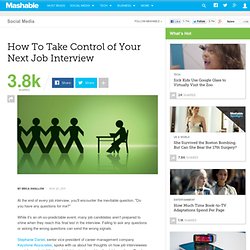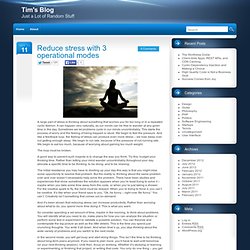 Reduce stress with 3 operational modes | Tim's Blog
A large part of stress is thinking about something that worries you for too long or in a repeated cyclic fashion.
Reduce Stress by Dividing Your Day into Three Operational Modes
People build stress by thinking about an issue all day or get into a cycle where worrying about something leads to the the behavior we were worried about, such as eating too much because we spend too much time worrying about gaining weight or continually arriving late to work due to the pressure of not running late.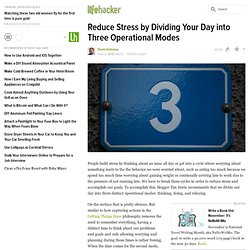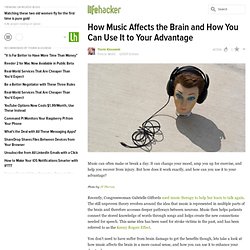 Music can often make or break a day.
Decisions by Thinking of Yourself in the Third Person
We often struggle between taking care of ourselves and making other people happy.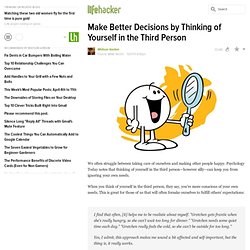 Tony Schwartz: The Myths of the Overworked Creative :: Videos :: The 99 Percent
Time is finite, but we act as if it were otherwise, assuming that longer hours always lead to increased productivity. But in reality our bodies are designed to pulse and pause – to expend energy and then renew it. In this revelatory talk, energy expert Tony Schwartz debunks common productivity myths and shows us how to regain control over our energy so we can produce great work. Tony Schwartz is founder and CEO of The Energy Project, a company that helps individuals and organizations fuel energy, engagement, focus, and productivity by drawing on the science of high performance.
We each long for certainty – the security of simple answers. What, for example, are the specific qualities that make us more likely to be successful? Companies spend millions of dollars trying to define the key competencies for specific jobs. Researchers seek to pinpoint the qualities that distinguish top performers from everyone else.
The Four Paradoxes of Great Performance
We all know what it's like to have a crappy boss, or at least a boss that leaves a little to be desired as a manager. Someone who never seems to have time to give you feedback, or is a micro-manager, or who completely underestimates the time and effort of all of your work. Still, even though they're a terrible boss doesn't mean you have to be a terrible employee.
Use Your Crappy Boss to Make Yourself a Better Employee
Mindfire: Big Ideas for Curious Minds (9780983873105): Scott Berkun
It's never easy to admit you've made a mistake, but it's a crucial step in learning, growing, and improving yourself. Writer and speaker Scott Berkun's new essay collection, Mindfire: Big Ideas for Curious Minds , examines, among other things, how to learn from your mistakes.
How to Identify and Learn from Your Mistakes
Chewing Gum Can Boost Mental Performance
Wired points out a number of studies that show chewing gum can, in fact, boost your memory, attention, cognitive reasoning skills, and other mental abilities.
Diffuse Awkwardness with a Compliment When You've Forgotten Someone's Name
How to Send and Receive Mail Using the US Post Office Without Pain and Suffering
You should follow me on twitter
Amp Up Your Brain
social psych blog
Rational Home Buying