Opera
BBC Radio 3 - Opera on 3, Wagner's Parsifal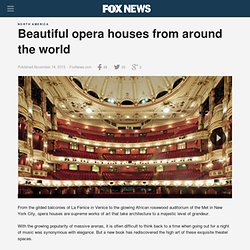 From the gilded balconies of La Fenice in Venice to the glowing African rosewood auditorium of the Met in New York City, opera houses are supreme works of art that take architecture to a majestic level of grandeur. With the growing popularity of massive arenas, it is often difficult to think back to a time when going out for a night of music was synonymous with elegance. But a new book has rediscovered the high art of these exquisite theater spaces.
Beautiful opera houses from around the world
Sherrie Perkovich SAN FRANCISCO, September 12, 2012 – San Jose opera season kicked off with a beautiful rendition of Georges Bizet's exotic romance, The Pearl Fishers . Anthony Quartuccio conducted this opera, which is a story of forbidden love, jealousy, betrayal, and tragedy. Set on the ancient tropical island of Ceylon (now Sri Lanka), director Richard Harrell sets the stage well from the very beginning, from happy, dancing, drinking citizens to those filled with rage and fury over a traitorous act.
Opera San Jose: a new season kicks off with The Pearl Fishers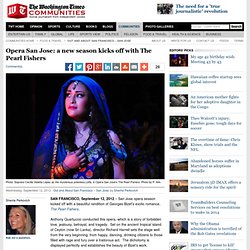 Joyce DiDonato - The official web site of Joyce DiDonato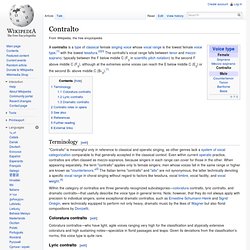 Contralto
A contralto is a type of classical female singing voice whose vocal range is the lowest female voice type , [ 1 ] with the lowest tessitura . [ 2 ] [ 3 ] The contralto's vocal range falls between tenor and mezzo-soprano ; typically between the F below middle C (F 3 in scientific pitch notation ) to the second G above middle C (G 5 ), although at the extremes some voices can reach the E below middle C (E 3 ) or the second B ♭ above middle C (B ♭ 5 ). [ 1 ] [ edit ] Terminology "Contralto" is meaningful only in reference to classical and operatic singing, as other genres lack a system of vocal categorization comparable to that generally accepted in the classical context. Even within current operatic practice, contraltos are often classed as mezzo-sopranos, because singers in each range can cover for those in the other.
A mezzo-soprano ( / ˈ m ɛ t s oʊ / ; [ˈmɛdzo] ; meaning "half soprano" in Italian) is a type of classical female singing voice whose vocal range lies between the soprano and the contralto voice types . The mezzo-soprano's vocal range usually extends from the A below middle C to the A two octaves above (i.e. A 3 –A 5 in scientific pitch notation , where middle C = C 4 ). In the lower and upper extremes, some mezzo-sopranos may extend down to the G below middle C (G 3 ) and as high as "high C" (C 6 ). [ 1 ]
Mezzo-soprano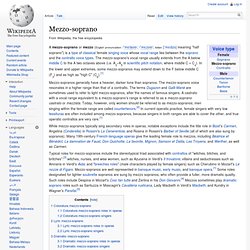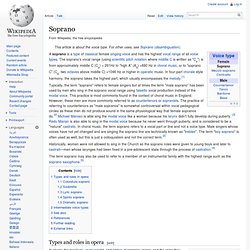 A soprano is a type of classical female singing voice and is the highest vocal range of all voice types . The soprano's vocal range (using scientific pitch notation , where middle C = C 4 ) is from approximately middle C (C 4 ) to "high A" (A 5 ) in choral music , or to "soprano C" (C 6 , two octaves above middle C) or higher in operatic music. In four-part chorale style harmony, the soprano takes the highest part, which usually encompasses the melody . [ 1 ] For other styles of singing see voice classification in non-classical music . Typically, the term "soprano" refers to female singers but at times the term "male soprano" has been used by men who sing in the soprano vocal range using falsetto vocal production instead of the modal voice . This practice is most commonly found in the context of choral music in England. However, these men are more commonly referred to as countertenors or sopranists .
Soprano
ZANNE STAPELBERG
Marina Rebeka - Marina Rebeka
Elīna Garanča | |