Blogs anglophones
Publishing 2.0. How will native advertising scale?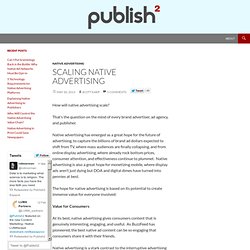 That's the question on the mind of every brand advertiser, ad agency, and publisher. Native advertising has emerged as a great hope for the future of advertising, to capture the billions of brand ad dollars expected to shift from TV, where mass audiences are finally collapsing, and from online display advertising, where already rock bottom prices, consumer attention, and effectiveness continue to plummet. Publishing Perspectives - International publishing news & opinion.
Good E-Book Readers - We have the latest Electronic Readers, Your source for the latest E-Reader Sales and Support. The Digital Reader — the best news and info on ebooks and e-readers. MobileRead Forums. Tools of Change for Publishing - Insight, Events, Resources. TeleRead: News and views on e-books, libraries, publishing and related topics. eBookNewser - The First Word on Digital Publishing.
---