Blogs anglophones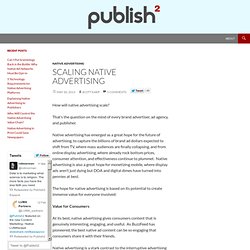 How will native advertising scale? That's the question on the mind of every brand advertiser, ad agency, and publisher. Native advertising has emerged as a great hope for the future of advertising, to capture the billions of brand ad dollars expected to shift from TV, where mass audiences are finally collapsing, and from online display advertising, where already rock bottom prices, consumer attention, and effectiveness continue to plummet.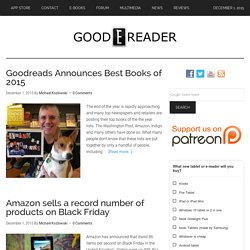 This week Dropbox updated their main app and released a new photo and email client. Family Guy unveiled their Simpsons Tapped Out competitor and many other great new games were released. Iron Force – Take part in epic, explosive multiplayer tank battles in Iron Force. Join forces with your friends in team-based battles, or have a free-for-all.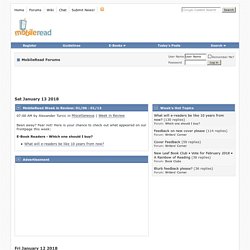 10:08 AM by fjtorres in E-Book General | News US antitrust is primarily about consumer harm (hence the recent compensation awards) but it also offers (small) companies a venue for redress of anticompetitive behavior by other companies. The bar is normally pretty high so there are few filings and even less successes but there is one big exception: when a company (or group) has already been found guilty of antitrust violations, the judge's findings of fact become indisputable "evidence" on which competitors claiming harm can base their claims of damages. The most recent example being the Microsoft antitrust case where the Judge ruled that MS had caused Netscape no harm but that their attempt to do so consituted an antitrust violation and thus he put them under antitrust monitoring for a decade. This was followed by dozens of private lawsuits from software companies seeking and often getting payouts, often for the results of their own bad decisions.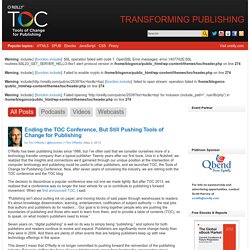 Tools of Change for Publishing - Insight, Events, Resources
O'Reilly has been publishing books since 1986, but I've often said that we consider ourselves more of a technology transfer company than a typical publisher. Twenty years after our first book, Unix in a Nutshell, we realized that the insights and connections we'd garnered through our unique position at the intersection of computer technology and publishing could be useful to other publishers, and we launched TOC, the Tools of Change for Publishing Conference. Now, after seven years of convening the industry, we are retiring both the TOC conference and the TOC blog.
The scholarly open access journal movement seems to be getting quite a bit of momentum behind it, and one instance of this is Impactstory, "a nonprofit, open-source webapp that helps scientists discover and share the full impact of their research." Now Impactstory has just shared a detailed breakdown of the case in favor of the "online-only, open access journals that cover many subjects and publish content based only on whether it is scientifically sound" - megajournals, in Impacstory's terminology. However, while all for the argument that megajournals "offer a path to a more efficient, faster, more open scholarly publishing world,"...