Learning Technologies
eLearning Blog Dont Waste Your Time - eLearning, mLearning, Web 2.0, Blogging and the stuff in between.
Social media has evolved into the art of storytelling, and we must all become masters of it. We view social media now as an essential form of communication - a new way to stay in touch with people, to share and discover information and to interact with brands and to consume increasingly large amounts of content in concise, compacted ways.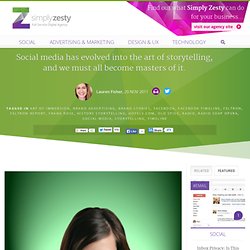 But there is another side to social media that we don't often consider, but that is becoming more and more prevalent: its role in the evolution of storytelling. Throughout nearly every society and stage in history, storytelling has had a crucial role to play. It has been the way in which disparate communities can connect with each other, in which traditions are maintained and how we entertain ourselves. Social media is now at the stage in which we are all becoming expert storytellers, often without knowing it, and developing the skills to tell those stories effectively. Personal Learning Networks. 30+1 Ways You Should Be Using Facebook in Your Classroom « Magic in education!
Facebook isn't just a great way for you to find old friends or learn about what's happening this weekend, it is also an incredible learning tool.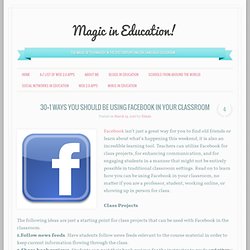 Teachers can utilize Facebook for class projects, for enhancing communication, and for engaging students in a manner that might not be entirely possible in traditional classroom settings. Read on to learn how you can be using Facebook in your classroom, no matter if you are a professor, student, working online, or showing up in person for class. Social media in education. The Complete Educator's Guide to Using Skype effectively in the classroom.
Increasingly, educators globally are transforming their classroom using Skype to create powerful, authentic, motivating learning experiences for their students.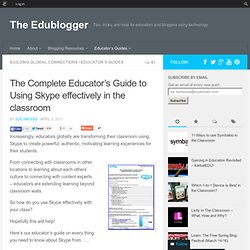 From connecting with classrooms in other locations to learning about each others' culture to connecting with content experts – educators are extending learning beyond classroom walls. So how do you use Skype effectively with your class? Hopefully this will help! » Top Tools 2011 C4LPT. The 35 Best Web 2.0 Classroom Tools Chosen By You. 100 Web 2.0 Tools Every Teacher Should Know About 44.24K Views 0 Likes We're always trying to figure out the best tools for teachers, trends in the education technology industry, and generally doing our darnedest to bring you new and exciting ways to enhance the classroom.
But I wanted t... 20 Free and Fun Ways To Curate Web Content. Larry Ferlazzo's Websites of the Day… - The Best Web 2.0 Applications For Education — 2010. This annual post is always the most popular one of the year.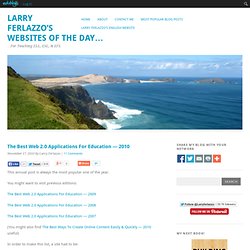 You might want to visit previous editions: The Best Web 2.0 Applications For Education — 2009 The Best Web 2.0 Applications For Education — 2008. Engaging Students with Engaging Tools (EDUCAUSE Quarterly. Key Takeaways A new course teaching media, mass communication, and political identities in the Middle East and North Africa explored the use of social media in pursuit of effective learning.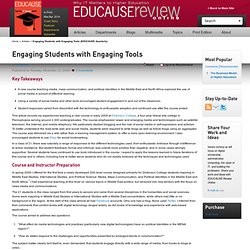 Using a variety of social media and other tools encouraged student engagement in and out of the classroom. Student responses varied from discomfort with the technology to enthusiastic adoption and continued use after the course ended.
Skills for Access : Articles : Simple multimedia using Office software. The Comprehensive Guide to Creating Accessible Multimedia for e-learning In broad terms, the more ways a learner engages with the subject the more likely the learning experience will be remembered - and probably enjoyed.
For many years successful teachers and lecturers have incorporated a range of techniques and strategies to maximize variety in the learning experience. Except when learners are highly motivated, presenting them with large quantities of passive text tends to result in limited engagement and therefore limited achievement. There are several factors that make multimedia increasingly important in the learning process: The widening participation agenda results in a broader cohort of learners whose skill sets, circumstances and levels of motivation may be different from the traditional student.
Technologically Externalized Knowledge and Learning. Let's take a step back and consider how well we are using learning technology in contrast with what is possible given advances over the last decade.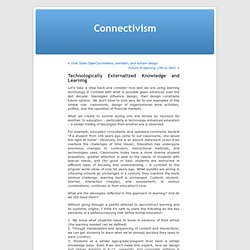 Ideologies influence design, then design constrains future options. We don't have to look very far to see examples of this simple rule: classrooms, design of organizational work activities, politics, and the operation of financial markets. What we create to survive during one era serves as neurosis for another. In education – particularly in technology enhanced education – a similar trailing of ideologies from another era is observed. For example, education consultants and speakers commonly declare "if a student from 100 years ago came to our classrooms, she would feel right at home". Articles in alphabetical order - Educational Technology.
Mobile Learning
Instructional Design. Impact, Evidence and Evaluation. Social media.
---