Stephenmagnotta
Stephen Magnotta
Blog - icethetics.info
Boston Bruins Shop - Stanley Cup Champs Gear, Apparel, Merchandise from Shop.NHL.com
The Official Online Shop of the NFL. Get Your NFL Gear, NFL Apparel, and other NFL Merchandise Here.
Lambeau Field - Home of the Green Bay Packers
Packers jerseys, hats, sweatshirts, jackets and other Packers merchandise.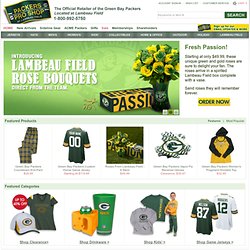 The Packers Pro Shop is the official store of the Green Bay Packers, providing you with exceptional customer service and a large selection of superior quality apparel and merchandise at competitive prices. Our friendly, helpful staff can help answer your questions, make returns simple and easy or gift wrap items for you. Online or in the Store, get your Green Bay Packers merchandise and collectibles, Green Bay Packers apparel, Packers jerseys including Aaron Rodgers, Clay Matthews, Donald Driver, AJ Hawk and Greg Jennings, Green Bay Packers hats, Green Bay Packers gear, Packers bobbleheads, cheeseheads, drinkware, home decor and more.
Atlanta Braves