Open_sources
Watch ByWater Solutions TV episodes on Blip. Open Knowledge Foundation Blog. The National Archives | Services for professionals | Records Management Capacity Assessment System (RMCAS) | Downloads.
Additional tools E-Records Readiness Tool The E-Records Readiness Tool, which was funded by the Commonwealth Secretariat, has been designed to be used in conjunction with existing e-government readiness tools to provide a simple, high-level assessment that will determine whether a government or public agency's records and information management infrastructure is capable of supporting e-government initiatives.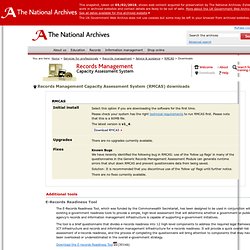 Welcome to OSOR! — Open Source Observatory. Open source systems for libraries-oss4lib. Electronic Information for Libraries-EIFL. DBA. DBA è un'associazione non-profit nata nel 1990 con lo scopo di diffondere i sistemi informativi per la documentazione, le biblioteche, gli archivi e promuovere ricerche, nuove applicazioni, interventi di formazione.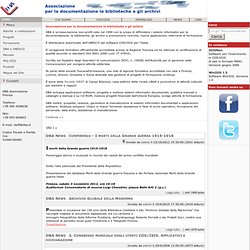 È distributore autorizzato dell'UNESCO del software CDS/ISIS per l'Italia. E' un'agenzia formativa ufficialmente accreditata presso la Regione Toscana ed ha ottenuto la certificazione di qualità secondo lo standard ISO 9001:2000 (cod. IT 47816). Iscritta nel Registro degli Operatori di comunicazioni (ROC, n. 15658) dell'Autorità per le garanzie nelle Comunicazioni per svolgere attività editoriale.
---