Open_sources
Additional tools E-Records Readiness Tool The E-Records Readiness Tool, which was funded by the Commonwealth Secretariat, has been designed to be used in conjunction with existing e-government readiness tools to provide a simple, high-level assessment that will determine whether a government or public agency's records and information management infrastructure is capable of supporting e-government initiatives.
The National Archives | Services for professionals | Records Management Capacity Assessment System (RMCAS) | Downloads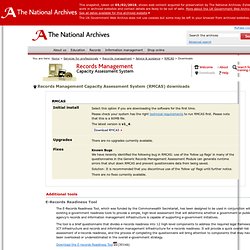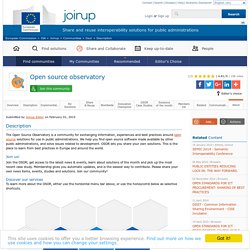 Rating: 4.78/5 (based on 73 votes) | 1166795 reads Description The Open Source Observatory is a platform for exchanging information, experiences and Free Libre Open Source Software-based code for use in public administrations. This community aims to help public administrations share such software solutions, discuss good practice and exchange their experiences. The community is, since December 2011, the new home of the Open Source Observatory and Repository (OSOR). Here, on Joinup, you will find all of OSOR's information, case studies and software solutions.
open source systems for libraries-oss4lib
Electronic Information for Libraries-EIFL
DBA è un'associazione non-profit nata nel 1990 con lo scopo di diffondere i sistemi informativi per la documentazione, le biblioteche, gli archivi e promuovere ricerche, nuove applicazioni, interventi di formazione.
DBA