Underwear
Panty Tutorial: How to Sew Underwear « This tutorial will take you, step by step, through the process of making underwear that fit you perfectly and look great too.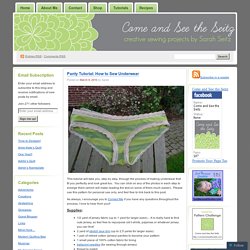 You can click on any of the photos in each step to enlarge them (which will make reading the text on some of them much easier). Please use this pattern for personal use only, and feel free to link back to this post. As always, I encourage you to Contact Me if you have any questions throughout the process, I love to hear from you!! Supplies: Brand Spankin' New — A Copy Your Undies Tutorial > amy a la mode. The road test went well, so over the weekend I made another 4 pair.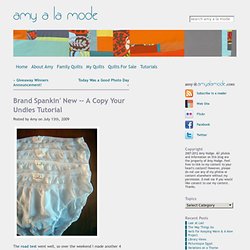 Awesome! I blame this whole underwear-making thing on Amy Karol. She just won't stop making underwear! But while she's making pretty little things, I'm making plain functional white cotton panties. Fit pants making. Hiphugger pants of stretch fabric and lace.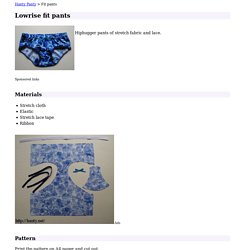 Cotton fabric. Patterns Click Pattern file. Print on 2 sheets of A4 paper and cut out. This pattern is smaller than Hanty because using stretch fabric. 70 Free Lingerie Sewing Patterns : 70 Free Lingerie Sewing Patterns Posted on | November 12, 2009 | 12 Comments Free lingerie sewing patterns are hard to find on the internet.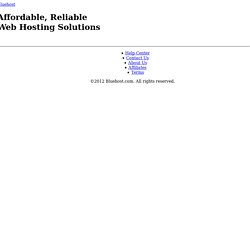 While free skirt patterns and tote patterns abound, free lingerie sewing patterns require sifting through hundreds of sites to locate. Here are 75 patterns that I was able to find. Free Lingerie Sewing Patterns: Bras. DIY Tutorial - How to make your own knickers! (Printouts) - drummbellina. Our Sizing Charts. Underwear :. #5256 Panties. Difficulty: * Recommended fabrics: fabrics with elastic fibers or knits.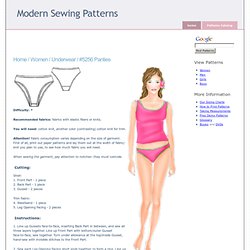 You will need: cotton knit, another color (contrasting) cotton knit for trim. Attention! Fabric consumption varies depending on the size of garment. First of all, print out paper patterns and lay them out at the width of fabric/ knit you plan to use, to see how much fabric you will need.
---