RESEARCH
44-74546GDE_IntroductionToDMA.pdf (application/pdf Object)
2.8 Hindered Rotating Chain
The periodic table is a table of the chemical elements in which the elements are arranged by order of atomic number in such a way that the periodic properties (chemical periodicity) of the elements are made clear. The standard form of the table includes periods (usually horizontal in the periodic table) and groups (usually vertical). Elements in groups have some similar properties to each other.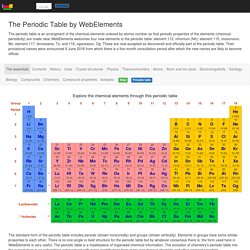 Stereoisomers As defined in an earlier introductory section, isomers are different compounds that have the same molecular formula. When the group of atoms that make up the molecules of different isomers are bonded together in fundamentally different ways, we refer to such compounds as constitutional isomers. For example, in the case of the C4H8 hydrocarbons, most of the isomers are constitutional.
Stereoisomers
functional groups poster from Zazzle
Kitchen Medicinals Poster from Zazzle
chemistryreferencetable.pdf (application/pdf Object)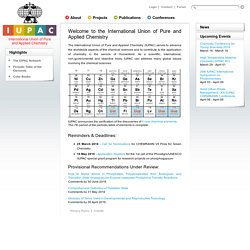 [IUPAC]IUPAC.org
Interested candidates are invited to apply for the pivotal post of Executive Director of the International Union of Pure and Applied Chemistry based in Research Triangle Park North Carolina USA. The successful candidate will be an innovative manager capable of shaping the Secretariat in support of IUPAC and the international challenges it faces as it approaches its centenary. The post profile and application details are linked here. Application shall be sent to executivedirector@iupac.org by Friday 18th April 2014. The International Union of Pure and Applied Chemistry (IUPAC) serves to advance the worldwide aspects of the chemical sciences and to contribute to the application of chemistry in the service of Humankind.
SciFinder provides access to CAS content and delivers the information they need to: increase productivity achieve faster breakthroughs make better decisions With SciFinder you get: more reactions more substances more biomedical content at your fingertips than with any other source.
CAS Home Page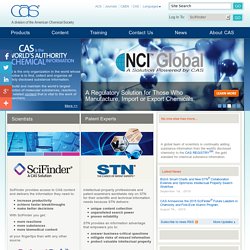 Journal of Biomedical Materials Research