household
Get flash to fully experience Pearltrees
From TipThePlanet Air drying your washing instead of putting it in the dryer is a great way to save energy. It uses no electricity or fuel, and can require nothing more than a laundry line . Many people, however, will find that a drying rack is a better option that a simple laundry line due to their location, space constraints, weather, time constraints, quantity of laundry or other factors.
Imagine all of the silly old stuff you have sitting around the house that is simply going to waste and hasn't been used in years. Think it's all junk? Perhaps not. Here are ninety-nine creative ways you can use things you thought had only one purpose, from beer and soda to rulers, stamps, sugar, toothpaste, old CDs and even your iPod. Having trouble learning how to chopstick? Think of this approach as cheap-and-easy training wheels while you learn the ropes.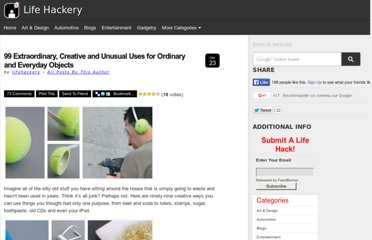 We asked earlier this week what disposable items you had found clever re-uses for, and the answers are in. Not surprisingly, some of you have some pretty crafty uses for household goods that usually end up at the curb. From CD-R spindles to corks, twist-ties to tissue boxes, lots of supposedly one-use items can save you money, free up space, and be seriously handy when the need arises.
From EditThis.info I have personally gone through what seems like hundreds of combination locks over my lifetime. They take the form of gym lockers, bike locks, shed locks, etc. Combination locks are great because it means that you don't have to worry about losing the key, but if you don't remember the lock combo, you are in trouble. Process
Things I Figured Out: Reader Submissions. page 1 | 2 | 3 | 4 | 5 | 6 Menu of Stuff I Figured Out | Part 3