Favorite Recipes
Get flash to fully experience Pearltrees
A few years ago I discovered 100% Whole Wheat Orzo Pasta , and I've used it to make a few tasty pasta salads since then.
Greens and Feta Frittata. Photo by L. V.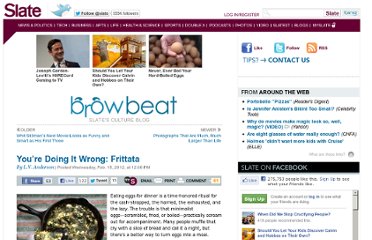 Healthy, low-fat, whole wheat pancakes that are light and fluffy! Well this is a first, I completely re-wrote my original recipe. I hope this doesn't create any confusion but after getting a few comments that my original recipe was a little thin, I re-made them and had the same results.
White bread was forbidden in my household as a child. We only ate whole-grain bread, the coarser, tougher and browner the better.
Last week I posted a recipe for shredded beef for tacos, here is another great taco filling recipe, this time for shredded chicken. This recipe combines flavors such as tomato sauce, salsa, cumin, garlic, chili powder and taco seasoning to create some delicious shredded chicken for tacos.