Craft
Get flash to fully experience Pearltrees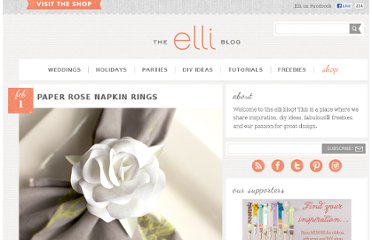 Another great use for paper flowers is to add them to your table settings. Whether you are planning your wedding reception or just a cozy dinner for two, this added touch of a paper rose napkin ring is sure to delight. Here is a template for the napkin ring where I added a soft ecru linen texture to the petals.
Table centerpieces have always eluded me. I don't really understand why they even exist. If you eat at your table, then you are constantly moving the centerpiece and if you aren't always moving the centerpiece then you are completely unable to see the person sitting on the other side of the table from you.
Earlier today my two youngest and I decided to do a little crafting together. What we made, we are calling "warm hearts" -- named by Jacob and loved by all of us. This turned out to be the perfect project, for this snowy day, so I had to share! Here is what we did... What you'll need -- basic sewing supplies ( sewing machine, scissors, needle, thread ), scrap fabric, wool felt scraps, and flax seed, ours is a combination of flax and a bit of sesame seed. ( You can also add lavender, chamomile, or any other aromatic ingredients that you would add when making a sachet .) After the kids picked out their fabrics ( warning : : this can take a while : ), we cut two large hearts from the wool felt and then a smaller heart from the fabric.
A fun, easy and silly gift to give the cute men in our lives this Father's Day. First, draw a mustache on the top of your mug with a sharpie marker. As you can see mine took a couple times to get right. Second, trace around the edges of the drawn mustache with your Pebeo pen.
I love books. I am a "reader" in every sense of the word - I devoured them as child, I have a PhD in linguistics, I was a reading teacher for 7 years, I'm a marketing writer, I have a kid's book "in the works"... and so on. However, there are mountains of old books out there that will never be read again. Never .