Entrepreneuriat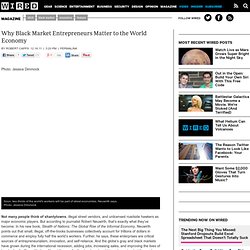 Soon, two-thirds of the world's workers will be part of street economies, Neuwirth says.Photo: Jessica Dimmock Not many people think of shantytowns, illegal street vendors, and unlicensed roadside hawkers as major economic players. But according to journalist Robert Neuwirth, that's exactly what they've become. In his new book, Stealth of Nations: The Global Rise of the Informal Economy, Neuwirth points out that small, illegal, off-the-books businesses collectively account for trillions of dollars in commerce and employ fully half the world's workers. Further, he says, these enterprises are critical sources of entrepreneurialism, innovation, and self-reliance.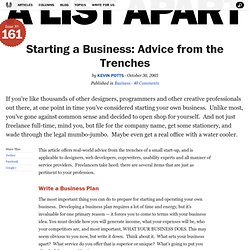 If you're like thousands of other designers, programmers and other creative professionals out there, at one point in time you've considered starting your own business. Unlike most, you've gone against common sense and decided to open shop for yourself. And not just freelance full-time, mind you, but file for the company name, get some stationery, and wade through the legal mumbo-jumbo. Maybe even get a real office with a water cooler. This article offers real-world advice from the trenches of a small start-up, and is applicable to designers, web developers, copywriters, usability experts and all manner of service providers. Freelancers take heed: there are several items that are just as pertinent to your profession.
startuptools / FrontPage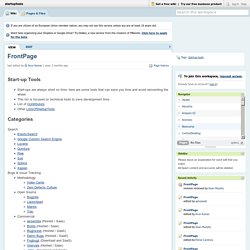 Start-up Tools Categories Search Bugs & Issue Tracking Methodology Open SourceCommercial assembla (Hosted / Saas) Bontq (Hosted / Saas)Bugrocket (Hosted / SaaS) Fogbugz (Download and SaaS) Intervals (Hosted / Saas) JIRA (Download and SaaS)Lighthouse (Hosted / Saas)Ontime (Hosted / SaaS ) Pivotal Tracker (Hosted / SaaS) PlayNice.ly (Hosted / Saas) plan.io (Hosted / Saas)RT : Request Tracker (Download and SaaS)SifterApp (Hosted / Saas) Rails Specific Exceptional (Rails-specific)Hoptoad (Rails-specific)Redmine
Entrepreneurs: It's A Smart Move To Team Up With Inventors
In my experience, inventors aren't interested or aren't very good at building a business, and entrepreneurs aren't usually good scientists. These people need to find each other, and can jointly make a great team for a new startup. Historically, it's also not often that a good inventor was also a good entrepreneur.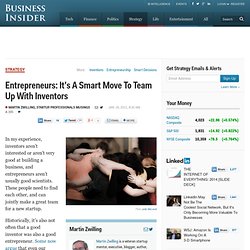 Je viens de lire le livre de Alexan­der Oster­wal­der et Yves Pigneur, Busi­ness Model Gene­ra­tion. J'ai trouvé leur cane­vas très inté­res­sant et facile à uti­li­ser pour tous ceux qui cherchent à créer un modèle éco­no­mique per­ti­nent et ori­gi­nal. Je vous pro­pose donc de reprendre les points prin­ci­paux qu'ils déve­loppent dans le cha­pitre 1, inti­tulé logi­que­ment "busi­ness model canvas".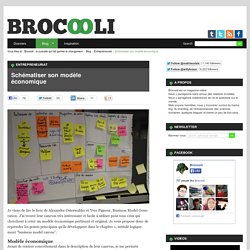 Chausson Finance : le top 10 des erreurs à ne pas commettre pour réussir sa levée de fonds
Comment j'ai gardé mon envie d'entreprendre... malgré tout
Pas résignés, nos riverains ont fait la leçon à l'amer patron dont « la France a tué l'envie d'entreprendre ». Plus de 166 000 visites et 470 réactions : « Comment la France a tué mon envie d'entreprendre » , le témoignage d' Alexandre Denjean , a provoqué un débat animé, parfois cruel pour notre témoin. Des dizaines de riverains ayant connu les mêmes difficultés mais n'ayant pas perdu, eux, cette « envie d'entreprendre » lui font la leçon : voici leurs « règles d'or » pour réussir. « Je suis un vétéran de la guerre contre l'administration. » Alexandre Denjean, web-designer de 34 ans, racontait les difficultés et, finalement, la mort de sa petite entreprise. Sans nier les galères, de nombreux lecteurs ayant eux aussi créé leur entreprise ont nuancé, ou vivement contesté ces critiques. Lolorasse , qui a été lui aussi « directeur de projets web », explique ainsi :
J'ai actuellement 34 ans et je me considère comme un vétéran de la guerre contre l'administration. Je vais vous raconter les deux pires années de ma vie. Ayant appris à faire des sites internet en autodidacte, je décide en 2008 de créer une entreprise pour développer cette activité , car je souhaite aussi que les sites web de ma ville soient moins affreux.
Comment la France a tué mon envie d'entreprendre
Conférence Annuelle des Entrepreneurs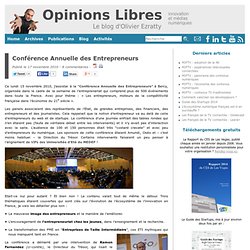 Ce lundi 15 novembre 2010, j'assistai à la "Conférence Annuelle des Entrepreneurs" à Bercy, organisée dans le cadre de la semaine de l'entreprenariat qui comprend plus de 500 événements dans toute la France. Avec pour thème : « Les entrepreneurs, moteurs de la compétitivité française dans l'économie du 21e siècle ». Les panels associaient des représentants de l'Etat, de grandes entreprises, des financiers, des entrepreneurs et des journalistes. Cela rappelait que la notion d'entrepreneur va au delà de celle d'entrepreneurs du web et de startups.
Trouver le nom de sa startup | Creation d'entreprise ! | Guilhem Bertholet
Lorsqu'un enfant naît (ou quand vous adoptez un chat ou un chien, ou que vous mettez à jour un iPhone pour la première fois), vous lui donnez un nom… Il en va de même avec une entreprise, et même avec votre projet. Je suis en effet toujours assez embêté lorsque je parle avec quelqu'un de son projet, et qu'on doit utiliser un « nom de code », ou pire, pas de nom du tout. En fait, la seule raison pour ne pas avoir de nom à votre projet, c'est que vous n'êtes pas sûr du besoin auquel vous voulez répondre. Dès que vous avez un tant soit peu avancé, et que donc vous savez plus ou moins sur quel marché vous allez agir, il est temps d'avoir votre nom et de commencer à le crier au et fort. Avoir un nom, très rapidement, c'est en effet :
Journaliste et entrepreneur. Deux mots qui, jusqu'alors, n'allaient pas ensemble. Pourtant, mutation du métier de journaliste aidant, volonté aussi de redonner de la valeur économique à cette profession, nombreux sont ceux qui veulent se lancer dans la création d'une entreprise, au sens premier du terme, journalistique. Or trouver une idée inédite, monter le business plan qui va avec, lever des fonds, et embaucher ses premiers salariés, cela ne s'improvise pas.
W.I.P. (Work In Progress) » Le futur du journaliste? Apprendre à entreprendre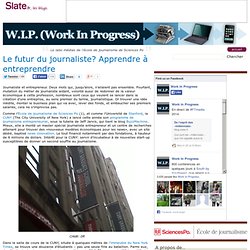 Par Hubert Guillaud le 17/06/10 | 4 commentaires | 4,332 lectures | Impression Suite de notre voyage dans l'innovation sociale européenne (voir la première partie) à l'invitation de la 27e Région, laboratoire d'innovation publique. Avec un regard particulier sur la façon dont la conception de services peut aider au développement de nouvelles formes d'entreprises. MindLab : changer l'esprit de l'innovation publique Le MindLab (blog) est un laboratoire fondé par les ministères danois de l'économie, des finances et de l'emploi.
Entrepreneurs du web français
3 Startup Lessons I Learned the Hard Way
Over the past decade, I've spent most of my professional life building startup businesses. In thinking about what I've learned, I realized that the most valuable lessons can be boiled down to three simple lessons: The middle sucks.
Spot on observations....could add more to this list but this is a good start. Cheers, Larry Great article and very true.
I find people are endlessly interested in what it's like to run your own business, and particularly like the juicy stories, since schadenfreude and rubber necking are yet to go out of fashion it seems. So I'm going to share a few thoughts on starting a business; in particular about bootstrapped businesses where you haven't got a large pile of VC money behind you and the freedom to hire all the people you want and put PS3s in the kitchen. This post is for the poor sod who left the easy nine-to-five job and who is now fighting tooth and nail to keep his/her business going.
Six top tips for bootstrapped startups
Does Your SMB Do These 8 Things?
I spend a lot of time talking to small business owners and startups. I speak with them through my SEO consulting company, during phone calls about social media projects and even just while I'm on my way to and from conferences and taking the train. It's something I enjoy doing because I like hearing their stories, their successes and the struggles that they're facing. Often it's nice to know you're not the only one going through something and to have a chance to commiserate. I work out of my apartment.
Guide Entrepreneur, onzième
The Secret to Starting a Successful Company
louisgray.com: On Raising Money: Goals, Valuations and Pressure
Comment trouver son idée de business ?
12 Facts About Entrepreneurs That Will Likely Surprise You
Anatomy of an Entrepreneur
What drives the entrepreneur? « Entrepreneurship Talk
The Yo-Yo Life of a Tech Entrepreneur
Réussir son pitch
Comment négocier avec un Business Angel en temps de crise ? -
Is Your VC Founder Friendly?
Une Entreprise qui Cartonne
Sondage: les français et les entrepreneurs
Etats-Unis vs Europe, qui est le meilleur pour entreprendre? | s
Créations d'entreprises: bas les masques, les chiffres! | s
The New Business Road Test
15 Warning Signs That Your Business Sucks - Michael Bowers On-Li
Four Keys To Effective Delegating Delegation, Business-Building
Comment devenir plus créatif ? Avez-vous l'ADN de l'innovateur ?