COMICS
Blog. Frank Santoro is on a brief hiatus, so instead of your usual Thursday Riff Raff column, we've got two reviews for you.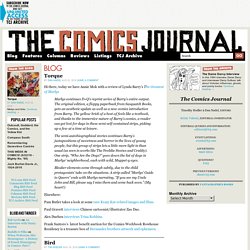 First, Brandon Soderberg tackles Robin Bougie's Sleazy Slice #7. Very little of that review is safely quotable on this family-friendly blog portion of the site, so don't read this if you're one of the youngest members of your family: Mauro Balcazar. The Perry Bible Fellowship. January 7, 2005. The Comics Issue: The Complete Portfolio. Comics. DHARBIN! Error 404 Sorry, but we are unable to find what you were looking for.
Some recently posted comics are listed below, or try your luck with a . is the fourth product of a carpenter/seamstress union, possibly the best union for a cartoonist to decant from. Comics. Hyperbole and a Half. Xkcd.
---