COMICS
Blog | The Comics Journal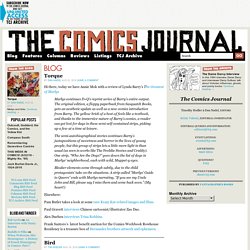 We've got a double shot of bande dessinée for you this morning, with two reviews of Humanoids releases. First, Joe McCulloch on the wandering American Terry Dodson's Muse : Reverie is critical to Muse — originally titled Songes , or "Dreams" — a new collection of bandes dessinées drawn by Terry Dodson, a prolific 20-year veteran of the American superhero scene.
Mauro Balcazar
The Perry Bible Fellowship
January 7, 2005
The Comics Issue: The Complete Portfolio - New York - Slideshows
DHARBIN!
Error 404
Comics
Hyperbole and a Half
xkcd