SOA
Capturing the Aspects of SOA Service Ownership
The purpose of identifying ownership is multifold. Every organization has different reasons or objectives as to why it should identify the owners. These objectives drive how ownership is defined and shared across organizational entities. In general, the common reasons for identifying ownership are listed below.
SOA Testing, Validation & Virtualization - iTKO LISA softwar
Posted by Boris Lublinsky on May 30, 2007 Sections Enterprise Architecture ,
Implementing Exceptions in SOA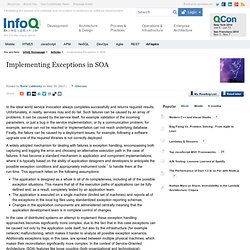 Listen to the podcasts that accompany this site: Part I - Part II The key to getting the most out of SOA lies within the knowledge of how to create "truly" service-oriented solution logic. That knowledge has been documented as part of the service-orientation design paradigm. As with object-orientation, service-orientation represents a distinct approach to designing solution logic in support of a very specific set of goals. This site introduces the design principles that comprise the service-orientation design paradigm and further explores various aspects and effects of applying service-orientation in the real world. Becoming proficient with the concepts and principles of service-orientation equips you with an understanding of what is and is not considered "service-oriented" within the world of solution design.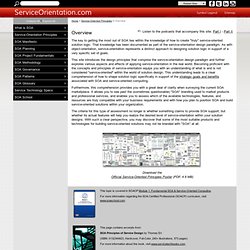 Posted by Steve Jones on Jun 19, 2006 Sections Enterprise Architecture , Process & Practices , Architecture & Design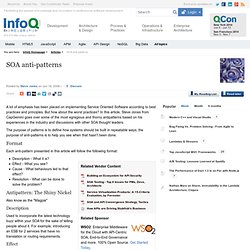 SOA anti-patterns
Defining SOA as an architectural style
Introduction There is a lot of talk about SOA, yet very little agreement on what this popular three-letter acronym actually means. With many competing definitions, it's hard to decipher its true essence. SearchWebServices.com announced a contest for the best definition and received a slew of submissions.