Accounting
Standards/Auditing/Pages/AU380.aspx. (.06 - .16) Matters to Be Communicated (.17) Effective Date Source: SAS No. 61; SAS No. 89; SAS No. 90.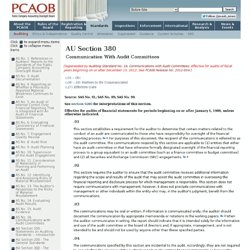 See section 9380 for interpretations of this section. Public Company Accounting Oversight Board. University of Mississippi Libraries - Digital Accounting Collection. Public Company Accounting Oversight Board. The Public Company Accounting Oversight Board (PCAOB, commonly pronounced "peekaboo") is a private-sector, nonprofit corporation created by the Sarbanes–Oxley Act of 2002 to oversee the audits of public companies and other issuers in order to protect the interests of investors and further the public interest in the preparation of informative, accurate and independent audit reports.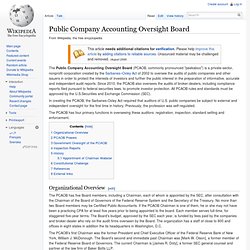 Since 2010, the PCAOB also oversees the audits of broker-dealers, including compliance reports filed pursuant to federal securities laws, to promote investor protection. All PCAOB rules and standards must be approved by the U.S.Securities and Exchange Commission (SEC). Flowchart Symbols Defined: Business Process Map and Flow Chart Symbols and their Meanings. Flowchart Symbols and Their Meanings By Nicholas Hebb The following is a basic overview, with descriptions and meanings, of the most common flowchart symbols - also commonly called flowchart shapes, flow diagram symbols or process mapping symbols, depending upon what type of diagram you're creating.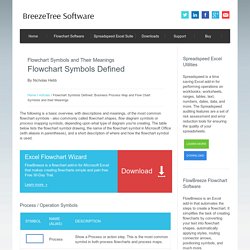 Www.auditnet.org/Guides/flowcharting guide.pdf. Auditing Dictionary of Terms. Acceptance sampling is sampling to determine whether internal control compliance is greater than or less than the tolerable deviation rate. accounting and review services are governed by official pronouncements covering compilation and review engagements.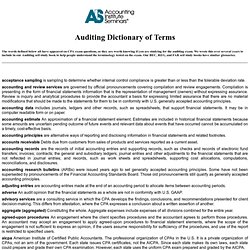 Compilation is presenting in the form of financial statements information that is the representation of management (owners) without expressing assurance. Review is inquiry and analytical procedures to provide the accountant a basis for expressing limited assurance that there are no material modifications that should be made to the statements for them to be in conformity with U.S. generally accepted accounting principles. accounting data includes journals, ledgers and other records, such as spreadsheets, that support financial statements.
Taxes
CPA Exam. The Big 4. IFRS Foundation. FASB. AccountingCoach.com. CFO.com - News and Insight for Financial Executives. Accountant Forums. The IIA. /r/accounting. AICPA.org.
---