JavaScript
jQuery Fundamentals. With contributions by James Padolsey, Paul Irish, and others.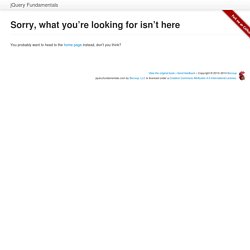 See the GitHub repository for a complete history of contributions. Licensed by Rebecca Murphey under the Creative Commons Attribution-Share Alike 3.0 United States license . You are free to copy, distribute, transmit, and remix this work, provided you attribute the work to Rebecca Murphey as the original author and reference the GitHub repository for the work . If you alter, transform, or build upon this work, you may distribute the resulting work only under the same, similar or a compatible license. Any of the above conditions can be waived if you get permission from the copyright holder.
HTML5Rocks - Home. Modernizr. Dive Into HTML 5.
---