Sculptures
i've always had a soft spot for rock art. there's something about it that reminds of of summer camp west virginia and drawing with paint on river rocks. so when kate did a linocut stamp project with rocks the other week i started looking around for great rock-related projects. one of the projects i loved came from claire chauvin , a photography teacher in texas. her gold leaf river rock project is elevates rock-art to a whole new level and sure beats the painted rocks i made when i was younger. this would be such a fun way to personalize a tabletop, give a quirky gift to a friend (monogrammed?), or just spend an afternoon making something pretty for your home. CLICK HERE for the full project instructions.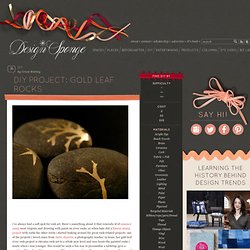 Gold Leaf Rocks
spray paint coffee beans
Yes, they are everywhere. Yes, I have posted on them before. And yes, I am still smitten!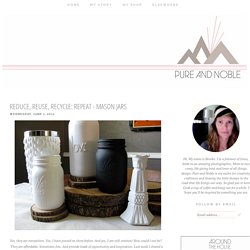 Jar with needled Ball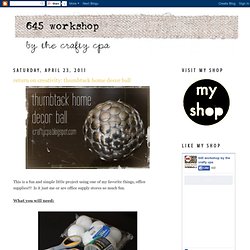 thumbtack home decor ball
This is a fun and simple little project using one of my favorite things, office supplies!!! Is it just me or are office supply stores so much fun. What you will need: Styrofoam balls (mine are 2.5 inch diameter), duct tape (grey), thumbtacks, scissors Make sure to get the silvery thumbtacks with flat tops.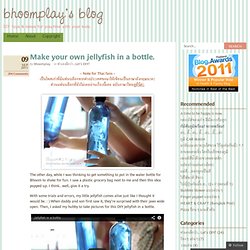 ~ Note for Thai fans ~ เป็นโพสเก่าที่มีแฟนบล๊อกจากต่างประเทศขอมาให้เขียนเป็นภาษาอังกฤษนะคะ ส่วนแฟนบล็อกที่ ยังไม่เคยอ่านเรื่อ งนี้เลย ฉบับภาษาไทย ดูที่นี่ค่ะ The other day, while I was thinking to get something to put in the water bottle for Bhoom to shake for fun. I saw a plastic grocery bag next to me and then this idea popped up. I think.. well, give it a try. With some trials and errors, my little jellyfish comes alive just like I thought it would be. : ) When daddy and son first saw it, they're surprised with their jaws wide open.
OK, yes.... chalkboard globes have been done. I've seen a couple of them that are inspirational. (Can't remember exactly where... so sorry..) So when I found a globe for 50 cents and Halloween is just around the corner, I knew exactly what I wanted to do to it.
Chalkboard (Halloween) Globe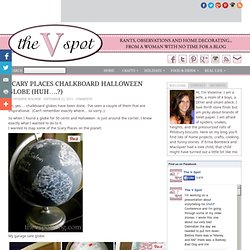 Decorating with Yarn Balls
Dear Chicago House, Do you know so many people loved the Rope Balls I made recently but they can be a little tricky to make. So, for those who got frustrated with rope here is an much easier decorative ball to make, a simple yarn ball.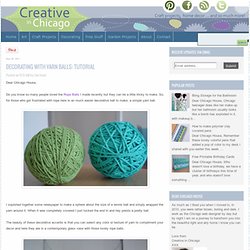 Dear Chicago House, After a lovely vacation on the beach I am drawn (once again) to creating beachy thing. I think it is my destiny, to one day, to live on the coast. I saw a lovely drift wood orb in Crate and Barrel recently and as soon as humanly possible went to my secret Chicago beach to collect some drift wood, ready to make my own version. Lake drift wood is just as good as sea drift wood. Ta da!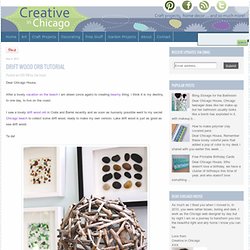 Drift Wood Orb
Turn your free TJCC membership into your online crafty resume! That's right, everything you upload to the site will remain here beautifully stored, forever. It's all in one place and easy to share with friends, customers, and family! As always, YOU get complete credit for what you've made and we'll help you share it with the world. It's also easy to send friends and potential customers to see your work.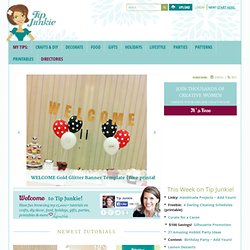 Aluminum Can Leaves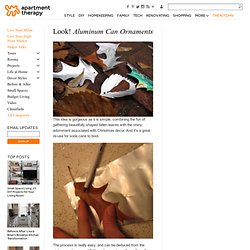 This idea is gorgeous as it is simple, combining the fun of gathering beautifully shaped fallen leaves with the shiny adornment associated with Christmas decor. And it's a great re-use for soda cans to boot. The process is really easy, and can be deduced from the pictures: cut open and flatten a tin can, trace the outline of a leaf, and cut it out. The finishing touches include sanding the edges and printed surface, and attaching twine, ribbon or string for hanging on your tree.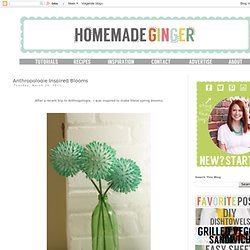 Anthropologie Inspired Blooms
After a recent trip to Anthropologie, I was inspired to make these spring blooms: Before I explain, here are the ones from Anthropologie (pictures taken with my phone) We noticed these huge flowers as part of the decor. So cute! How did they make these? Yes, Q-Tips!!
Simple White Paper Flowers
August 18th, 2008 Email 1107 users recommend This bouquet of delightfully airy flowers is as easy to make as it is beautiful. Jeff Rudell