Bags
CARPETBAGGER. Featured: Turtle Tote by LIFEwithBIRD An exercise in stylish functionality by Aussie line LIFEwithBIRD.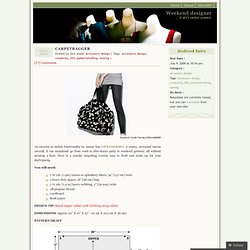 A roomy, oversized canvas carryall, it can seamlessly go from work to after-hours party to weekend getaway, all without missing a beat. PUSH THE ENVELOPE. Featured: Messenger Bag by Ecolution Originally created for hard-working couriers, the classic Messenger Bag has been in circulation for several decades.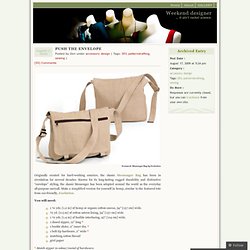 Known for its long-lasting rugged durability and distinctive "envelope" styling, the classic Messenger has been adopted around the world as the everyday all-purpose carryall. Make a simplified version for yourself in hemp, similar to the featured tote from eco-friendly, Ecolution. You will need: MULTI-POCKET URBAN TOTE. "multi-pocket urban tote" Smart-looking yet functional in commuter bag designs.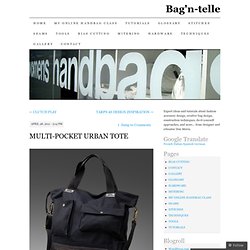 An urban carry-all with a variety of pocket compartments for wallet, cellphone and PC notebook makes it the perfect everyday tote.
Wallets
Feed sack messenger bag. Several months ago I bought some vintage feed sacks at an antique mall.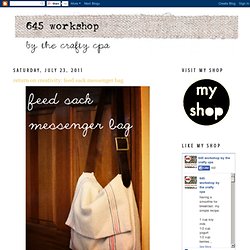 I had no idea what I would do with them at the time. However, I always have faith that if I buy things I love, the inspiration will come. Leica Camera Bag. Guitar Shaped Bag. How To Make An Interchangeable Messenger Bag. All you need is grommets, jean buttons and a rock.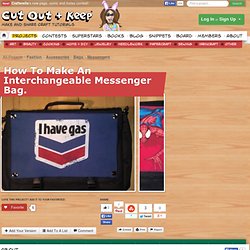 In my last tutorial, I taught you how to turn a shirt into an Evozip interchangeable skin. In this tutorial, I will teach you how to make the bag for the interchangeable skin. Once your bag is ready, you can attach any Evozip skin to your bag. How To Create Interchangeable Skins For Messenger Bags. Now add the 1/4" grommets to the corners.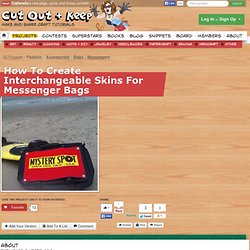 Place the center of the grommet hole about 3/4" inch from each edge. There should be about a 1/4" between the edge of the grommet and the edge of your cut shirt. It is important to use 1/4" grommets. Grocery Bag Stuff Sack. Are you planning a car trip this summer?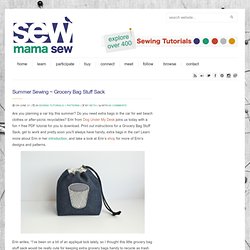 Do you need extra bags in the car for wet beach clothes or after-picnic recyclables? Erin from Dog Under My Desk joins us today with a fun + free PDF tutorial for you to download. Print out instructions for a Grocery Bag Stuff Sack, get to work and pretty soon you'll always have handy, extra bags in the car! Learn more about Erin in her introduction, and take a look at Erin's shop for more of Erin's designs and patterns. THE WEEKENDER.
Featured: Lex Trip Bag So this weekend will have you jetting off to the coast for sun & surf?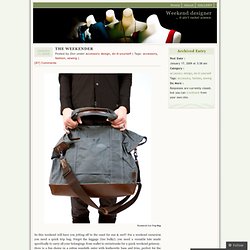 For a weekend excursion you need a quick trip bag. Forget the luggage (too bulky); you need a versatile tote made specifically to carry all your belongings from wallet to swimtrunks for a quick weekend getaway. Here is a fun choice in a cotton waxcloth outer with leatherette base and trim, perfect for the do-it-yourselfer, similar to the Lex Trip Bag from PROPERTY OF. Dimensions: approximately 18″ x 8 x 17″ [45cm x 20.5cm x 43cm]. Book Clutch. Did you see this week's Crafting with the Stars?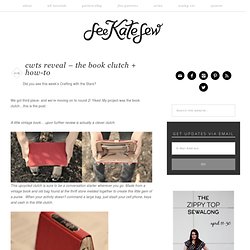 We got third place- and we're moving on to round 2! Yikes! My project was the book clutch…this is the post:A little vintage book… upon further review is actually a clever clutch. This upcycled clutch is sure to be a conversation starter wherever you go. Reversible Bag.
Totes
Leather Owl Bag. Simple Bag.
---