Wiki
Main Page - S23Wiki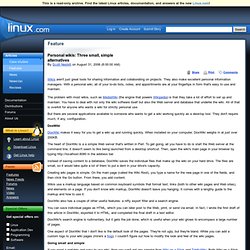 Personal wikis: Three small, simple alternatives
The problem with most wikis, such as MediaWiki (the engine that powers Wikipedia ) is that they take a lot of effort to set up and maintain. You have to deal with not only the wiki software itself but also the Web server and database that underlie the wiki. All of that is overkill for anyone who wants a wiki for strictly personal use. But there are several applications available to someone who wants to get a wiki working quickly as a desktop tool. They don't require much, if any, configuration.
Red Hat Enterprise Linux 5 Edition 3 Copyright © 2008 . This material may only be distributed subject to the terms and conditions set forth in the Open Publication License, V1.0 or later (the latest version of the OPL is presently available at http://www.opencontent.org/openpub/ ). Red Hat and the Red Hat "Shadow Man" logo are registered trademarks of Red Hat, Inc. in the United States and other countries.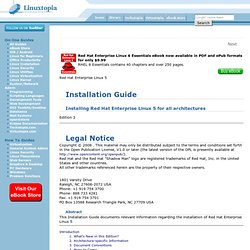 RHEL5 Installation - Red Hat Enterprise Linux 5
Tech Insights:Homepage - Ciscowiki
FrontPage
From OptionC Description To quote from the official Xen user manual ( http://www.cl.cam.ac.uk/Research/SRG/netos/xen/readmes/user/user.html ) , "Xen is a paravirtualising virtual machine monitor (VMM), or `hypervisor', for the x86 processor architecture." It is a way to run multiple virtual machines on a single physical machines.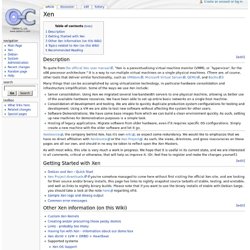 Xen - OptionC