INTERIOR
Lovelli Residence by World of Mouth. By Eric • Feb 3, 2012 • Selected Work Bali-based studio Word of Mouth has designed the Lovelli Residence project.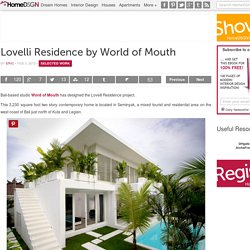 This 3,230 square foot two story contemporary home is located in Seminyak, a mixed tourist and residential area on the west coast of Bali just north of Kuta and Legian. Lovelli Residence by World of Mouth: "The brief to Architect Valentina Audrito and her team at Word of Mouth was very clear: create a fun, unique space in which the client, an Italian socialite/jewellery designer, could live and entertain. 20+ Beautiful Modern Staircases. We're constantly running across photos of truly jaw dropping staircases.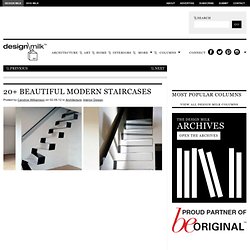 So much of the time, stairs look as if they were ignored until the last minute of the design process, but not in these cases. Check out some of our favorite staircasess that we've come across: Let's start out with a staircase we've talked about before: Ribbon Stairs. Harmonious modern residence in South Africa. This beautiful and original modern home is designed by Werner van der Meulen architects and located in South Africa.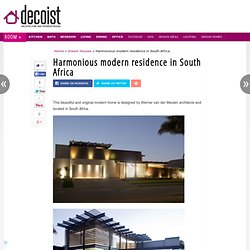 The floor to ceiling windows allow an unobstructed interior-exterior connection.The wooden grid encountered at the windows and eaves acts as blends and sets the tone to the composition. Another focus element is water, found here and there throughout the layout, be it in the pool or the waterfalls decorating the small oases around the house.
The house is a clear blend of simple volumes complemented by flawless lighting and natural elements. Opulent spa residence in South Africa. The incredible Joc House in Johannesburg, South Africa is one of those ridiculously vast and luxurious spa homes that make a resort vacation obsolete.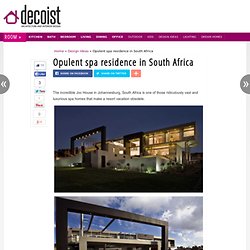 Designed by Nico Van der Meulen architects, this , believe it or not, 2 floor residence features a stunning open entrance layout that makes the inside spaces seem like outdoor spaces or terraces. The inside pool, prolonged outside, contributes to this impression, as does the stunning 2 story height living room. The choice of materials is minimalist to brutalist, with marble and strip stone on the inside and a gigantic, very arguable freestanding concrete frame the size of the whole structure, on the front terrace and attached to the residence by 2 beams. Aside from looking massive and even science-fiction-utopia/dystopia-like, this kind of concrete frame is the architects' trademark. Urban Cabin by Fábio Galeazzo. Fábio Galeazzo has designed the "Urban Cabin" in São Paulo, Brazil.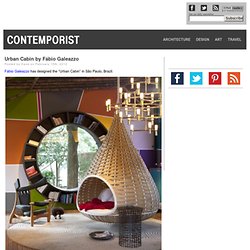 Description from the designer: In an old abandoned house were used retrofit construction techniques. The existing structure couldn't handle the heavy load and was complemented by a sustainable framework of giant bamboo beams and columns treated in autoclaves, the roof received green thermal tiles.On the floor it was used certificated management timber and some exotic brown granite as well as some walls and ceiling.
Empresa cria papel de parede luminoso. A Lomox criou um inovativo papel de parede, uma nova tipologia muito original já que tranforma o revestimento em uma fonte de luz.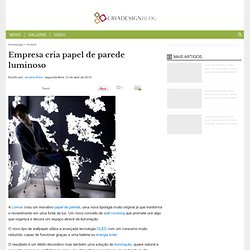 Um novo conceito de wall covering que promete unir algo que organiza e decora um espaço atravé da iluminação. O novo tipo de wallpaper utiliza a avançada tecnologia OLED com um consumo muito reduzido, capaz de funcionar graças a uma bateria ou energia solar. O resultado é um efeito decorativo mas também uma solução de iluminação, quase natural e por nada agressiva, perfeita para criar uma atmosfera especial em um ambiente muito confortável. Os novos papéis de paredes luminosos devem chegar ao mercado em 2012. Via: Geeksology. Philips cria papéis de parede luminosos e que reagem aos sons do ambiente.
Uma nova invenção da Philips junto com a Kvadrat Soft Cells, empresa que fabrica painéis acústicos e isolantes sonoros, promete revolucionar ambientes que requerem decoração sofisticada.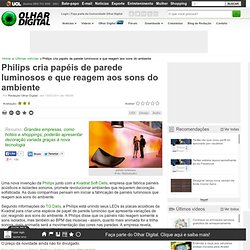 As duas companhias pensam em iniciar a fabricação de painéis luminosos que reagem aos sons do ambiente. Segundo informações do TG Daily, a Philips está unindo seus LEDs às placas acústicas da Kvadrat para criar uma espécie de papel de parede luminoso que apresenta variações de cor, reagindo aos sons do ambiente. A Philips disse que os painéis não reagem somente a sons isolados, mas também ao BPM das músicas - assim, quanto mais animada for a trilha sonora, mais animada será a movimentação das cores nas paredes.
A empresa revela, ainda, que seu público alvo não é o consumidor individual, mas as grandes empresas como hotéis, clubes noturnos, restaurantes e shoppings. O preço da novidade ainda não foi divulgado. Papel de parede luminoso economiza energia e absorve ruídos. Por Mariana Montenegro comentário(s) A empresa Phillips juntou a tecnologia de baixo consumo energético de suas lâmpadas LED com o design têxtil da Kvadrat Soft Cells, para criar uma espécie de papel de parede luminoso.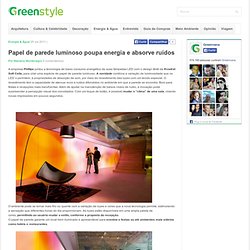 A novidade combina a variação de luminosidade que os LED´s permitem, à propriedades de absorção de som, por meio do revestimento das luzes com um tecido especial. L i m o n a d a - B I Z. Motivos florais estão longe de ser uma novidade em matéria de papéis de parede, mas a designer sueca Camilla Diedrich descobriu uma forma de inovar: em uma homenagem ao músico americano, que perdeu a visão durante a infância, sua linha "Nature Ray Charles" traz luz para a decoração de paredes.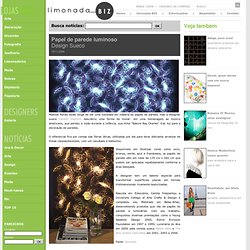 O diferencial fica por contas das fibras óticas, utilizadas por ela para tecer delicados arranjos de linhas resplandecentes, com um resultado é belíssimo. Disponíveis em diversas cores como ouro, bronze, verde, azul e framboesa, os papéis de parede vêm em rolos de 135 cm x 260 cm que podem ser aplicados repetidamente conforme a área desejada. A designer tem um talento especial para transformar superfícies planas em formas tridimensionais ricamente texturizadas. 12 Feet Wide Family House in Barcelona by Ferrolan LAB. Barcelona-based studio Ferrolan LAB has designed this narrow contemporary family house.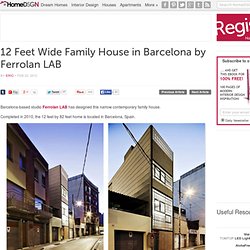 Completed in 2010, the 12 feet by 82 feet home is located in Barcelona, Spain. Family House in Barcelona by Ferrolan LAB: "The house is situated in the heart of an old town district in Barcelona. The urban grid of the area is characterized by small, narrow and long plots. This house is probably situated in one of the narrowest spaces around the neighborhood, as it measures only 3,7m wide. Wall decor | modern decor | home decor | wall accents | wall panels | modern art - nova68 modern design.
---