Brain exercise games
Logic games
Other brain game pearlers. Brain Games for Adults. Brain games are fun to play at gatherings, meetings, kitty parties or on outings.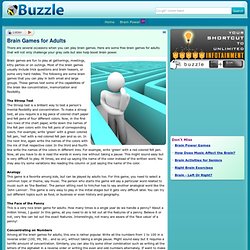 Most of the brain games usually include trick questions and brain teasers, or some very hard riddles. The following are some brain games that you can play in both small and large groups. These games test some of the capabilities of the brain like concentration, memorization and flexibility. The Stroop Test The Stroop test is a brilliant way to test a person's mental flexibility and concentration. Math games. Math Wizard.
Chess
Interactive Mathematics - Learn math while you play with it! Brain Games: Play Free Puzzle Games Online, Free Puzzles. Play Free Online Brain Games Stretch Your Mental Muscle & Have Fun Doing It Practicing new skills and learning new facts is often presented as less than exciting, but education does not have to be this way.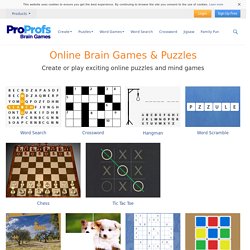 Good teachers have always known that puzzle games are some of the best ways to get old and young alike well on their way towards mastering a subject area. ProProfs is dedicated to the mission of combining education and entertainment, providing free online puzzles, brain games, and other fun resources to get people actively involved in the learning process. Memory games. Remember Names Game. How to Play Remember the names of the people in the pictures as they introduce themselves.Type in their names when prompted.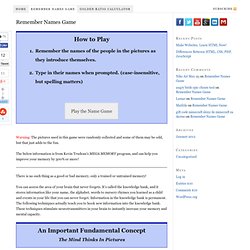 (case-insensitive, but spelling matters) Warning: The pictures used in this game were randomly collected and some of them may be odd, but that just adds to the fun. Memory games. CogniFit Brain Fitness And Memory Programs, Brain Training.
Stained Glass. Matter - Online Tangram Puzzles @ gieson.com. Cognitive Rehabilitation Word Game Quizzes. Cognitive rehabilitation can be helped by performing regular cognitive exercises that force the brain to work a little.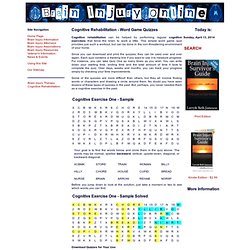 This simple word game quiz provides just such a workout, but can be done in the non-threatening environment of your home. Since you can download and print the quizzes, they can be used over and over again. Each quiz contains a tracking line if you want to use it to measure progress. For instance, you can take Quiz One as many times as you wish. Family Problems. Brain Age Test 01 (Instantaneous Memory) Memory Games | Find the Suspect. Speak A New Language In 10 DaysPurchased by the FBI.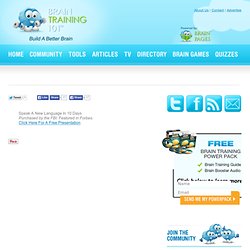 Featured in Forbes.Click Here For A Free Presentation Game not showing? Click here to download the latest version of Adobe's free Flash Player. Directions: In this game a number of suspects will be shown to you. After a few seconds one of the suspects will be covered up, and you will need to remember who the suspect is and be able to pick him out of a line up. Play With Your Mind - Homepage. Brain Games and Mind Puzzles | Play With Your Mind. Brain Games and Mind Puzzles | Play With Your Mind. Rocks Game. Roll those rocks!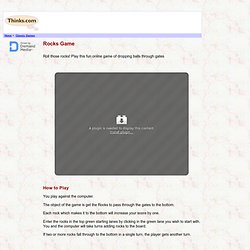 Play this fun online game of dropping balls through gates You play against the computer. Puzzle Games. Home - Gymnasium for Brain. Free Online Games. Brain Training, Brain Exercise, Brain Fitness by Brain Training 101. Brain Games, Brain Training & Brain Fitness — Fitbrains.com. The Image Quiz. Games for the Brain.
---