cool
Get flash to fully experience Pearltrees
Window 1 I am plumbed with a Bezier connector to Window 2 and a label, with Blank endpoints. Window 2 I am plumbed with a Bezier connector to Window 1, and a Bezier connector with Rectangle endpoints to Window 3 Window 3 I am plumbed with a Bezier connector and Rectangle endpoints to Window 2, and a Bezier connector with Dot endpoints and a label to Window 4.
CHAP Links Library is a web based visualization library for displaying graphs, networks, and timelines. The tools are developed as Google Visualization Charts for Javascript and GWT. CHAP Links Library is developed by Almende as part of CHAP , the Common Hybrid Agent Platform. This site contains documentation, downloads and live examples of the CHAP Links Library.
Auch auf die Gefahr hin, dass im ubuntuusers-Forum wieder Einträge ala "Canonical Bashing auf Karl-Tux-Stadt" und hier die lieben Fanboys in anonymer Art und Weise beleidigende Kommentare schmieren, geb ich dann doch mal meine Meinung zu den neuesten Ereignissen. Ubuntu started jetzt also seinen eigenen "XServer" namens Mir. Von mir aus, deren Problem, ich jedenfalls gehöre nicht zu denen die darin eine Gefahr sehen. Die Welt von Open Source lebt von ihrer Vielfalt und die vielen Forks sind der Motor, der die Entwicklung voran treibt.
Posted by pat on October 24, 2004 at 1:18 AM PDT One of the things I've always wanted in Java is a "one liner" trick to read all of the text from a stream. For example, I often want to be able to grab the contents of a URL or file as a simple String, without a lot of typing.
Without question, Black Mesa is one of the most anticipated mods in years. Originally known as Black mesa: Source (they removed the 'Source' at Valve's request), it began when the teams from two other mods: Leakfree and the Half-Life: Source Overhaul Project, merged to form one super-powerful mod team. Since then, they've been working hard at bringing Half-Life over into a much prettier package. It was originally based on the first Source engine, but now uses the 2007 version released with the Orange Box. Watch Mitchell compare the remake with the original.
Nodebox NodeBox , developed by Frederik De Bleser and Tom De Smedt, allows you to create PDF documents using Python-code. NodeBox, which is available for free, is currently used as a teaching and experimentation environment. At some time in the future we are planning to move cross-platform and server-side. We'll be extending NodeBox with a node-based user interface (which has always been the original goal) and all of the AI we are currently working on. One last step would be to make NodeBox plugable , with a back-end and front-end that could be switched.
Welcome to the Machinations page. Machinations is a conceptual framework and diagram tool that focusses on structural qualities of game mechanics. The tool you see below is an interactive tool to make and play Machinations diagrams. If you scroll further down, you can find links to the Machinations Wiki , Forum and few tutorials explaining the concepts, as well as links to many of the ready-made examples. Machinations version 4 is now out. It is fairly compatible with version 2 and 3 files, files from older versions can be read, but need to be checked.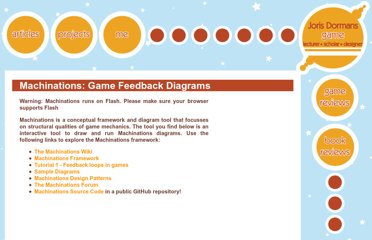 Angles Mirror (2013) by Daniel Rozin at the Bitforms gallery, NYC Currently on show at the Bitforms gallery in NYC are the three new mirror pieces by Daniel Rozin. The exhibition titled Angles features "Angles Mirror", a piece that builds a picture based on relative lightness and darkness. It explores a system of linear ... 3D Printed Record – 600dpi into 11kHz with Processing and ModelBuilder